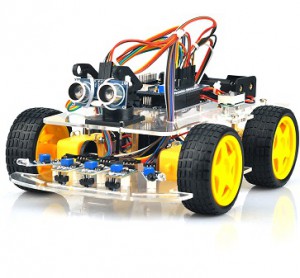 1 Introduction:
This smart car kit can help you make incredible smart car with can be controlled by Smart Phone, IR remote , Bluetooth and Wifi. It can also work as automatic guided mode which allows the car to track a black/white line in the ground and escape from obstacles.
The car can work under 3 working modes:
1.1 Manual mode
You can control the movement of the car by smart phone through wifi/bluetooth signal or  by an  IR remote controller(TV remote controller) through  infrared signal.
1.2 Obstacle Escaping mode(OE)
When smart car works in OE mode, it will use ultrasound sensor and infrared sensor to detect obstacle and find route automatically. If an obstacle is detected, the car will stop and make buzzer alert.
1.3 Automatic Guided mode(AG)
When the car works in AG mode, its infrared sensor will detect the black/while route line in the ground and automatic move along the black/white track line.
2 Parts and Devices required for the car
| | |
| --- | --- |
| Device | |
| | |
| | |
| L298N Motor driver module | |
| black/white tracking sensor | |
| | |
| Ultra Sound distance sensor | |
| | |
| | |
| | |
| | |
| | |
| | |
| | |
| | |
| | |
| | |
| 18650 battery(not included in kit) | |
| | |
| | |
| | |
| | |
3 Connection Graph
 3.1 ESP8266 wifi shield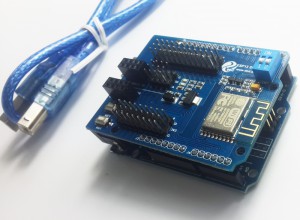 3.2Power and Motor connection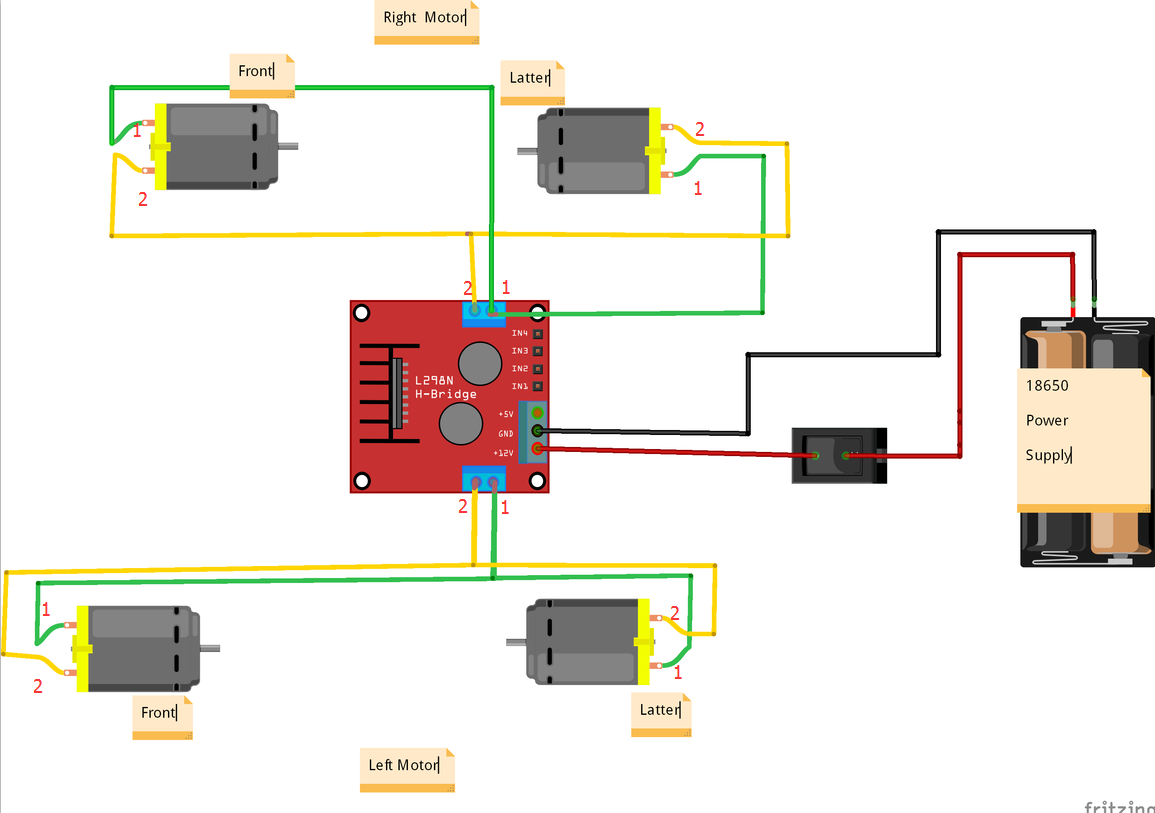 3.3 Voltage Meter
In order to work properly, the output of 18650 battery should not less than 6.0 Volt. To ensure the voltage is correct, we provide a voltage meter in the kit. Connecting graph as following: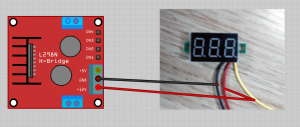 Voltage meter red/yellow wires should be connected to L298N motor driver module 12V position. black wire should connected to GND.
3.4 Arduino Power connection
L298N driver will supply power to Arduino through a DC connector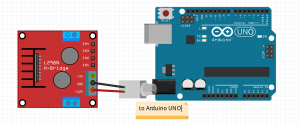 3.5 Sensor connection
All sensors must be connected to ESP8266 wifi shield. Please read following instruction and the sample code comments to know how to connect the Digit and Analog pins to different sensors.
3.5.1 Ultra Sound sensor connection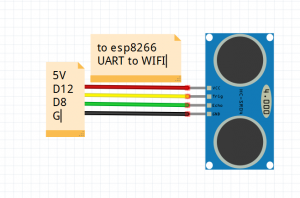 3.5.2 Black/white sensor


 3.5.3 Servo
Servo Power must supplied from L298N(don't connect it directly to Arduino 5V output, it might damage the board).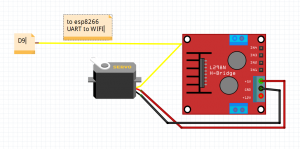 3.5.4 Buzer (connect to Arduino D13)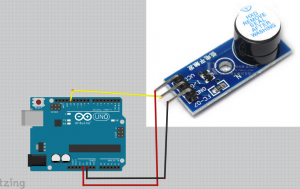 3.5.5 L298N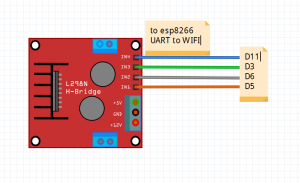 3.5.6 Infrared Obstacle sensors connected to Arduino A0 A1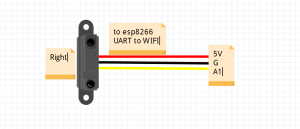 4 How does the parts working together?
4.1 esp8266 Wifi shield
esp8266 wifi shield is plugged in Arduino UNO board,these two board communicate through serial port. Arduino exchange data through serial port with esp8266 , then ESP8266 send/receive the data to/from other internet client devices.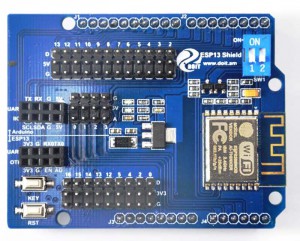 There is a little switch in the ESP8266 Wifi shield.  When switch set to 1,2, ESP8266 disconnects from Arduino, When switch is set to ON, ESP8266 is connected with Arduino.
Thus, When you ready to load the Arduino code into the UNO board, you should set the switch to 1,2 position. After code loading completes, you need set the switch to ON position so that Arduino can work with ESP8266.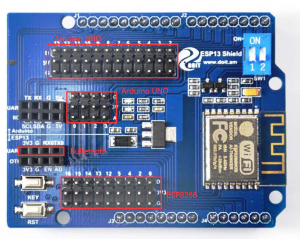 4.2 Black/white sensor
Black/White sensor can output HIGH/LOW voltage to Arduino when black or white color is detected. Our sample code will use 3 black/white sensors to guide the car moving alone the a black/white track. The algorithm is pretty straight forward. If you are interested in the coding , please read our sample code.
4.3 Infrared  obstacle sensor
Infrared obstacle sensor has two heads, one send infrared signal and the other receives reflected signal. The sensor will output voltage value as per reflected signal(distance). If the distance voltage is lower than some specific threshold, buzzer will alert.
4.4 Ultra sound sensor,buzzer and platform motor
Ultra sound sensor is  similar to infrared obstacle sensor. When distance detected from Ultra Sound sensor is lower than some threshold , the car will move the sensor to other direction and see if it can find a new route.
 5 Software
Software download link:
Link 1: Arduino Code:http://osoyoo.com/wp-content/uploads/2017/01/car.rar
Link 2:Android APP to control the car:http://osoyoo.com/wp-content/uploads/2017/01/BTcar.apk
6 Android APP guide
After you burn the Link 1 Arduino code into the Arduino board, open your smart phone and you will see a wifi hotspot called  "DoitWIFI_Config" , connect your phone to this hotspot.
Run your android app downloaded from link 2. Select "WIFI模式",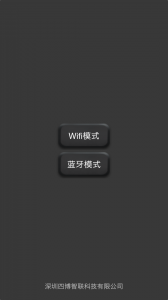 If you want use bluetooth to control the car, select "蓝牙模式"。
Go to control panel of the app, now you can move your car movement with the direction buttons.