In this lesson, we use OSOYOO mini bricks to make a smart garage gate. When Ultrasonic detect a car, the gate will open automatically.

OSOYOO UNO Board (Fully compatible with Arduino UNO rev.3) x 1
OSOYOO Magic I/O Shield for Arduino x 1
SG90 Servo motor x 1
OSOYOO Ultrasonic Sensor x 1
USB Cable x 1
PC x 1

Build Blocks:
积木搭建方法参考下面文件,但是取消microbit 及其支架,改装uno 版支架。
https://osoyoo.com/driver/miniblock/lesson6/lesson6.pdf
实际结果: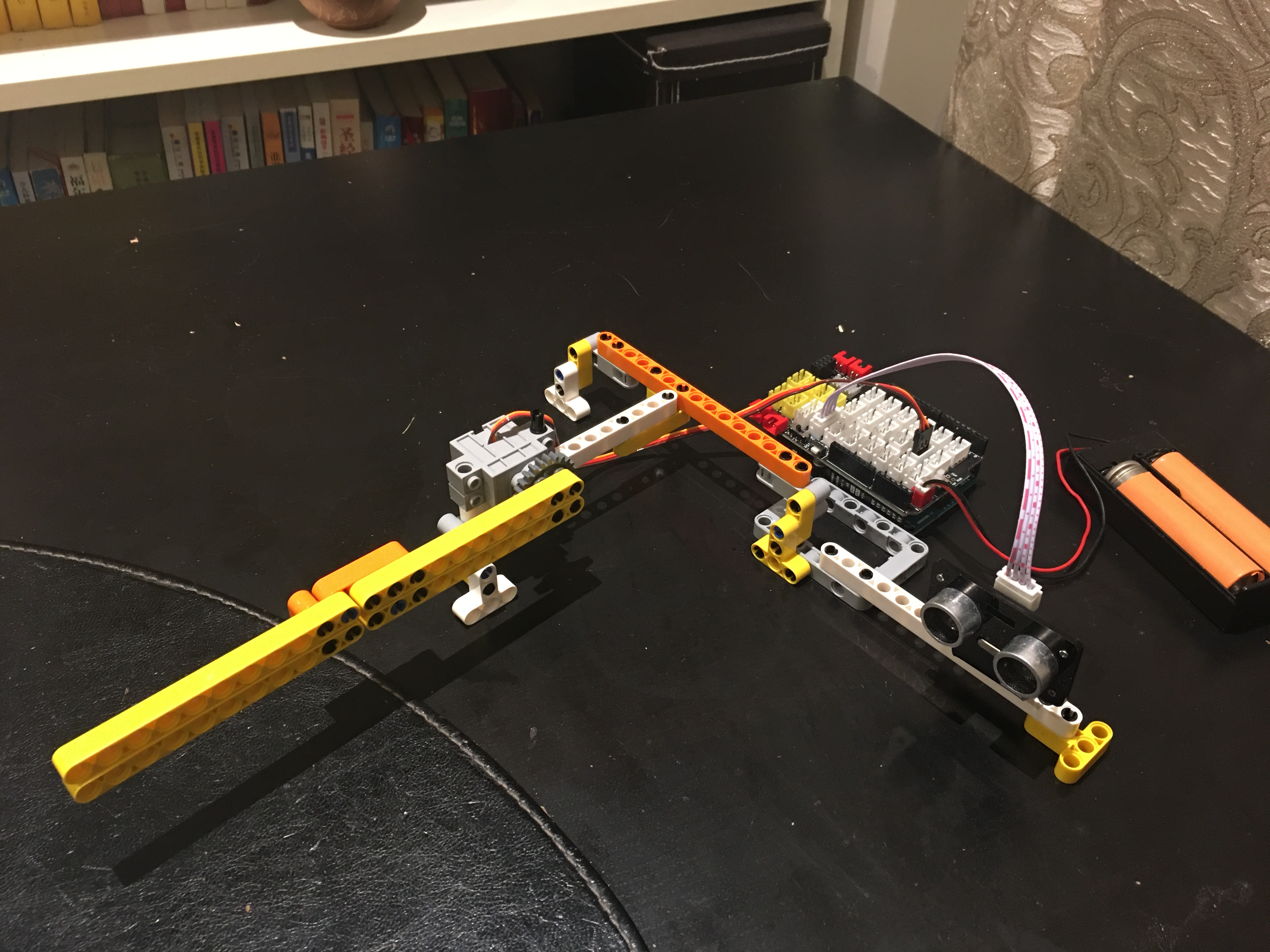 Wire Connection:
Firstly, please plug Osoyoo Magic I/O shield into UNO board as following: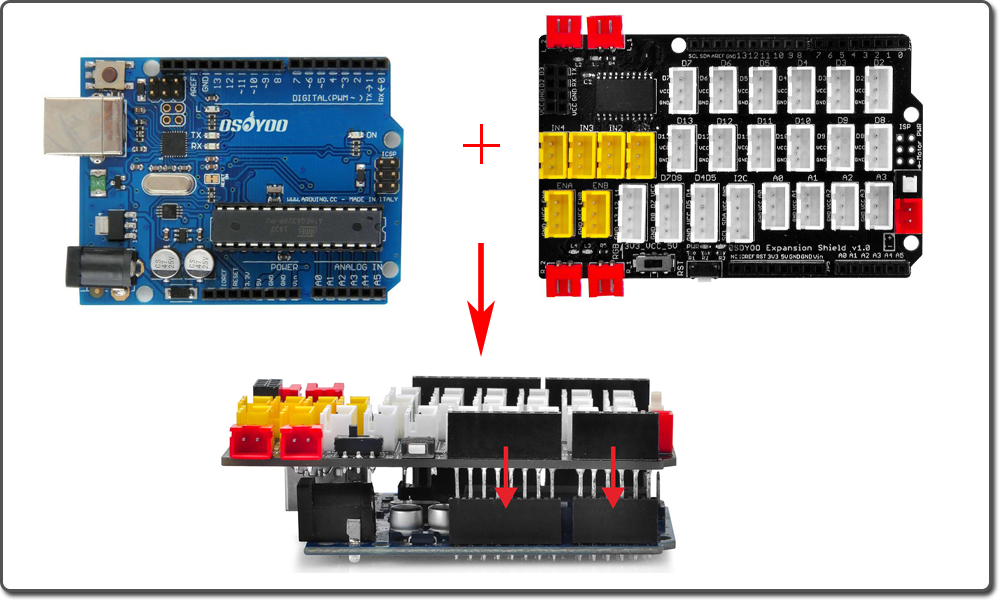 Then  plug gate  servo to  Plug button switch to ultrasonic sensor to D7D8 slot as following: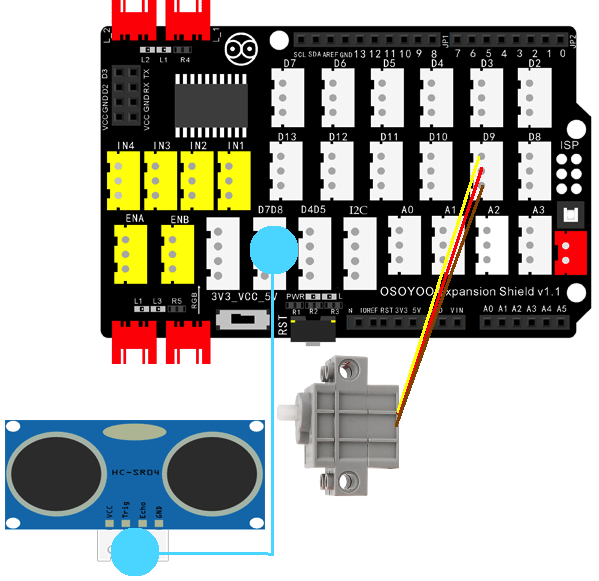 Step 1) If you haven't install mBlock software in your PC, please read Lesson 1, download and install the software.
Step 2) Run the mBlock PC software by double click the lovely Panda icon.   Drag and Drop osoyoo_uno_mext file(downloaded in Step 1) to mBlock software as following: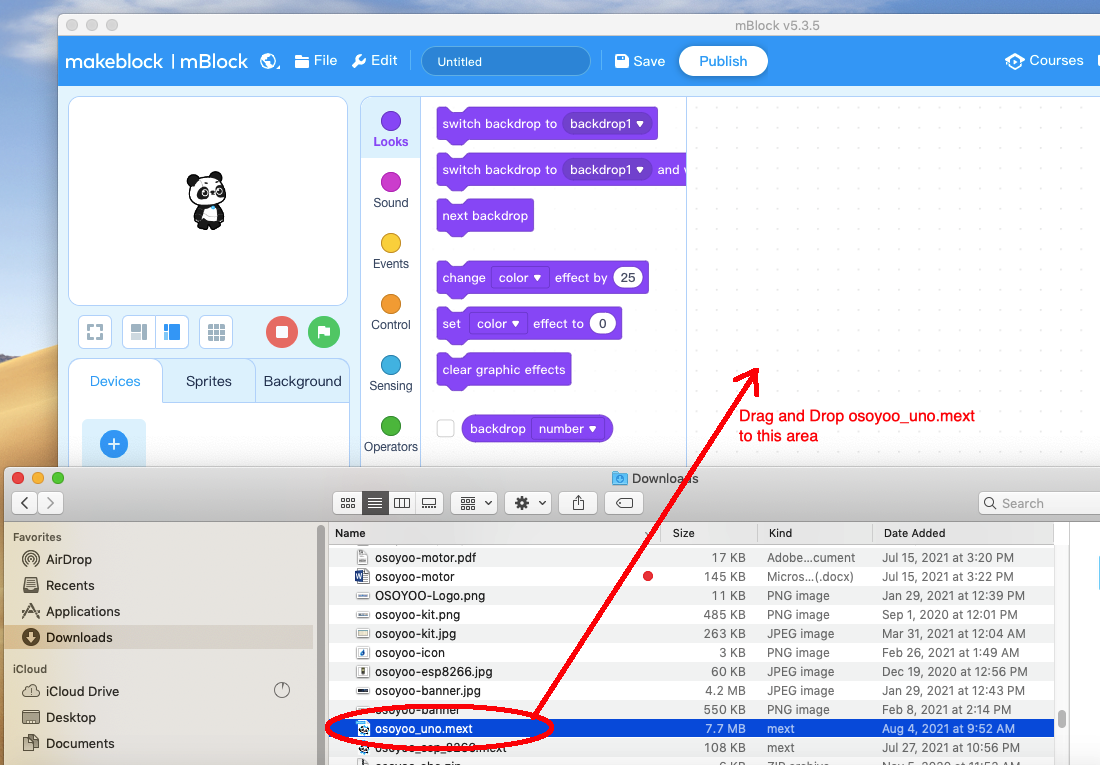 Now you will see a new device firmware in mBlock, see following picture: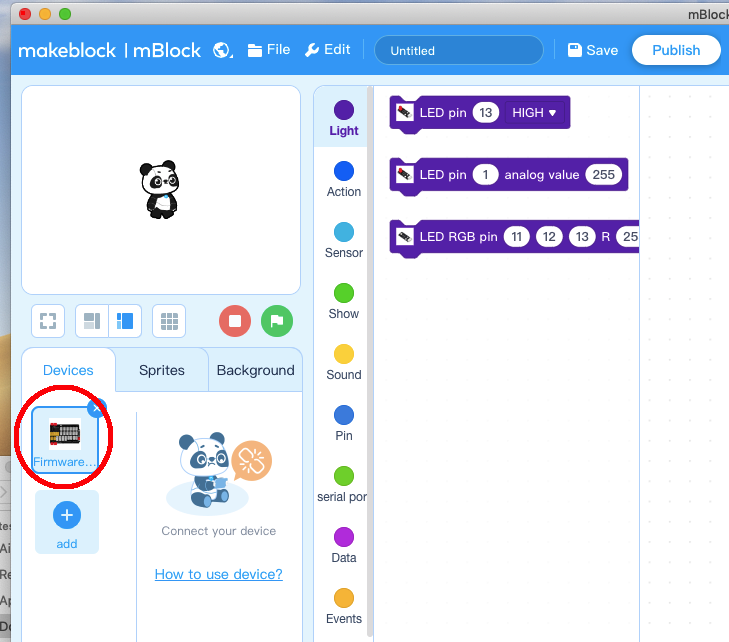 Now mBlock software and OSOYOO_UNO device firmware have been successfully installed in our PC!
Now we will show you how to use blocks to turn above idea into reality.
Step 1: Click Control, then Drag and drop Forever block to programming area as following: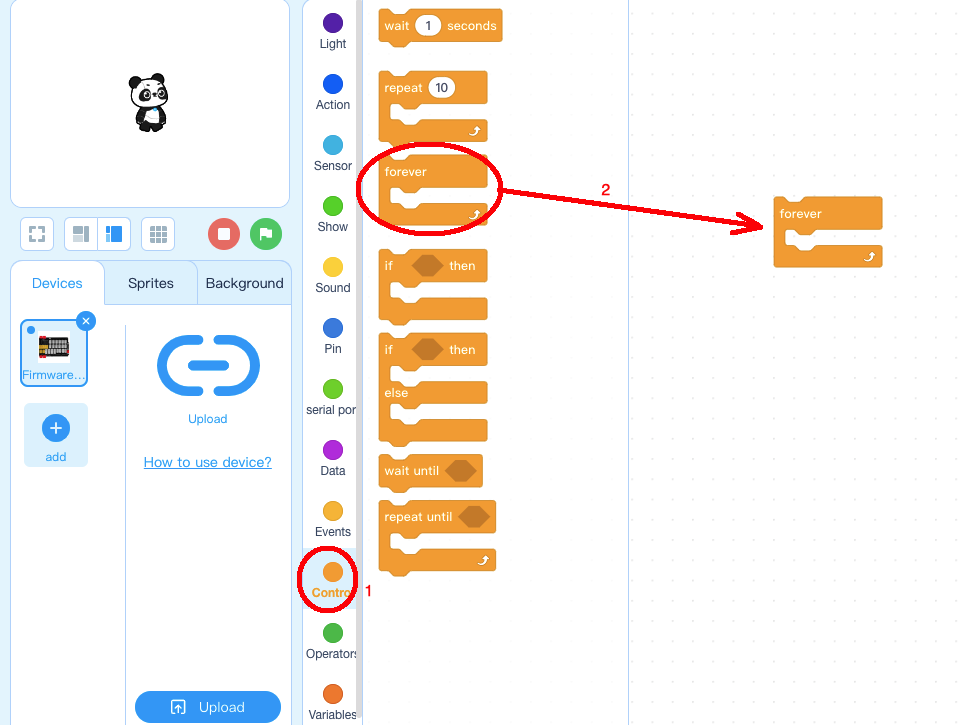 Step 2: Click Events,   add when Arduino Uno starts up block to the top: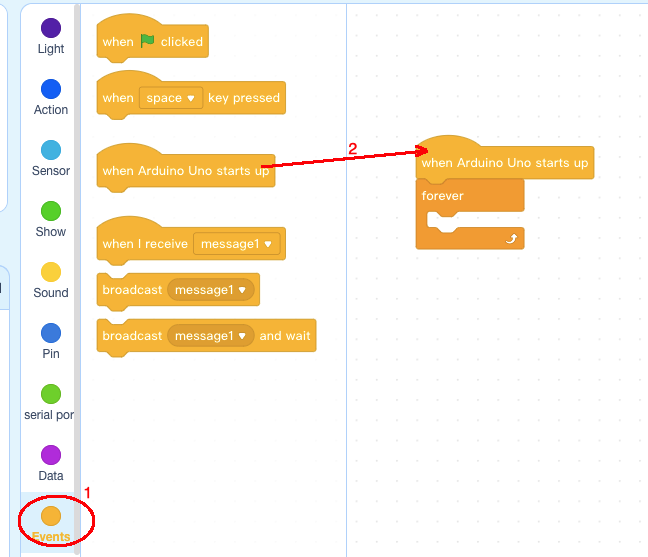 Step 3: Click Control, add if then block inside forever block: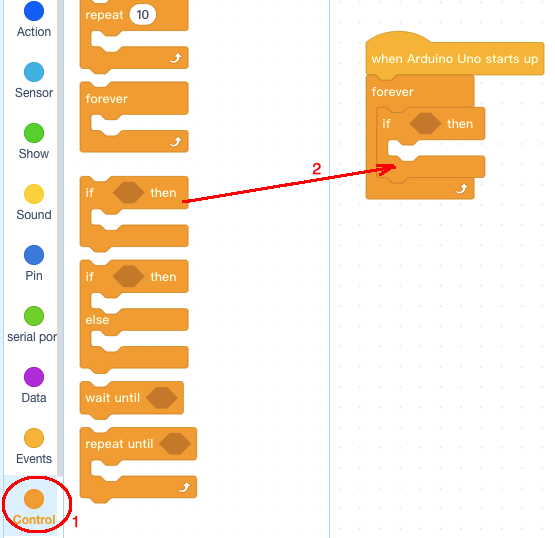 Step 4: Click Operator category, then add < 50 block into if else block condition area, change the value from 50 to 15 as following: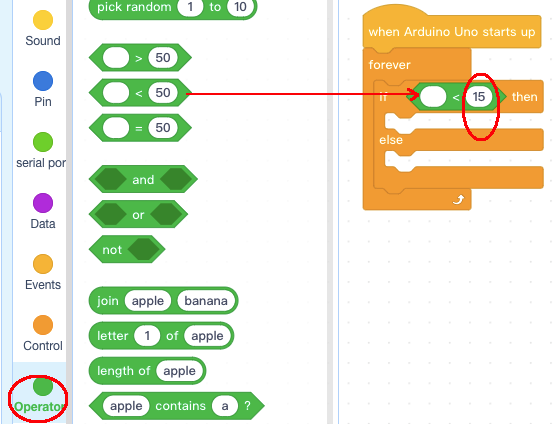 Step 5: Click Sensor category, add read ultrasonic sensor block into <15 block, change trig pin to 7 , echo pin to  8 as following: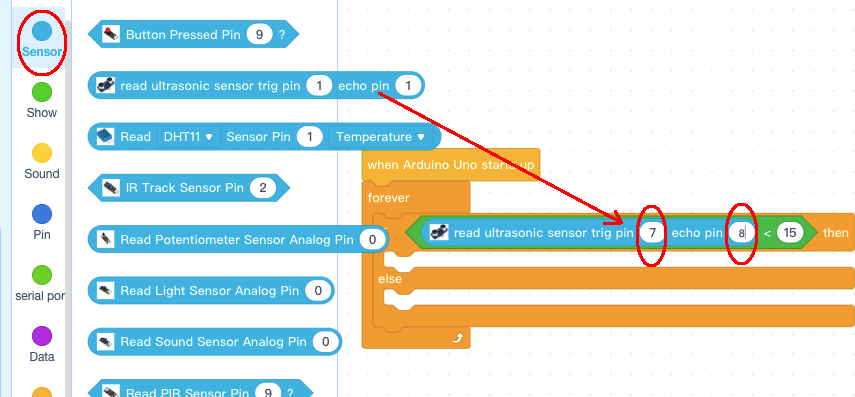 Step 5: Click Action category, add two pcs set servo pin blocks into if else block, change angle as value to 20 and 90 as following: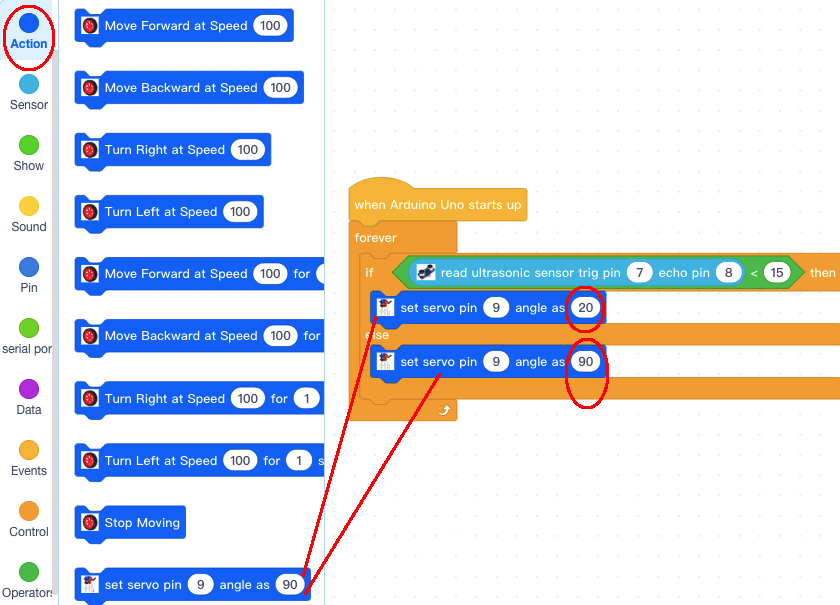 Now we have completed the block programming.  The final blocks look like following: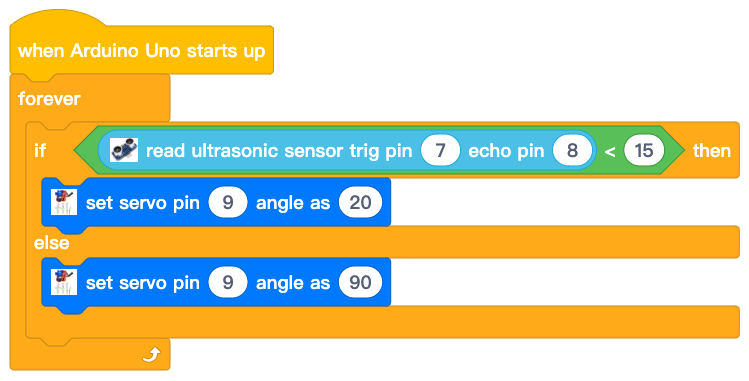 Upload the program to Arduino
1)you need click the Connect button in the bottom of the mBlock software, you will see a USB window pop up,
2) select Show  all connectable device check box , then a device drop-down menu will show up,
3) select your Arduino port from device drop-down menu
4) click Connect button to  connect your PC to Arduino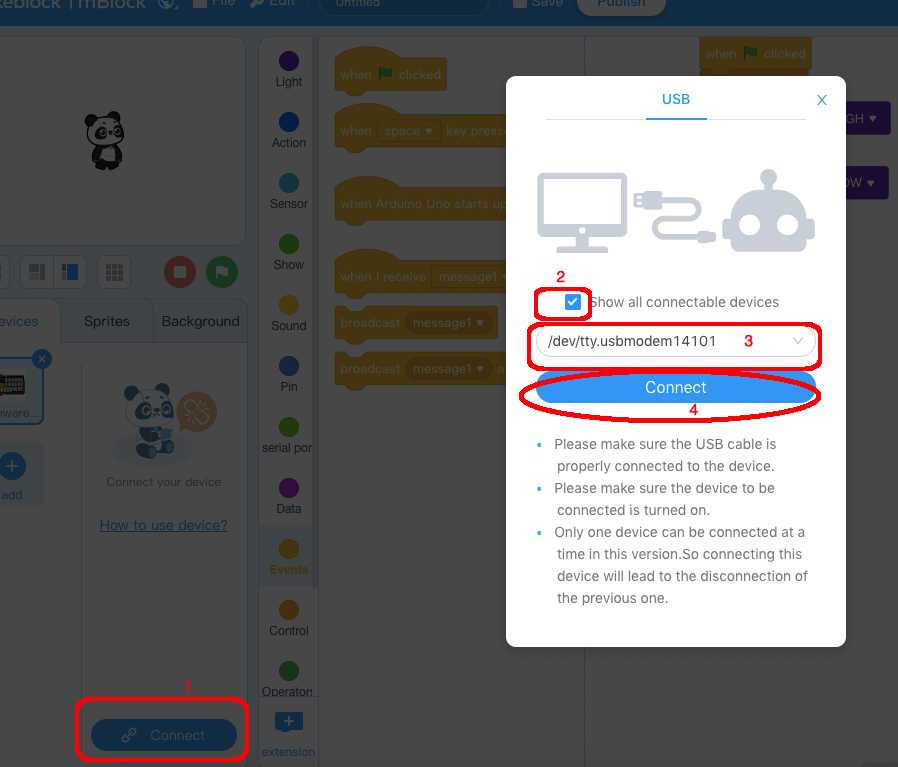 5)After you PC is connected to Arduino UNO board,  please click Upload button in the bottom of your software, then the code will be uploaded to Arduino UNO board: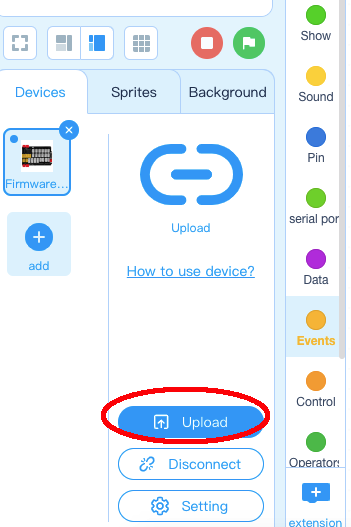 Test the program:
When your car arrives the gate front and is detected by ultrasonic sensor, the gate will open. When the car passes the gate, the gate will close automatically.