I.Obiettivo
II.Parti e Dispositivi
III.Installazione del Hardware
IV.Collega i circuiti
V.Installazione del Software
VI.Come giocare
| | | | | | | |
| --- | --- | --- | --- | --- | --- | --- |
| Acquista da US | Acquista da UK | Acquista da DE | Acquista da IT | Acquista da FR | Acquista da ES | Acquista da JP |
| | | | | | | |

In questa lezione, usiamo Python per programmare la nostra auto robot Raspberry Pi per guidare automaticamente lungo un nero linea in fondo bianco. Useremo cinque sensori di tracciamento IR per rilevare la linea.
Imparerai come Python legge i dati digitali dai pin GPIO.
Se sei interessato alla programmazione C++, questo progetto ha una soluzione C++ nel seguente link:
https://osoyoo.com/2020/11/08/osoyoo-raspberry-pi-v2-0-car-lesson-2-line- tracking-c-language/
No.
Picture
Device
Qty.
Accessories
Link
1
Modulo sensore di linea
1
Vite di plastica M2.5 x 2

Dado di plastica M2.5 x2M2.5

Supporto di plastica x 2

Click here to buy
2
Cavo 7pin 25cm da femmina a femmina
1
Click here to buy
3
Cacciavite Philips
1
Click here to buy

Step 1: Devi completare la  Lezione 1 introduzione di base
Step 2: Installare i moduli del sensore di tracciamento sotto il telaio inferiore dell'auto con 2pcs M2.5 viti plastiche, pilastri di plastica M2.5 e dadi di plastica M2.5.
Step1: Collegare il pin GND-VCC del modulo sensore di tracciamento a GND-5V del modulo compatibile PCA9685; collegare i pin IR1, IR2, IR3, IR4, IR5 a GPIO5, GPIO6, GPIO13, GPIO19, GPIO26 di Raspberry pi con un cavo 7pin 25cm femmina a femmina come mostra la foto seguente (Ricorda: NON rimuovere i fili esistenti installati nella lezione 1):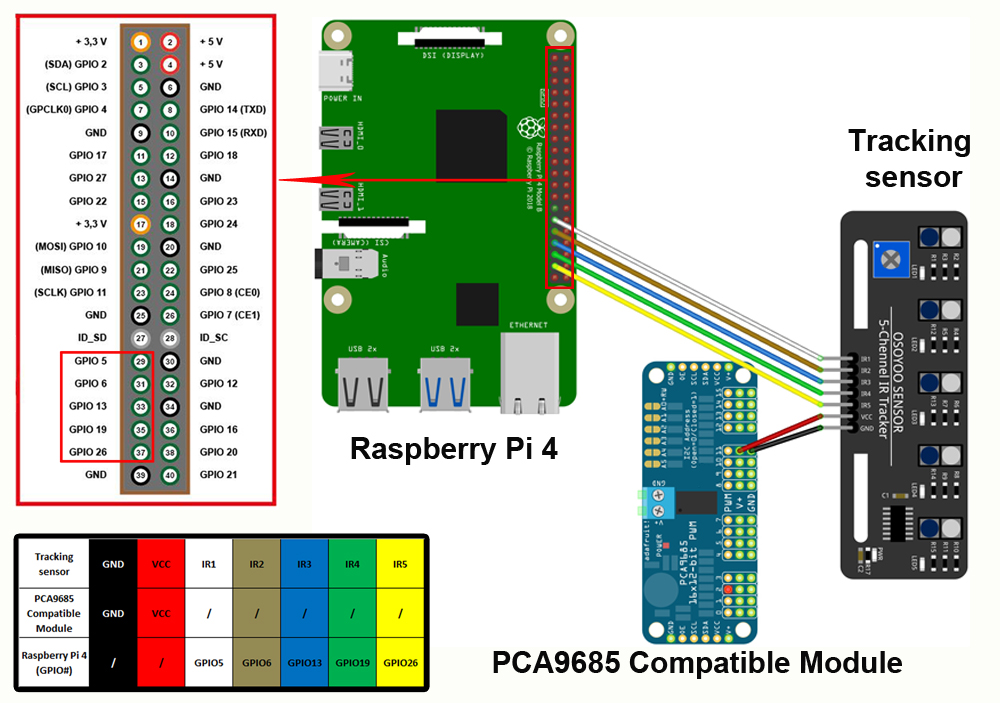 Step 2: Regolare la sensibilità dei moduli del sensore di tracciamento.
Accendere e tenere la macchina e regolare il potenziometro sul sensore di tracciamento con cacciavite Philips fino ad ottenere il miglior livello  di sensibilità: il segnale indicare la luce LED si accende quando il sensore è sopra la pista nera, e il LED di segnale si spegne quando il sensore è sopra la terra bianca
Scarica il codice python digitando il seguente comando nel tuo terminale Raspberry Pi:
wget http://osoyoo.com/driver/picar/picar-line-tracking.py


Accendi la batteria della tua auto e metti l'auto sulla linea nera della pista:
Ora è possibile eseguire il programma python di tracciamento della linea,
Se si utilizza Python 2 in Raspberry Pi 3, digitare:
python picar-line-tracking.py
Se stai usando Python 3 in Raspberry Pi 4, digita:
python3 picar-line-tracking.py

La tua auto si muoverà lungo la linea nera della pista.