Nota: TODOS los productos OSOYOO para Arduino son placas de terceros que son totalmente compatibles con Arduino.
El Arduino Uno es la placa Arduino más popular, sin embargo, a menudo es frustrante cuando tu placa UNO necesita conectar muchos sensores y actuadores con cables de puente. En los peores casos, la conexión incorrecta de los cables puede quemar la placa Arduino, causar un cortocircuito en el circuito, provocar un incendio y hacer que tu proyecto se convierta en una pesadilla.
El propósito de crear el Módulo OSOYOO Magic I/O Shield para Arduino es ayudar a las personas, especialmente a los principiantes, a hacer que la conexión por cable sea simple, conveniente y segura.
Con los ricos conectores Plug and Play (PnP) en la placa base, puedes conectar módulos de sensor/actuador estandarizados OSOYOO con el Arduino Uno a través de este módulo convenientemente.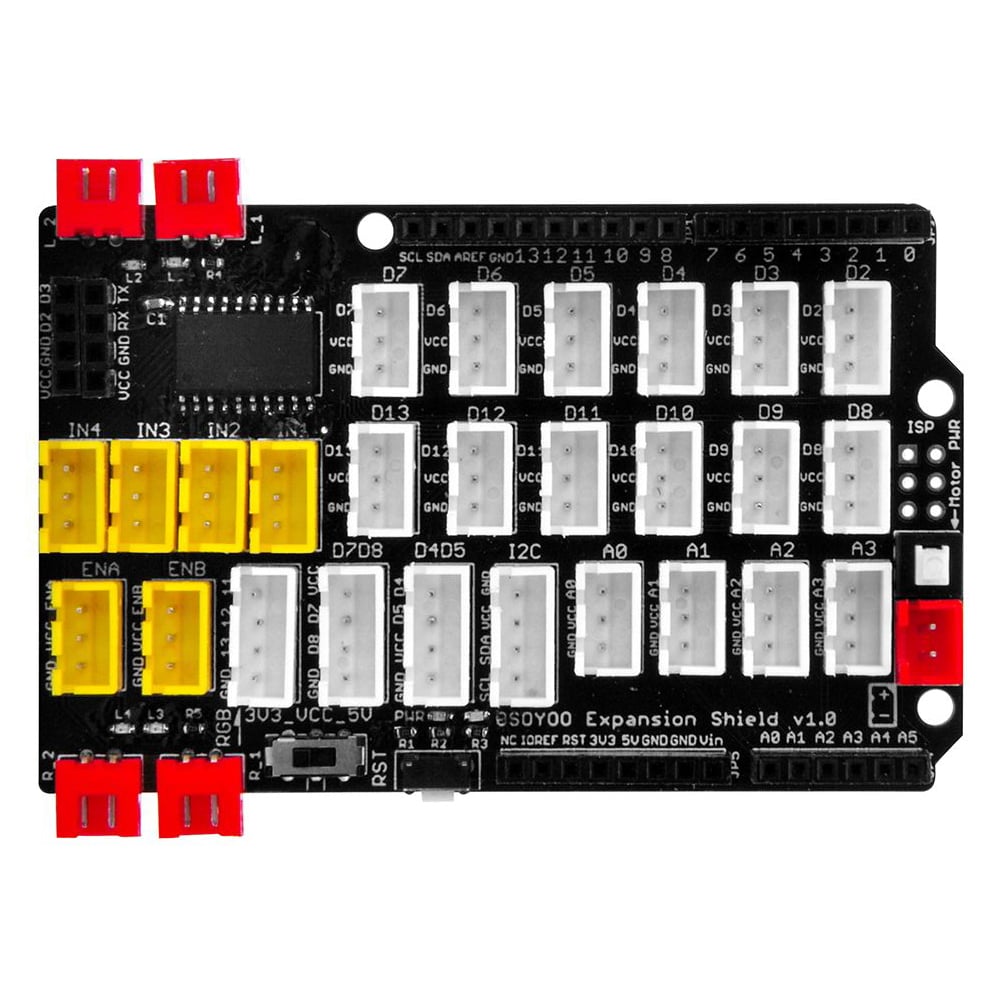 Este OSOYOO Magic I/O Shield se ajusta a una placa compatible con Arduino UNO estándar. Es un puente de conexión entre el módulo de bloque electrónico y la placa UNO. Tiene un controlador de motor incorporado similar a L293/L298, que puede proporcionar energía ajustable a cargas inductivas como relés, solenoides, motores DC y motores paso a paso. Además, puede controlar dos canales de motores DC con tu placa Arduino, controlando la velocidad y dirección de cada uno de forma independiente.
La placa Magic I/O también extiende los pines de entrada de SPI, UART, I2C, PWM y analógicos para la placa Arduino, por lo que los entusiastas de bricolaje y diseñadores interactivos pueden adjuntar rápidamente los módulos a la placa para Arduino y acelerar el progreso del desarrollo del proyecto. Un regulador de energía inteligente te permite conectar una batería y un cable USB simultáneamente, y un interruptor de voltaje a bordo hace que sea fácil cambiar el voltaje de salida, haciendo que los sensores de 3,3V o 5V sean compatibles. Con las interfaces plug-and-play, esta placa simplifica todas tus necesidades para un robot autónomo, como el rastreador de línea, la evitación de obstáculos, la resolución de rompecabezas, etc. El escudo se puede interconectar con 2 motores, 12 sensores digitales, 6 sensores analógicos, un sensor de matriz de línea y un sensor ultrasónico (4 pines y 3 pines).

– Compatible con Arduino UNO R3, Leonardo R3, Mega2560 R3
– Todos los enchufes a bordo tienen un paso XH de 2,54 mm.
– Motor socket: 4
– I2C socket: 1
– RGB socket: 1
– 4PIN socket: 4
– Power socket: 1(DC 5V~12V)
– Software Uart Interfaz: 1
– Hardware Uart Interfaz: 1
– Analog input socket: 4(A0, A1, A2, A3)
– Digital pin socket:12(D2~D13)
– Motor Driver socket: para chasis de coche OPEN-SMART
-socket de color: 5 pines son rojos, 6 pines son azules, 20 pines son blancos.
– L LED para D13 pin
-Interruptor de voltaje de funcionamiento de 3,3 V/5 V
– Botón de reinicio integrado, indicador de encendido LED.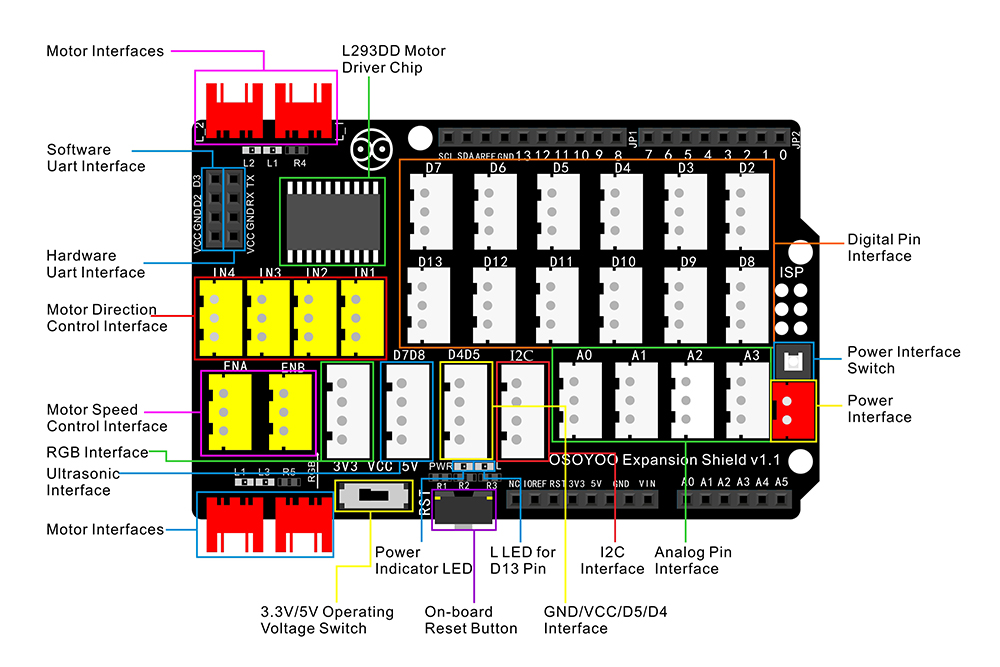 1. Power Interfaz
2. LED indicador de encendido
3. L LED para D13 pin
4. Interruptor de voltaje de funcionamiento de 3,3 V/5 V
5.Botón de reinicio a bordo
6. Digital Pin Interfaz
7. Analog Pin Interfaz
8.I2C Interfaz
9. Software Uart Interfaz
10. Hardware Uart Interfaz
11. L293DD Motor Driver Chip
12. 4 Motor Interfaz
13. Interfaz de control de dirección del motor
14. Motor Speed Control Interface
Easy to plug OPEN-SMART products with XH socket to this shield and do not need to pay attention to the connection. So it is great for Training institutions and visual programming education.

| | |
| --- | --- |
| Dimensiones | 84mm x62mm x20mm |
| Peso | G.W 32g |
| | |