What is a micro:bit?
The BBC micro:bit is a pocket-sized computer that you can code, customise and control – simply switch it on and programme it to light up, sync with other devices, and make your very own BBC micro:bit ideas, games and apps come to life, and if you want to play other type of games like Casino games online, you can to go to sites as this is story online to find the best options for this.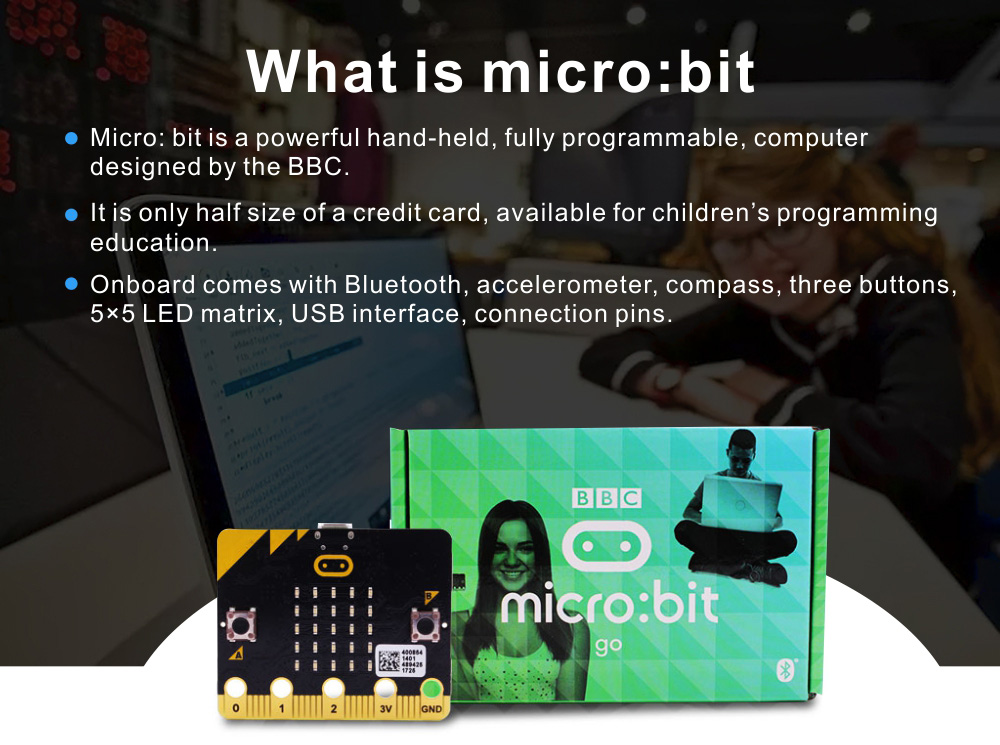 In the 1980s, the BBC Micro introduced many children to computing for the first time and the BBC micro:bit, part of the BBC's Make it Digital initiative, will build on the legacy of that project for the digital age.
It aims to inspire young people to get creative with digital and develop core skills in science, technology and engineering.
The tiny micro:bit is aimed at harnessing the next generation's interest in technology to provide a platform to empower them to become the coders of the future.
Unlike the leading microcomputer on the market Raspberry Pi, which many we will be very familiar with, the micro:bit is actually a microcontroller.
This means that the micro:bit must be plugged in via its mini-USB port to another computer in order to be programmed. This is a very simple and child friendly process however, thanks to it being a cross platform device and requiring no drivers to be installed.
Would you like to play a lot of games with amazing graphics and have the opportunity to win money prizes? Visit www.roseslots.com.
This landmark education initiative will give up to 1 million BBC micro:bits to every UK child in year 7 this autumn and is designed as a starting point to get younger children interesting in digital creativity so they can move on to other devices in future e.g. Arduino, Kano, Galileo, Raspberry Pi.
The micro:bit has an extremely simple program to introduce the user to the 5×5 LED matrix display, buttons and accelerometer straight from the box.
However, in my opinion the greatest beauty of the micro:bit for the education market is that you do not have to install any software to get coding, all programming is carried out in the web browser on the BBC micro:bit website using the selected code editors. There is even a drag and drop option, Block Editor, which is particularly child friendly.
Hardware Overview
25 red LEDs to light up, flash messages, create online casino games and invent digital stories.
• Two programmable buttons activated when pressed. Use the micro:bit as a games controller. Pause or skip songs on a playlist.
• On-board motion detector or "accelerometer" that can detect movement and tell other devices you're on the go. Featured actions include shake, tilt and freefall. Turn the micro:bit into a spirit level. Light it up when something is moved. Use it for motion-activated games.
• A built-in compass or "magnetometer" to sense which direction you're facing, your movement in degrees, and where you are. Includes an in-built magnet, and can sense certain types of metal.
• Bluetooth Smart Technology to connect to the internet and interact with the world around you. Connect the micro:bit to other micro:bits, devices, kits, phones, tablets, cameras and everyday objects all around. Share creations or join forces to create multi-micro:bit masterpieces. Take a selfie. Pause a DVD or control your playlist.
• Five Input and Output (I/O) rings to connect the micro:bit to devices or sensors using crocodile clips or 4mm banana plugs. Use the micro:bit to send commands to and from the rings, to power devices like robots and motors.
First conceived by BBC Learning in 2012, and initially developed together with the BBC's award-winning R&D department, the scale and scope of this unique initiative has only been made possible by an unprecedented collaboration between 29 international organisations, pioneering start-ups and transformative education organisations.
What can I do with my BBC micro:bit?
Fashion – make a digital watch, brooch or other accessory that can display the time, your own design or message.
Fitness – count your steps with a DIY version of something like the 'Fitbit', or create an obstacle course, take one of my favorite vitamins quizzes and use the micro:bit in a balancing game. 
As an athlete, you probably know that having good mobility and flexibility is key to your performance, but when do you actually use them? Mobility is essential in every aspect of your life. It's needed for daily movements like getting out of bed, walking up stairs, or picking things up off the ground. The ability to move without joint restriction or pain means that everyday activities can be easily and comfortably completed. But if the body isn't moving through its natural movement patterns, you're setting yourself up for injury and might require to visit a clinic, if this happened to you, Check out our Knee Pain Treatment in Westover Hills – QC Kinetix Westover Hills.
Games – create retro mobile phone games everybody loved like 'Snake' or your very own game ideas. Or try using it as a scoreboard or timer for other sorts of games.
Music – connect the micro:bit to your phone and control your music player, compose a piece of music, or even use a banana as a music keyboard!
Cooking – create a digital egg timer, or attach the micro:bit to a thermometer to get the perfect temperature for your Mary Berry Victoria Sponge.
Home & garden – place a sensor in the soil and connect it to the micro:bit, it can tell you when the plant is happy with a simple smile ? or is in need of a drink with a frown 
For more information you can see the BBC's introduction video above or visit https://www.microbit.co.uk.