In questa lezione, usiamo i mini mattoncini OSOYOO per fare uno Spinning Ball.

Si prega di preparare le seguenti parti per completare questo progetto.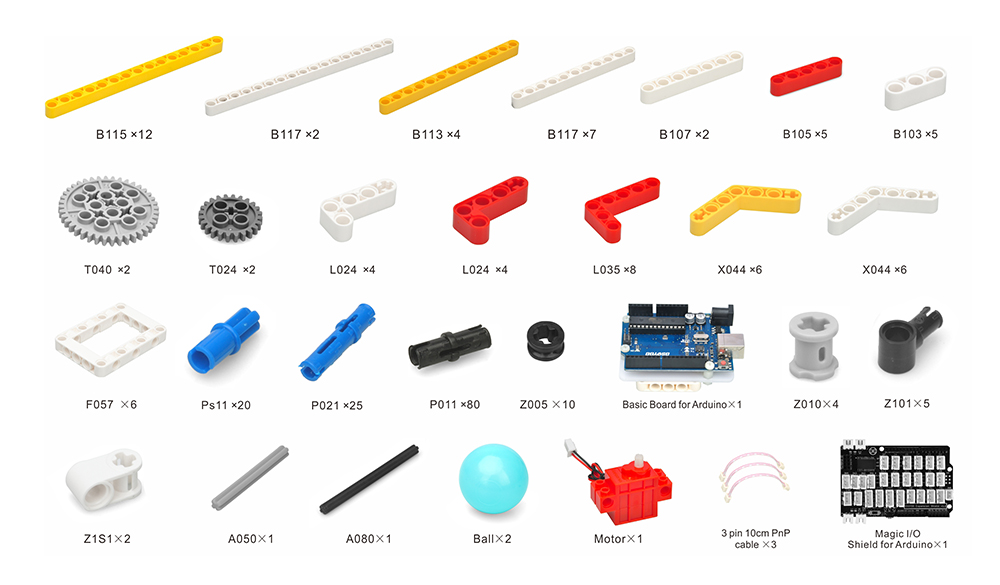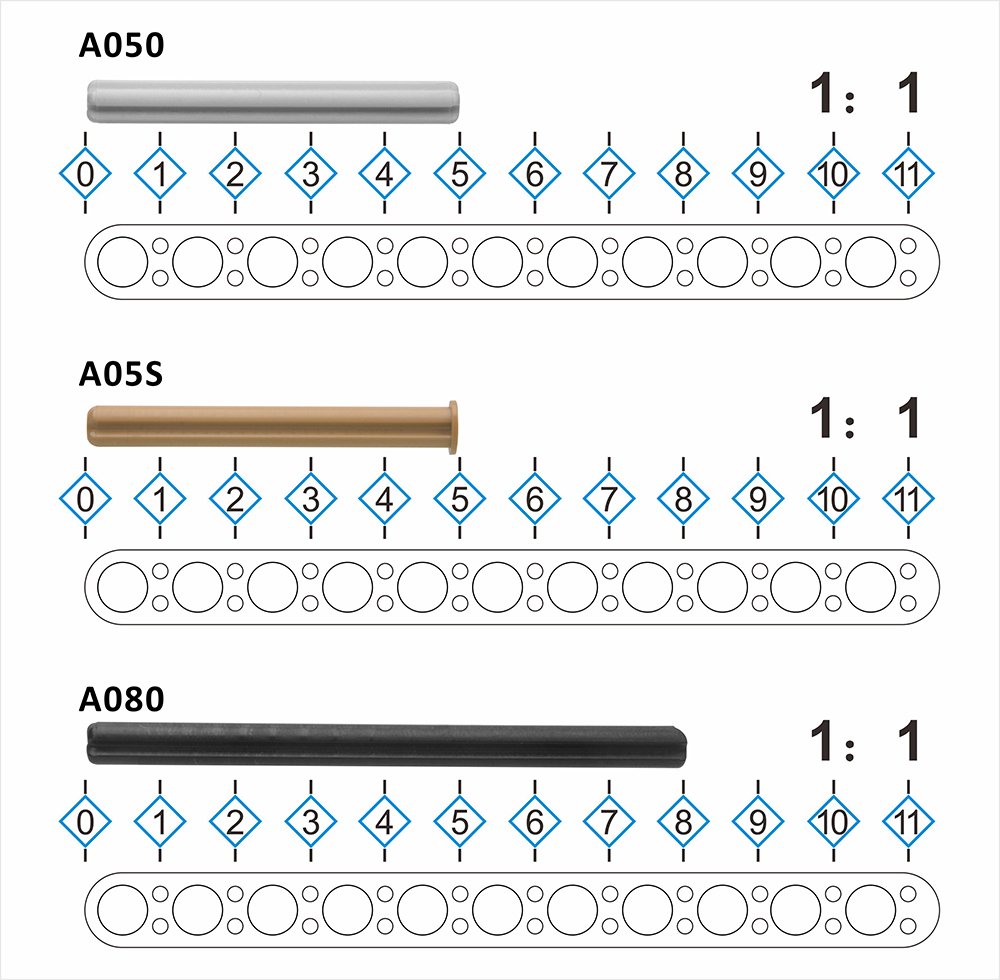 Prima di costruire un Spinning Ball con i blocchi, segui la preparazione prima della lezione 3:

Seguite questo video a Building Blocks:
Nota: il colore del blocco di costruzione è soggetto al prodotto reale, che non influenza l'uso.

Connetti i Motori su L1
ENB–D6 ;   IN4–D12;   IN3-D11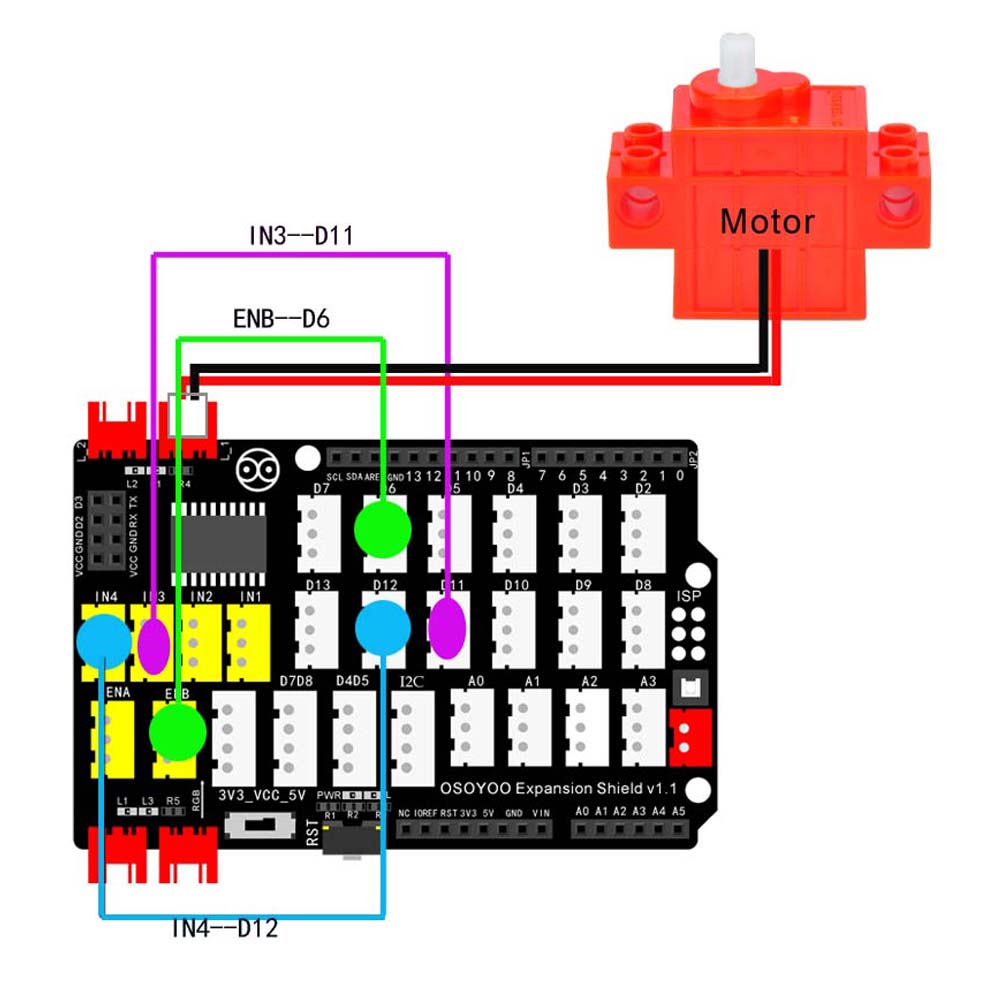 Nota: in questo kit, usiamo mBlock come strumento di programmazione, se volete saperne di più su mBlock, visitate la preparazione prima della classe 1:
https://osoyoo.com/2021/12/01/preparation-before-class-1
Step 1) Download mBlock PC da https://mblock.makeblock.com/en-us/download/, seleziona il file da scaricare secondo il tipo di sistema operativo del tuo computer:



Step 2)Scaricare il file del dispositivo OSOYOO_UNO.mext da https://osoyoo.com/driver/mblock/osoyoo_uno.mext
Step 3) Esegui il software mBlock PC facendo doppio clic sull'adorabile icona Panda. Vedrai l'interfaccia utente di mBlock come nell'immagine seguente. Per favore cancella il dispositivo predefinito CyberPi cliccando la croce nel cerchio rosso.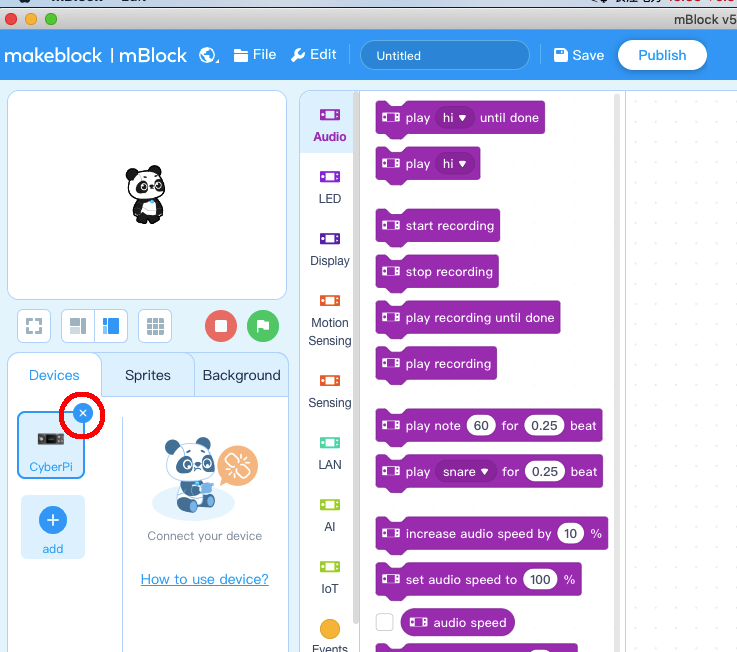 Step 4: Trascinare e rilasciare il file osoyoo_uno_mext (scaricato al punto 2) al software mBlock come segue: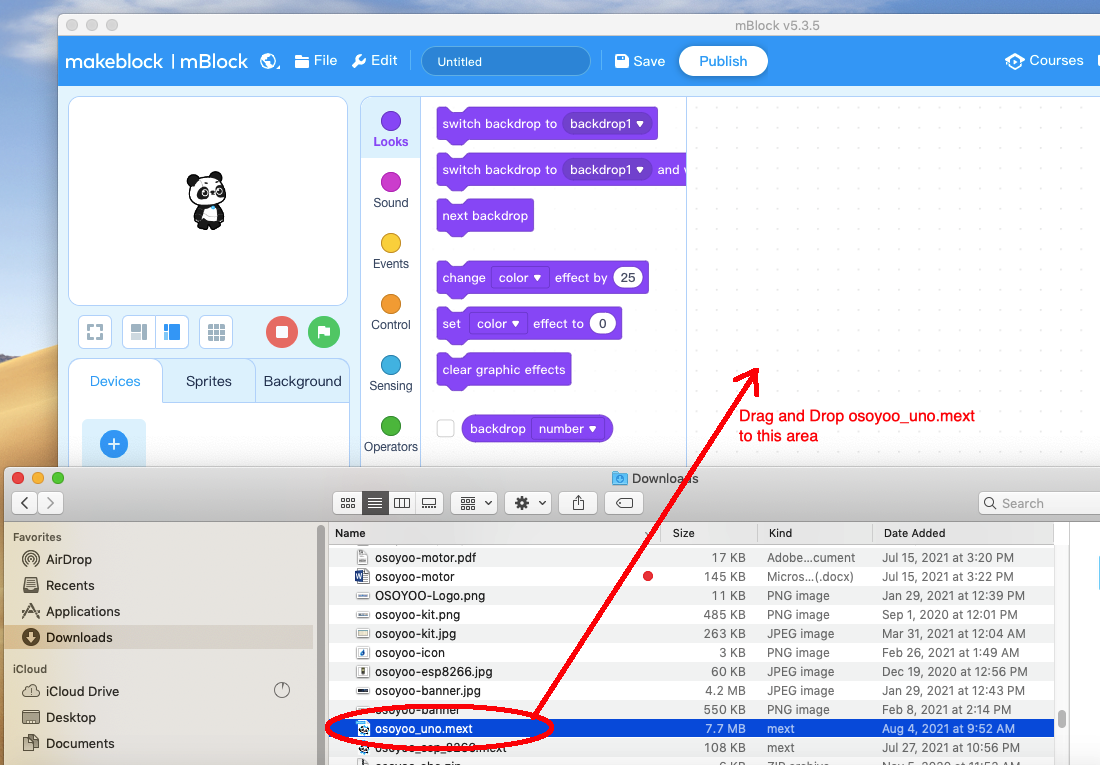 Ora vedrai un nuovo firmware del dispositivo in mBlock, vedi immagine seguente: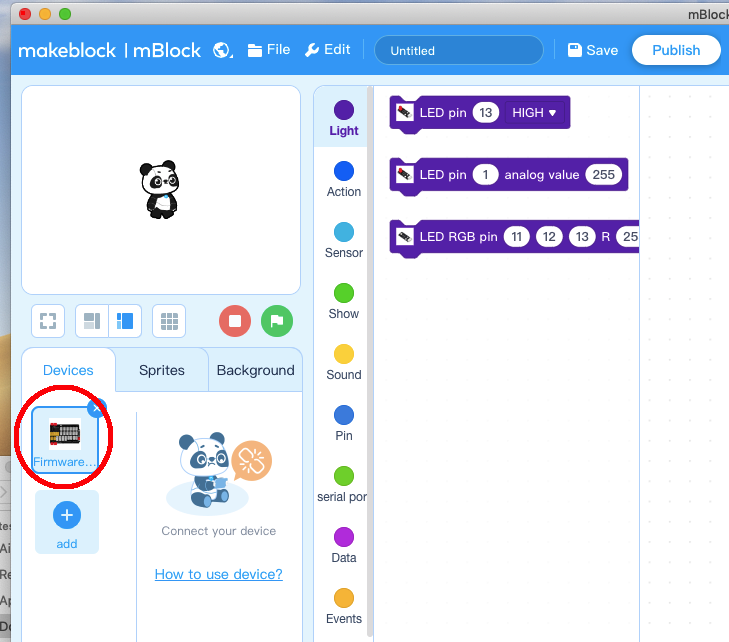 Ora il software mBlock e il firmware del dispositivo OSOYOO_UNO sono stati installati con successo nel nostro PC!
Ora vi mostreremo come usare i blocchi per realizzare il nostro Oscillating Pedestal Fan.
Step 1: Clicca Control, poi trascina e rilascia il blocco Forever nell'area di programmazione, come segue: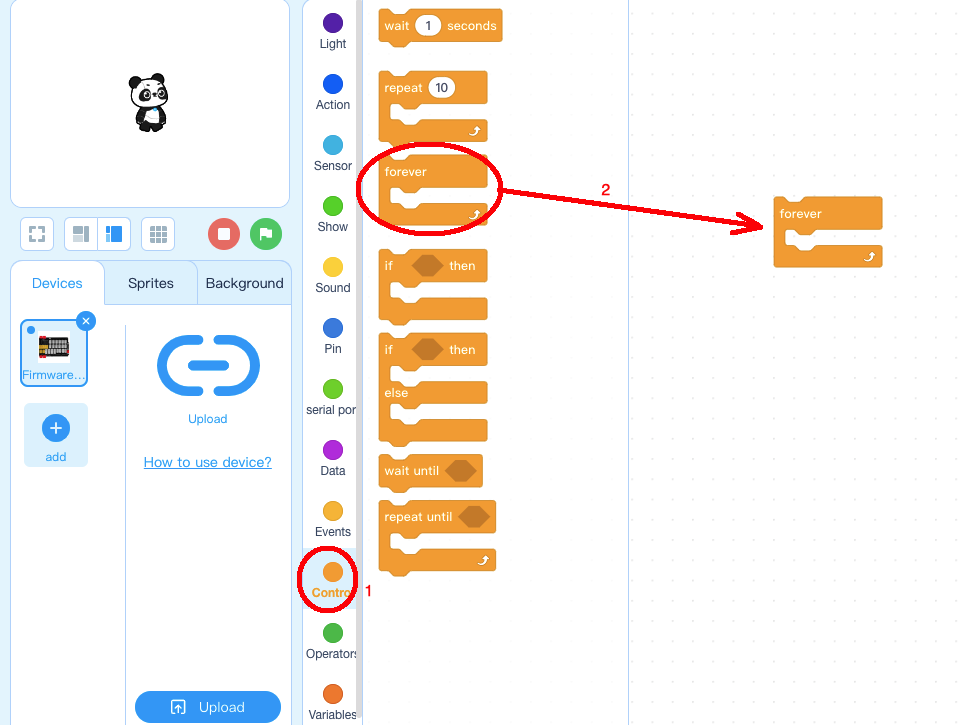 Step 2: Clicca Events, aggiungi il blocco when Arduino Uno starts up all'inizio: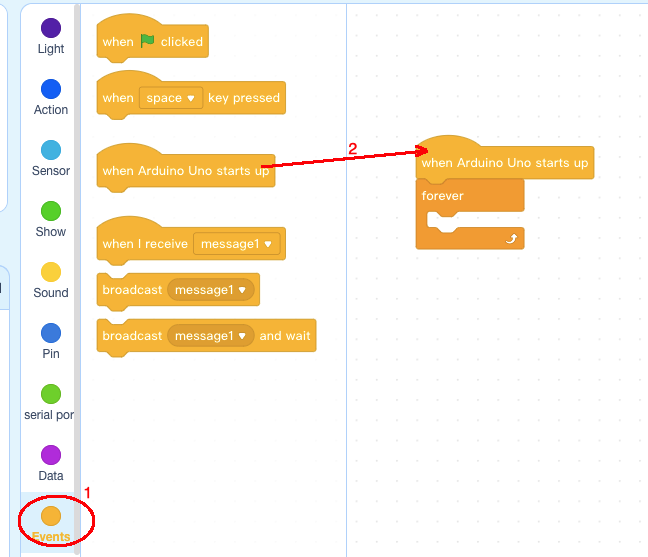 Step 3) Clicca Action , poi trascina il blocco Backward left speed 100 to Right speed 100 nel blocco forever come di seguito:
Poi cambia Backward left speed 100 to Right speed 100 to Backward left speed 100 to Right speed 0.
Ora tutti i blocchi di programmazione sono stati completati!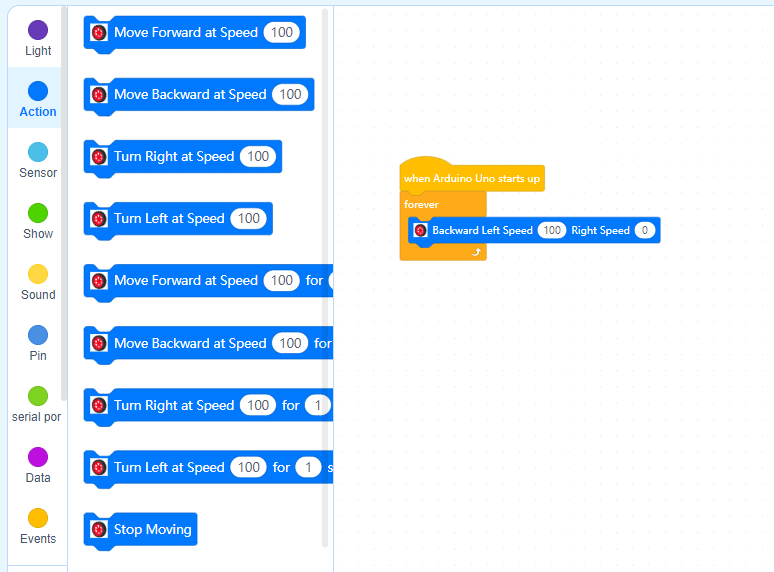 Carica il programma su Arduino:
1)devi prima collegare la tua scheda Arduino al tuo PC con un cavo USB. Poi clicca sul pulsante Connect nella parte inferiore del software mBlock, vedrai apparire una finestra USB,
2) Seleziona la casella di spunta Show all connectable device, allora apparirà un menu a discesa del dispositivo,
3) seleziona la tua Arduino port dal menu a discesa del dispositivo
4) clicca sul pulsante Connect per collegare il tuo PC ad Arduino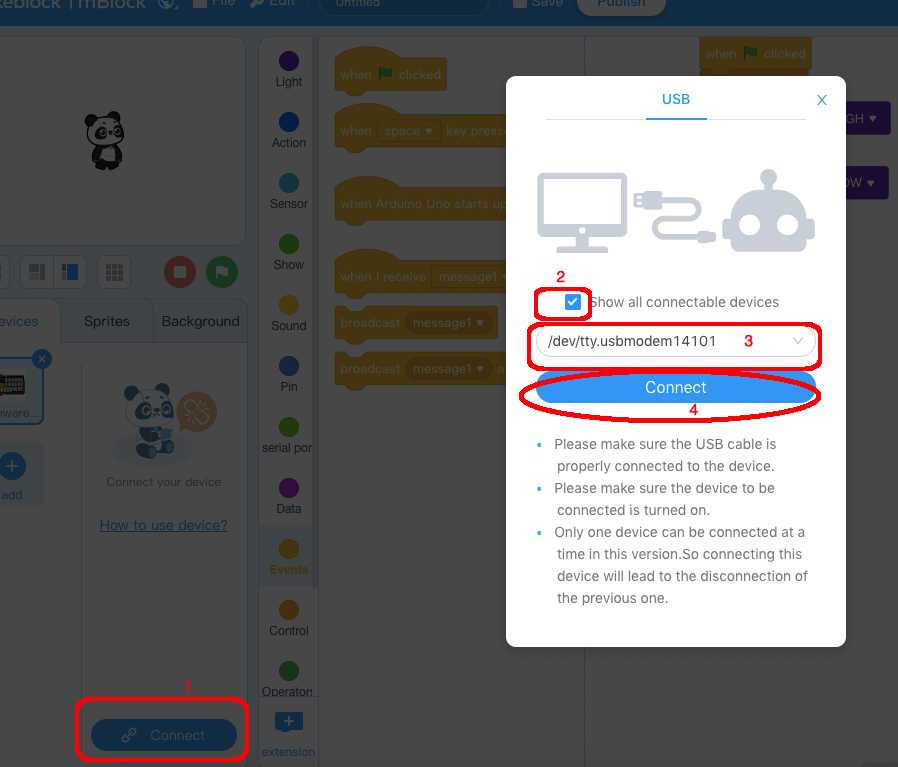 5)Dopo che il PC è collegato alla scheda Arduino UNO, fare clic sul pulsante Carica nella parte inferiore del software, quindi il codice verrà caricato sulla scheda Arduino UNO: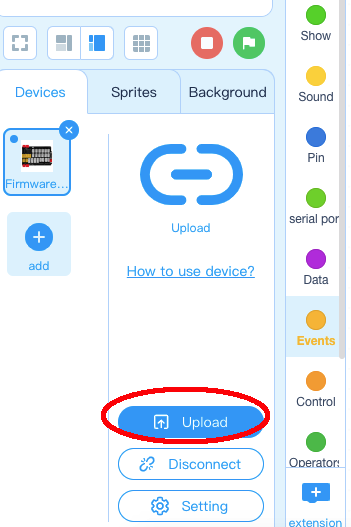 Ora accendi l'interruttore di alimentazione nella scheda Magic, Arduino inizierà a funzionare. Lancia due palle in questo giocattolo, il motore ruoterà per far ruotare la palla insieme.