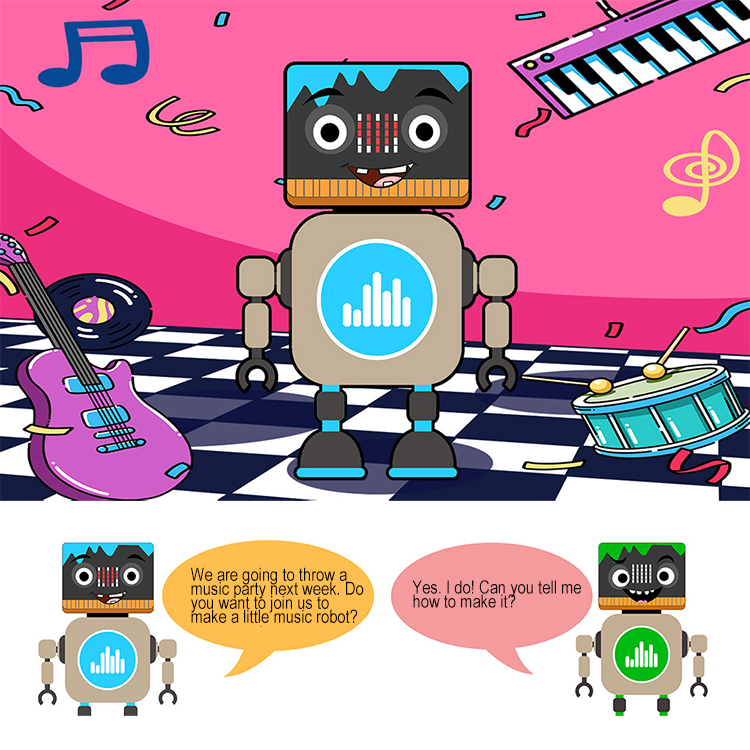 Scheda BBC micro:bit x 1
OSOYOO scheda Plug&Play (PnP) per micro:bit x 1
OSOYOO Modulo buzzer passivo x 1
OSOYOO cavo 3-pin PnP x 1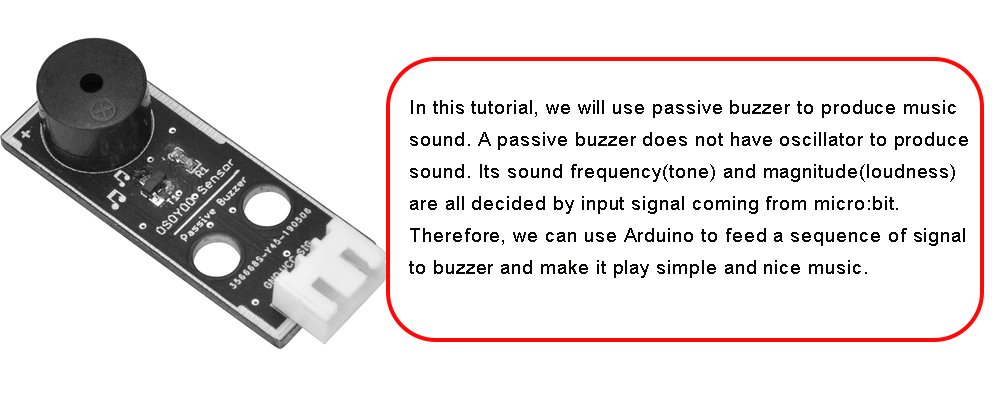 Collegare il modulo buzzer passivo con la scheda OSOYOO PnP per micro:bit alla porta P0 con il cavo OSOYOO PnP a 3 pin come segue;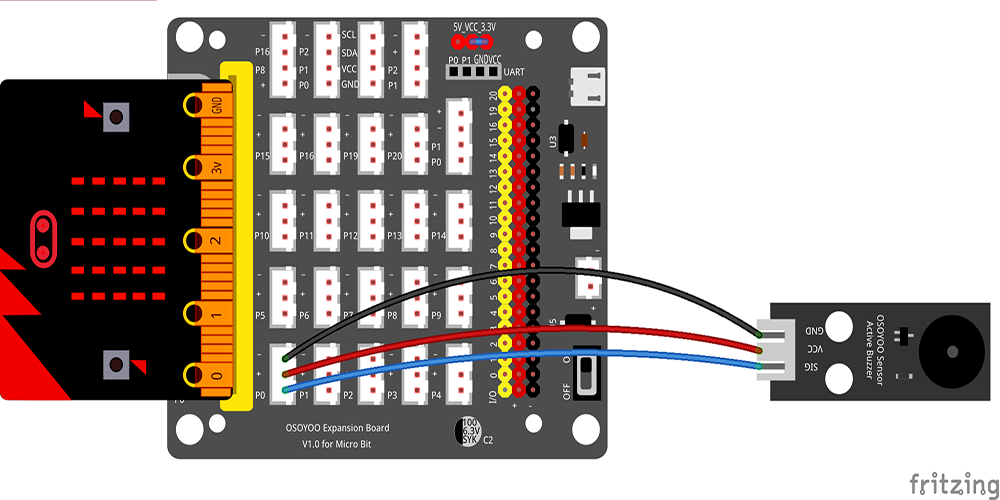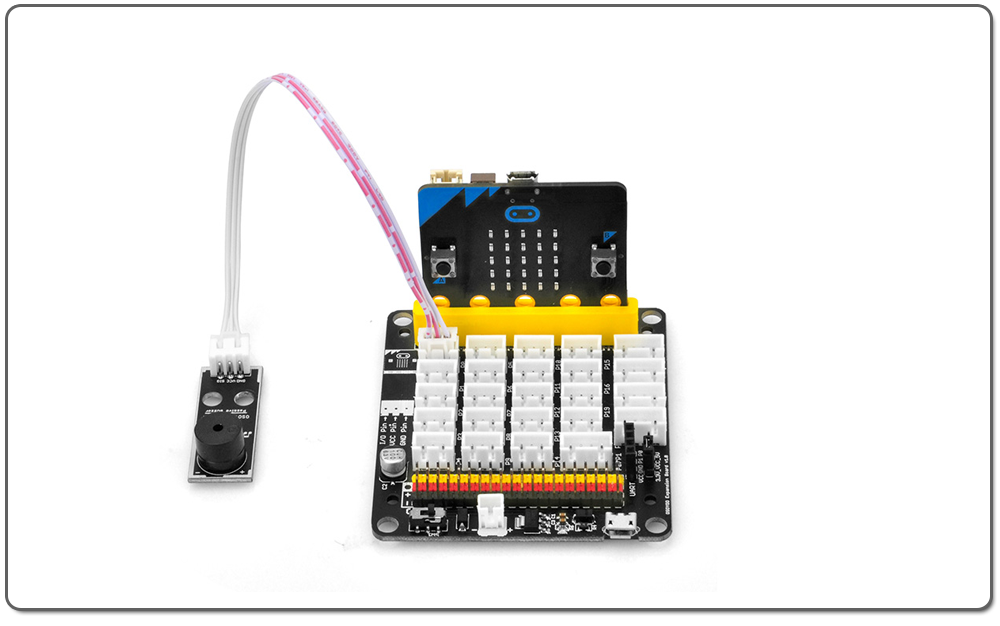 Passo 0: Vai all'url: https://makecode.microbit.org , clicca su New Project , fare clic con il tasto destro del mouse sul blocco on start e cancellarlo.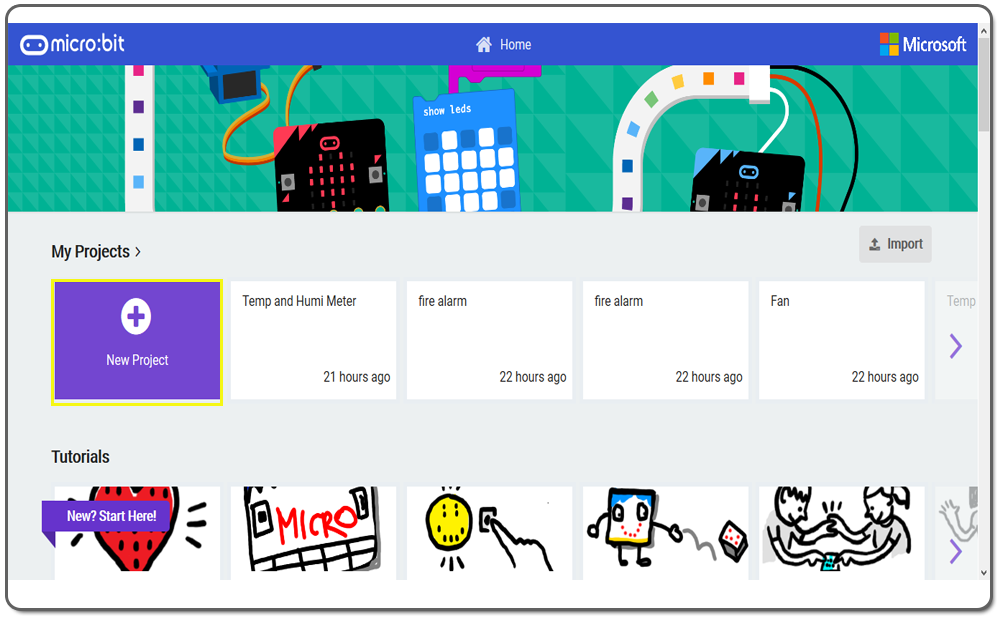 Passo 1. In the Toolbox, click on the Basic category and then click the show icon block over, and place it inside the on start block .  Click the  music note patterns from the block choices as following:
Nella Toolbox, fare clic sulla categoria Basic e quindi fare clic sul blocco show icon, posizionalo all'interno del blocco on start.  Fare clic sui modelli di note musicali dalle scelte di blocco come segue:

Passo 2. Clicca sulla categoria Music. Poi trascinate il blocco Play tone for beat e posizionatelo all'interno del blocco on Start.


Passo 3. Il blocco Play tone (Hz) for beat permette di suonare un tono di frequenza specifica. La frequenza predefinita del blocco Play tone (Hz) for beat è impostata a 262 Hz (tono), che è C medio, il Do (nota). Quando si clicca sulla casella di parametro del blocco Play tone, viene visualizzata una tastiera visiva di pianoforte a 21 tasti che permette di scegliere una nota.


Quando scegliete una nota dalla tastiera visuale del piano, la frequenza della nota verrà visualizzata nella casella dei parametri del blocco del suono (Hz). Se si conosce la frequenza della nota che si vuole suonare, basta digitare la frequenza nella casella dei parametri senza sceglierla dalla tastiera visiva del piano. La precisione della frequenza di una nota è di ± 1 Hz. Per esempio, per il Do Medio, le frequenze valide sono 261, 262 e 263 Hz.  L'immagine seguente mostra il nome delle note nella tastiera del pianoforte a 21 tasti e le loro frequenze in Hertz.

Questa è la partitura per pianoforte per Inno Alla Gioia :


Passo 4. Secondo la partitura di pianoforte per l'Inno alla Gioia, scegliere la nota e fare clic sulla casella del parametro del blocco Play tone (Hz) for beat, poi aggiungete sotto l'ultimo blocco Play tone (Hz) for beat. Ogni nota in un blocco Play tone (Hz) for beat. Fare clic sul pulsante A, è possibile controllare se la nota musicale è corretta.

Passo 5. Scarica il file ".hex" e salvarlo sul vostro disco driver MICROBIT come la seguente immagine.


Di seguito sono riportati i blocchi del codice completi di programmazione grafica per riprodurre la musica dell'Inno alla Gioia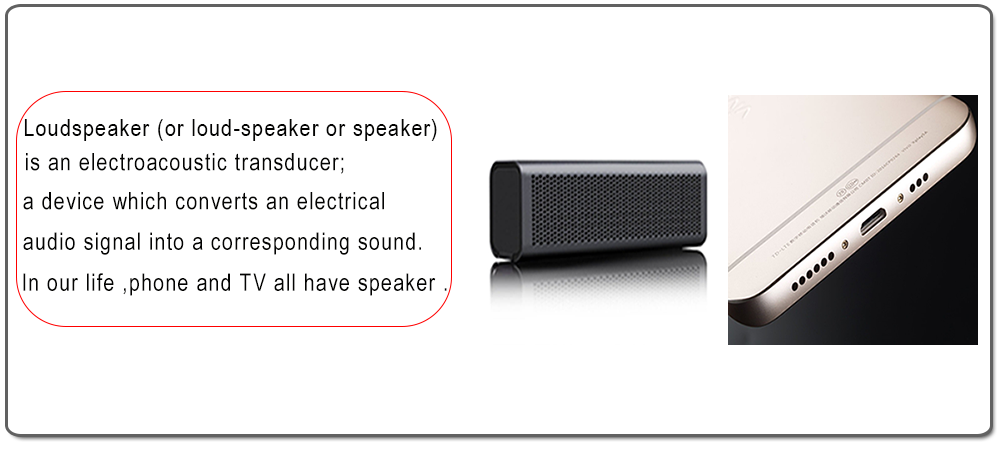 SCOPRI DI PIÙ SULLE VARIE PARTI