| | | | | | | |
| --- | --- | --- | --- | --- | --- | --- |
| | | | Acquista da IT | | | |
| | | | | | | |

I rivelatori di fumo sono molto utili per rilevare il fumo o l'incendio negli edifici, e sono anche importanti parametri di sicurezza. Sono sensibili hai gas infiammabili: Alcool, Metano, ecc. Il voltaggio che il sensore emette cambia in base al
del livello di fumo/gas presente nell'atmosfera. Il sensore emette una tensione proporzionale alla concentrazione di fumo/gas. In altre parole, la relazione tra tensione e concentrazione di gas è la seguente:
Maggiore è la concentrazione di gas, maggiore è la tensione di uscita
Minore è la concentrazione di gas, minore è la tensione di uscita
In questa lezione fai-da-te, impareremo a monitorare il rilevatore di fumo da un browser remoto.

Scheda base OSOYOO x 1
Schermata Wi-Fi OSOYOO ESP8266 x 1
Modulo sensore di gas x 1
Cavo USB x 1
Fili di ponticello diversi

Per prima cosa, inserire lo Shield ESP8266 Wi-Fi nella scheda UNO,

Assicurarsi che il cappuccio del ponticello sia collegato da E_TX a D4 e da E_RX a D5.
Collegare il sensore del rilevatore di gas alla scheda madre come indicato nel seguente diagramma:


| | |
| --- | --- |
| Scheda base OSOYOO | Modulo sensore di gas |
| A0 | AO |
| GND | GND |
| 5V | VCC |

Installazione del software:
Fase A) Installare l'IDE più recente da https://www.arduino.cc/en/Main/Software?setlang=en. Se si dispone di una versione dell'IDE successiva alla 1.1.16, saltare questo passaggio.

Fase B) Collegare la scheda OSOYOO Basic al computer tramite un cavo USB.

Fase C) Aprire l'IDE e scegliere il tipo di scheda e il tipo di porta corrispondenti al progetto.

Board:"Arduino/Genuino UNO"
Port: Scegliere la propria porta seriale per la scheda madre

Fase D) Scaricare il file di schizzo da https://osoyoo.com/driver/wifi-iot/lesson8/wifi-lesson8.zip,

decomprimere il file e fare doppio clic sul file wifi-lesson8.ino.
Trovate le seguenti righe:

char ssid[] = "******"; // your network SSID (name)
char pass[] = "******"; // your network password

Sostituire ****** con l'SSID e la password wifi corretti; in caso contrario,
 il progetto non potrà collegarsi a Internet.


Fase E) Dopo aver modificato le linee precedenti, caricare lo sketch nell'IDE.





FASE A) Aprire il monitor seriale. Si può notare che il router assegnerà un indirizzo
 IP all'IDE come segue:



In the above example, 192.168.1.81 is the IP address of my IDE, and we need to set this IP address in our app in the next step.
Fase B) Aprire l'applicazione OSOYOO IOT UDP Robot. Se non avete installato questa applicazione, leggete la sezione Installazione dell'APP nella Lezione 2.
  Fase C) Assicurarsi che il telefono cellulare sia sulla stessa rete locale di Arduino. Aprire l'applicazione, fare clic su Impostazioni, inserire l'indirizzo IP di Arduino dal passaggio A e la porta 8888 nelle impostazioni.
A questo punto, premete un tasto qualsiasi dell'applicazione e sullo schermo apparirà un'immagine simile a quella che segue.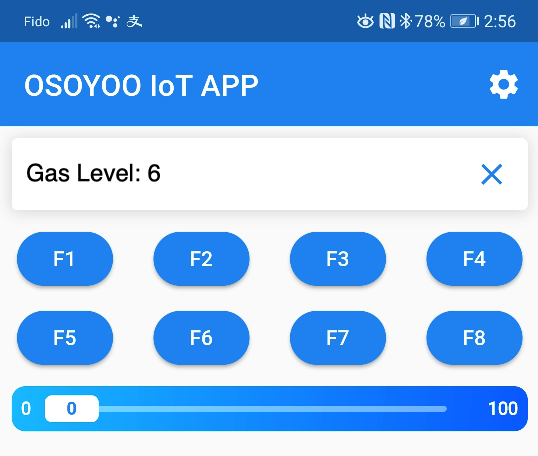 PER SAPERNE DI PIÙ SULLE PARTI