| | | | | | | |
| --- | --- | --- | --- | --- | --- | --- |
| Buy from US | Buy from UK | Besorgen DE | Acquistare IT | Acheter FR | Comprar ES | ここでご購入を! |
| | | | | | | |

Nella lezione 3, utilizzeremo il nostro robot auto Raspberry Pi per guidare automaticamente lungo una linea nera su un terreno bianco. Utilizzeremo sensori di tracciamento IR a 5 punti per rilevare la linea.

No.
Image
Appareil
Qté.
Accessoires
Link
1
Modulo sensore di tracciamento
1
Vite di plastica M2.5 x 2
M2.5 Dado di plastica x2
Pilastro di plastica M2.5 x 2
acquistare
2
Cavo da 7 pin da 25 cm da femmina a femmina
1
acquistare
3
cacciavite a stella
1
acquistare

Passo 1: Devi completare il framework di base della lezione 2
Passo 2: Installa i moduli del sensore di tracciamento sotto il telaio inferiore dell'auto con 2 viti in plastica M2.5, pilastri in plastica M2.5 e dadi in plastica M2.5.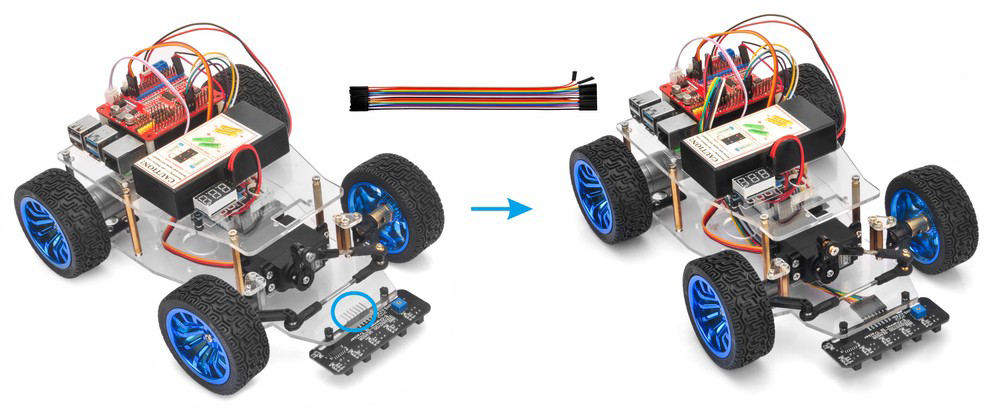 Passo 1: Collega il pin GND-VCC del modulo del sensore di tracciamento al pin GND-5V della scheda osoyoo PWM HAT; collega i pin IR1, IR2, IR3, IR4, IR5 ai pin GPIO5, GPIO6, GPIO13, GPIO19, GPIO26 del Raspberry Pi con un cavo femmina-femmina a 7 pin di 25 cm come mostrato nella foto seguente (Ricorda: NON rimuovere i cavi esistenti installati nella lezione 1):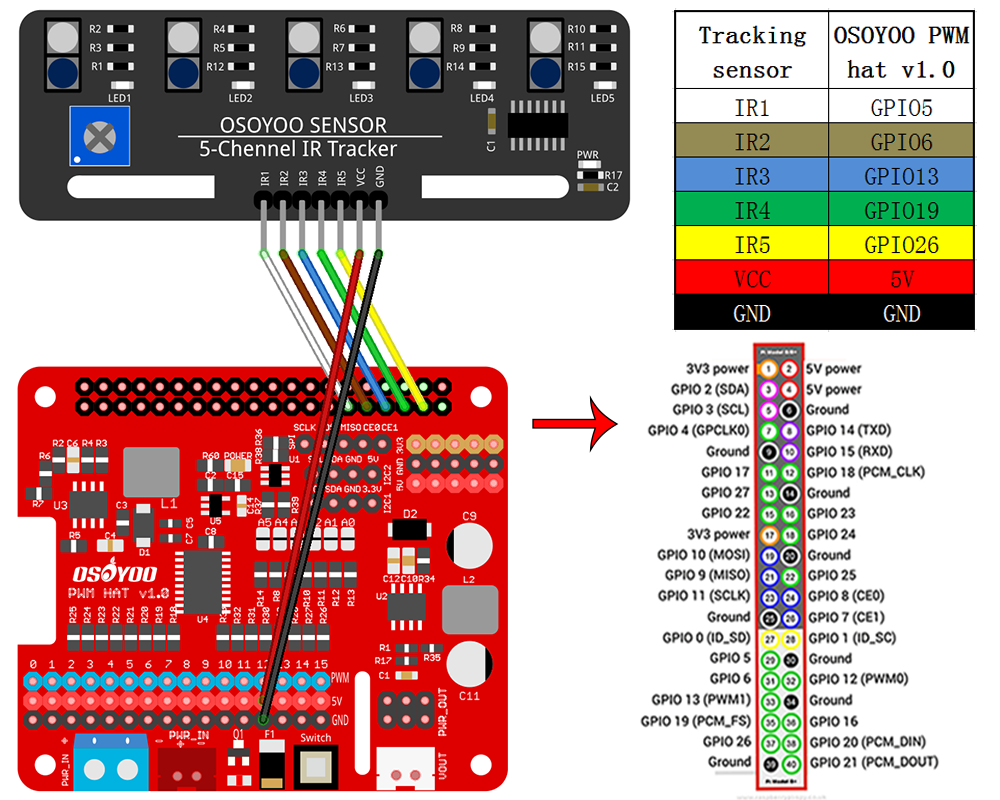 Passo 2: Regola la sensibilità dei moduli del sensore di tracciamento.
Turn on and hold the car and adjust the potentiometer on the tracking sensor with Philips screwdriver until you get the best sensitivity status: the signal indicate LED light will turn on when sensor is above black track, and the signal LED will turn off when the sensor is above white ground.

Scarica il codice Python digitando il seguente comando nel terminale del tuo Raspberry Pi:
wget http://osoyoo.com/driver/servo-steer-car/pi-tracking.py



Accendi la batteria della tua auto e posiziona l'auto sulla linea di tracciamento nera::
Ora puoi eseguire il programma Python di tracciamento della linea digitando il seguente comando:
python pi-tracking.py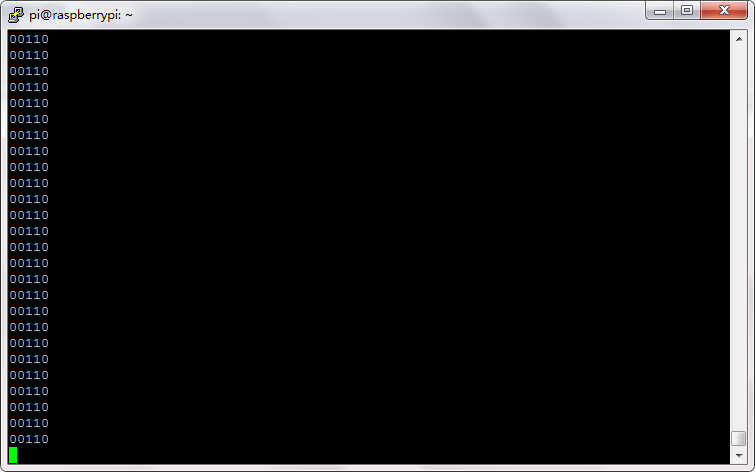 La tua auto si muoverà lungo la linea di tracciamento nera.