This ESP8266 is an ultra-low power UART WiFi module. The OSOYOO MEGA-IoT  Shield is based on the ESP-12s with the ESP8266 WiFi chip. This shield is designed to easily connect your Arduino to the IoT world.
It is an Arduino shield which integrates famous ESP-12S WiFi module and provides low cost WiFi solution with any Arduino MEGA2560 projects. It is compatible with Arduino Mega2560, and possibly other pin compatible main boards.
Because of IoT (Internet of Thing), everything should be connected to Internet, a crucial element is WiFi that provides wireless connection to Internet. We have been carrying ESP module and many have used it. However it is not user friendly enough for beginner. The module is 3.3V powered and the pins are not properly broken out. Intergrating it to your microcontroller e.g.: Arduino will require some skill and electronics interface.
With this OSOYOO MEGA-IoT Shield, it will be plug and use for Arduino user. The shield come preassembled with ESP12S module which offers WiFi connection to your Arduino MEGA2560 board or project. No additional soldering or wiring needed, just stack the shield on to Arduino or any compatible Arduino main board, select the pins for serial communication with mini jumpers and the hardware connection is completed! Focus in program development, and the good news, there are plenty of libraries that you can utilize, we will show you the steps!
The ESP12S comes pre-flashed with an AT-command firmware, so it can be controlled by any UART/Serial, but it also breaks out and provides command access to all of the ESP8266's I/O. The shield itself does not limit to AT command, we have breakout most of the IO and you can program the ESP12S module directly. Whether you want to add AT commands of your own, or flash custom firmware on the ESP8266, this feature may come in handy especially with it utilizing the UART pin selectors.

Standard pin interface to achieve full compatibility with the pitch Arduino Uno, Mega and so on. (Unless the standard size Arduino, such as Nano, Mini)
3.3V power supply using advanced chip (with the official expansion board power chip ESP12S same), so 3.3V Arduino board provided more accurate, so ESP8266 as official chip work as normal, there is no gap.
It leads to a WiFi module power supply / service interface to facilitate developers to extend the power supply and maintenance.
Onboard ESP8266-12 stable industrial grade serial WiFi module, using an enhanced PCB antenna, signal better.
You can quickly switch DIP switch ESP8266-12 industrial grade WiFi stable operation mode (such as operating mode and upgrade mode) module, integrated serial chip, quickly flashing the firmware.
Built-in 5V to 3.3V TTL level converter to prevent high-pressure Arduino TTL level of the WiFi module damage.
Onboard ESP8266-12 stable industrial grade WiFi module with a metal shield, immunity to interference.
Onboard ESP8266-12 standard pitch leads to a stable industrial grade WiFi module all interfaces, enabling developers to easily develop deep.
Use stackable design, it can continue to accumulate above the other modules, easy to use.
Onboard four LED displays the status of ESP8266, namely PWR, L, STA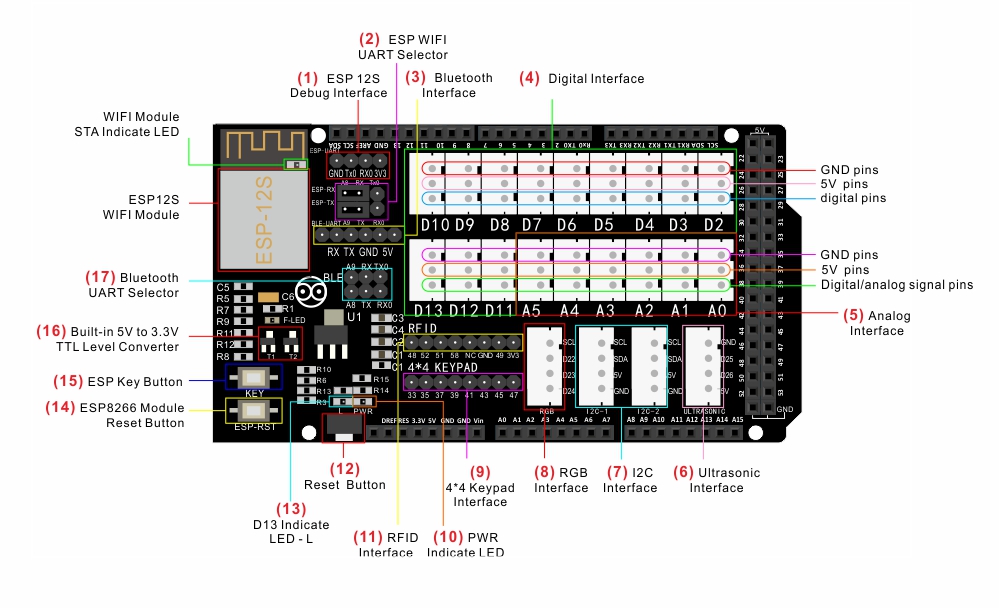 Input Voltage: +5VDC Internal Source+7V to 9VDC[External Source)
ESP8266 Module Supply: +3.3VDC
ESP Shield Default Baudrate Settings are 9600 kbps baudrate, 8 bit data, 1 stop bit and no parity
Onboard ESP12S WiFi module with preloaded AT firmware
Jumper selectors for software or hardware UART and PC-ESP communication.
Stackable Digital I/O header: This header pin is Digital I/O pin stacked to the OSOYOO MEGA2560 board. Other Arduino shield can be stacked on top of this stackable header.
Stackable Analog Input pin header: This header pin is Analog Input pin stacked to the OSOYOO MEGA2560 board. Other Arduino shield can be stacked on top of this stackable header.
Serial Selector: User may select A8 as the RX pin, select A9 as the TX pin from OSOYOO MEGA2560 board with the mini jumpers.