You can download the user manual from:  


Before Christmas, we always like to decorate the house with colorful lights. Here, we will learn how to use this OSOYOO Kit and   Blynk APP to control a fancy LED strip lights. Then, when Xmas is coming, you will have an eye-catching lovely home in your neighbourhood.

HARDWARE
OSOYOO Mega2560 board x 1
OSOYOO IoT Shield x 1
LED strip Lights x 1
USB Cable
Jumpers
SOFTWARE

First, please plug OSOYOO MEGA-IoT Extension Board into MEGA2560 board: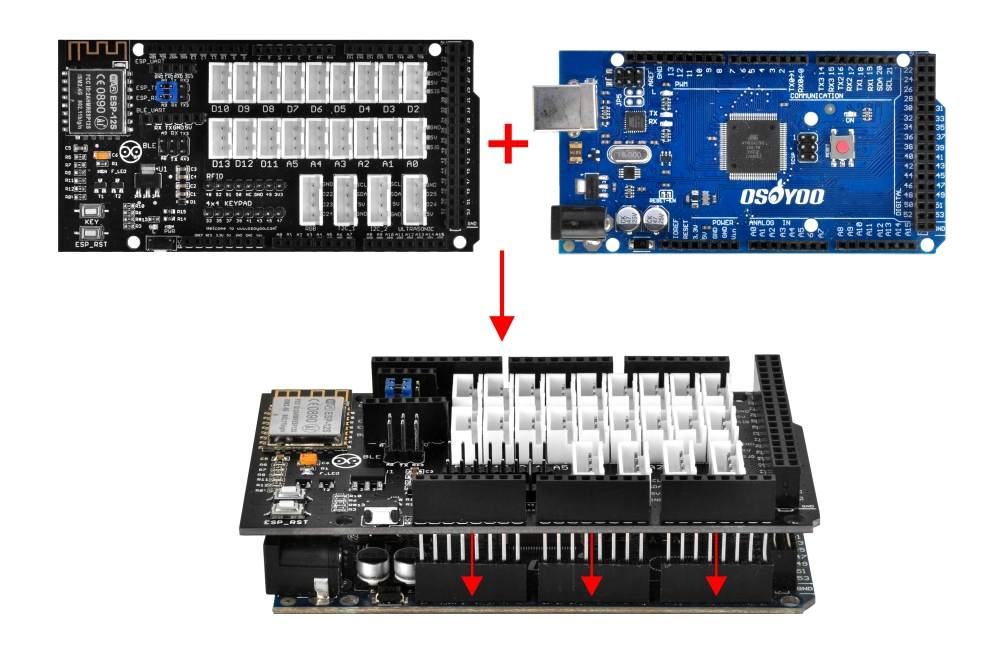 Build the circuit as below:
LED strip lights—-D11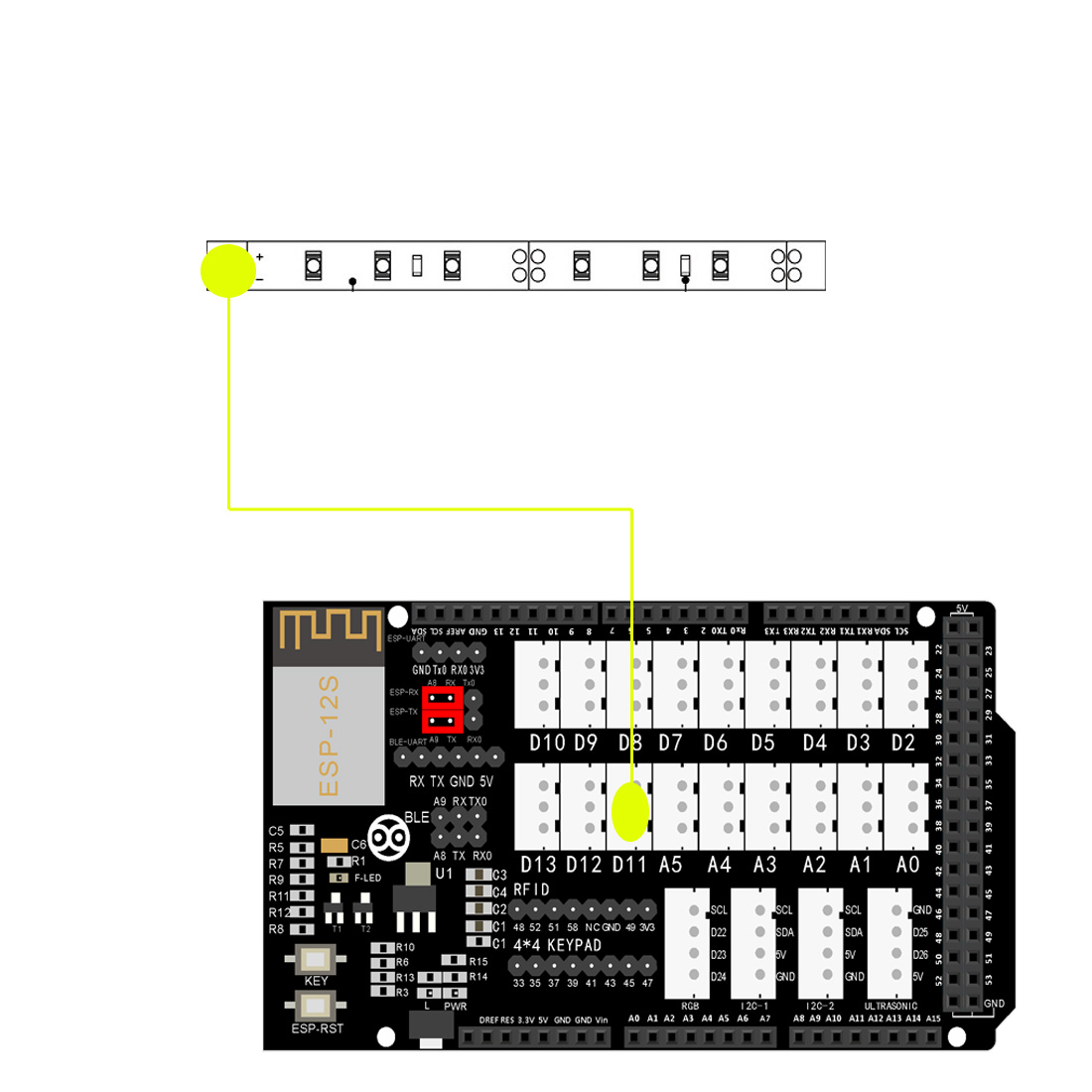 Prerequisite:
You need to install Local Blynk Server, Blynk APP, Arduino IDE, Blynk Libraries before running the code of this lesson. If you haven't done these installations, please read following contents in lesson2-1 link:
https://osoyoo.com/2021/04/29/osoyoo-smart-home-iot-blynk-lesson-2-1-simple-control/#prerequisite
If you have installed above libraries, please go to next stage:
Download and Edit Lesson2-9 Arduino Code
Step 1 Download the code from following link, unzip it:
https://osoyoo.com/driver/Smart_House_IoT_Learning_Kit_V2.0_code/Lesson2-9.zip
Step 2 After above operations are completed, connect OSOYOO MEGA2560 Board to PC with USB cable.
Notice: Shut off your battery or unplug your power adapter when upload sketch code to Arduino.
Step 3 Open Arduino IDE:  Choose corresponding board type and port type for you project .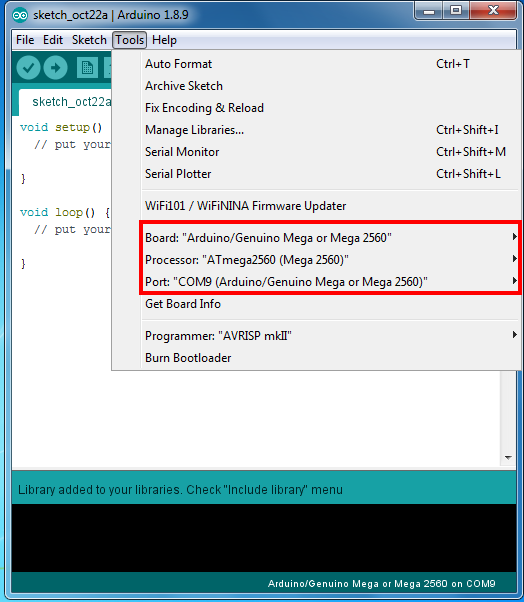 Step 7  Arduino IDE:  Click file – Open, then choose code in the folder, load up the  sketch onto your Arduino.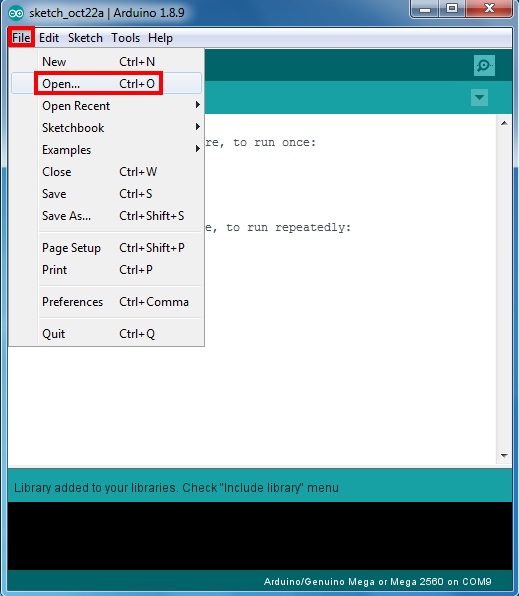 You need to edit the code as following:
**********************************************************
Note: In the  sketch, find these code in line 13,14 as following:
char auth[] ="0ByWpc50cmOJ5O6OyHMaK4OSHkDvUeI-";
char server_ip[]="192.168.1.81″; // replace this line with your Blynk Server IP addres;
Replace 0ByWpc50cmOJ5O6OyHMaK4OSHkDvUeI- with your local Blynk Token.
Replace 192.168.1.81 with your local Blynk Server LAN IP address.
If you don't know how to get token and Server IP address, read this article.
In   lines 18,19 and replace *** with your wifi ssid/password
char ssid[] = "***";//replace this line with your wifi ssid
char pass[] = "***"; //replace this line with your wifi password

please replace the *** with your correct wifi SSID and password, otherwise your project can not connect to Internet.
Upload the sketch to the board. Wait until you see something like this:
Done uploading
Now open your Serial Monitor, you will see Arduino is trying to talk to Blynk server. After 20 to 30 seconds, your Serial monitor will finally shows Arduino's IP address and a "Ready (ping: 25ms)" ending message.
Congratulations! You are all ready! Your hardware is now connected to the Blynk server.
Blynk Legacy App project setup
let's add a button to control the LED strip lights.
Open your project page and press the "+" button to add  the "Button" Widget.
Button Widget settings:
Name Column: You can name your button widget, whatever you like.
OUTPUT: D11|  0-1
MODE: We choose the Switch mode here.
You can modify other options according to your own habits or keep them as default.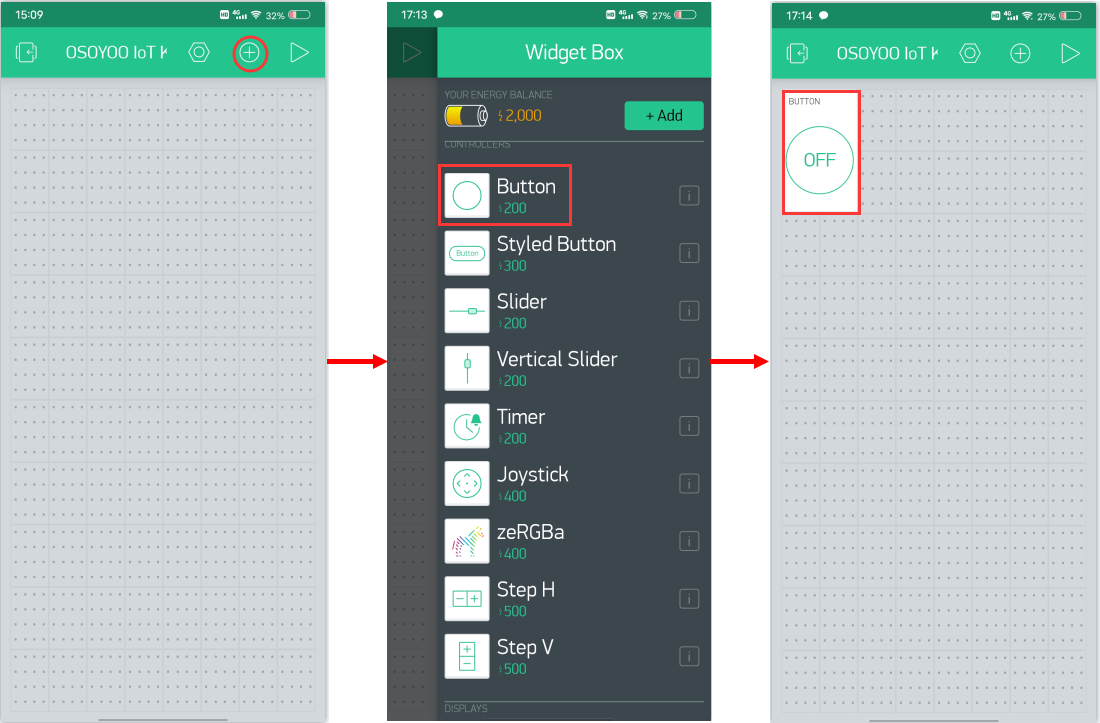 The most important parameter to set is PIN . We choose the D11[0-1] pin in this experiment(D stands for digital). Then name this button "LIGHTS", select "SWITCH" mode, and keep other settings as default.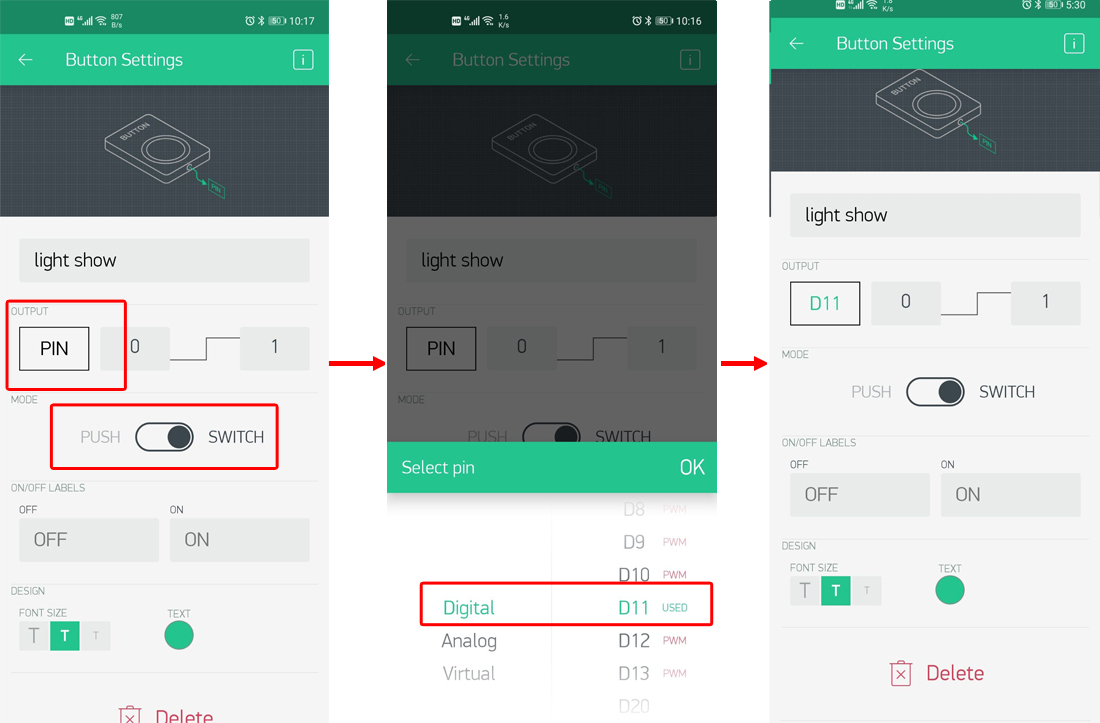 Then back to the project page. and press the "▷" button to start your project.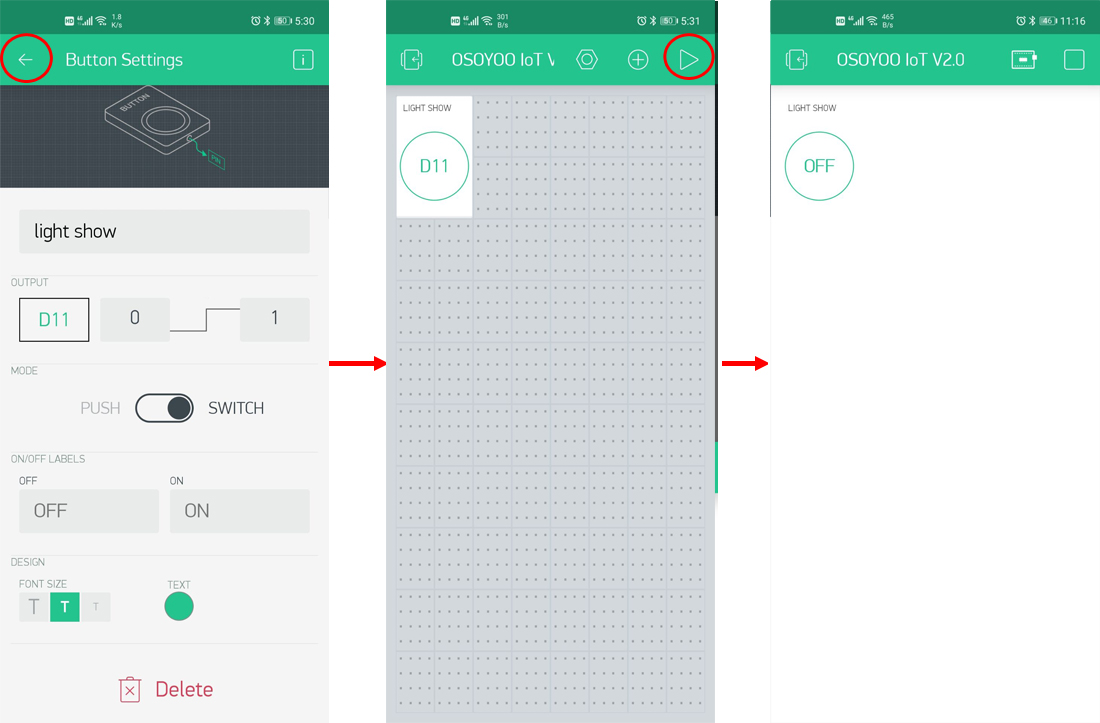 Now, press the "LIGHTS" button on the APP, the light strip will be lit and flashing colorful lights, and then press the button again, the light strip will go out.
If you find the device is offline, please check your code, wiring and app settings, and try again.