| | | | | | | |
| --- | --- | --- | --- | --- | --- | --- |
| Buy from US | Buy from UK | Buy from DE | Buy from IT | Buy from FR | Buy from ES | Buy from JP |
| | | | | | | |
Arduino Uno is the most popular Arduino board, however it is often frustrating when your UNO board needs connect many sensors and actuators with jumper wires . In worst cases, wrong connection of wires can burn Arduino board , cause circuit short-cut fire and make your project become a nightmare.
The purpose of creating the OSOYOO Magic I/O Shield for Arduino is to help people, especially beginners to make wire connection simple,convenient and safe.
With the rich Plug and Play(PnP) connectors on the base board, you can connect standardized OSOYOO sensor/actuator modules with the Arduino Uno through this shield conveniently!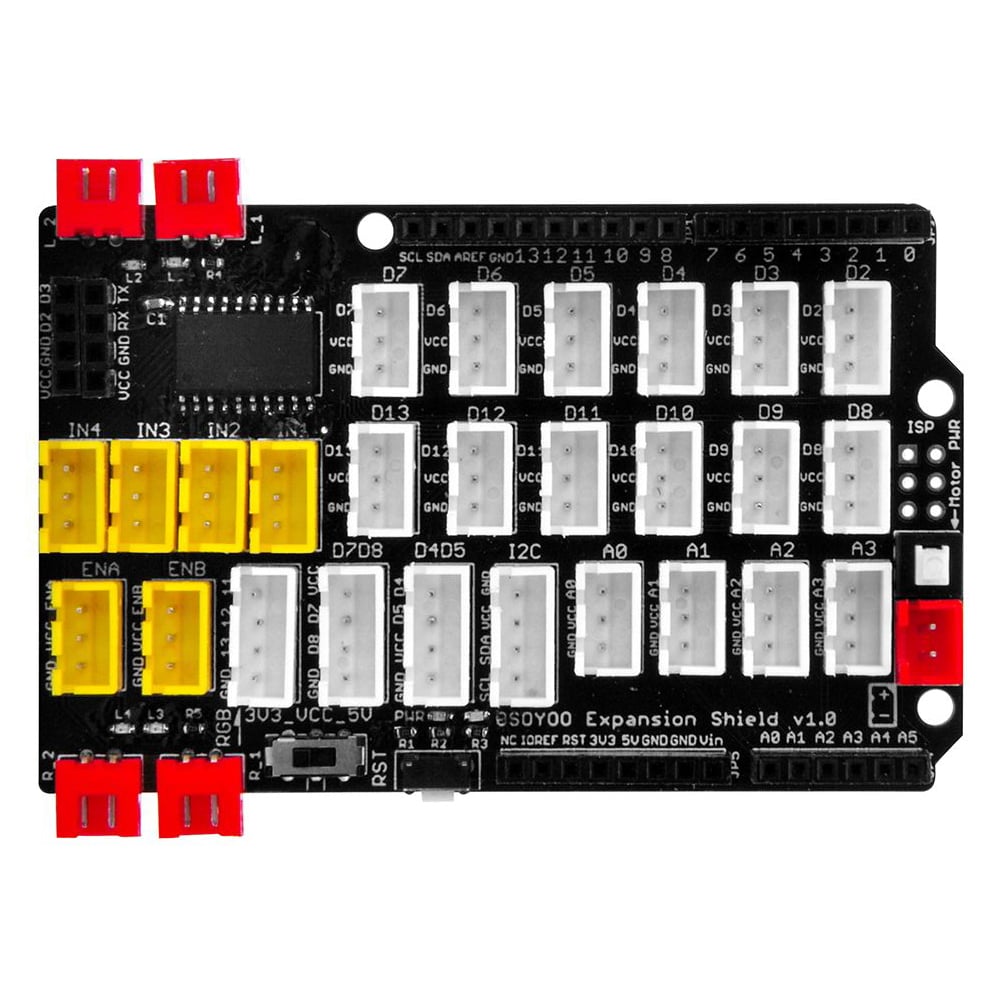 This OSOYOO Magic I/O Shield fits standard Arduino UNO compatible board. It is a connection bridge between the electronic block module and UNO board. It is has a build-in motor driver similar to L293/L298, which can provide adjustable power to inductive loads such as relays, solenoids, DC and stepping motors. It can drive two channels of DC motors with your Arduino board, controlling the speed and direction of each one independently.
It extends SPI port, UART, I2C, PWM and analog INPUT pins for Arduino board, so DIY enthusiasts, interactive designers can quickly attach the modules to the board for Arduino and accelerate project development progress. An intelligent power regulator allows you to connect a battery and USB cable simultaneously, and an on-board voltage switch makes it easy to change the output voltage, making 3.3V or 5V sensors compatible. With the plug-and-play interfaces, this board simplifies all your needs for an autonomous robot such as line tracer, obstacle avoidance, maze solver etc., The shield can be interfaced with 2 motors, 12 digital sensors, 6 analog sensors, a line array sensor and an ultrasonic sensor (4 pin and 3 pin).

– Compatible for Arduino UNO R3, Leonardo R3, Mega2560 R3
– All sockets onboard are XH 2.54mm pitch.
– Motor socket number: 4
– I2C socket number: 1
– RGB socket number: 1
– 4PIN socket number: 4
– Power socket number: 1(DC 5V~12V)
– Software Uart interface number: 1
– Hardware Uart interface number: 1
– Analog input socket number: 4(A0, A1, A2, A3)
– Digital pin socket number:12(D2~D13)
– Motor Driver socket: for OPEN-SMART car chassis
– Colorful socket: 5 pins is red, 6 pins is blue, 20 pins is white.
– L LED for D13 pin
-3.3V/5V Operating Voltage Switch
– On-board reset button, power indicator led.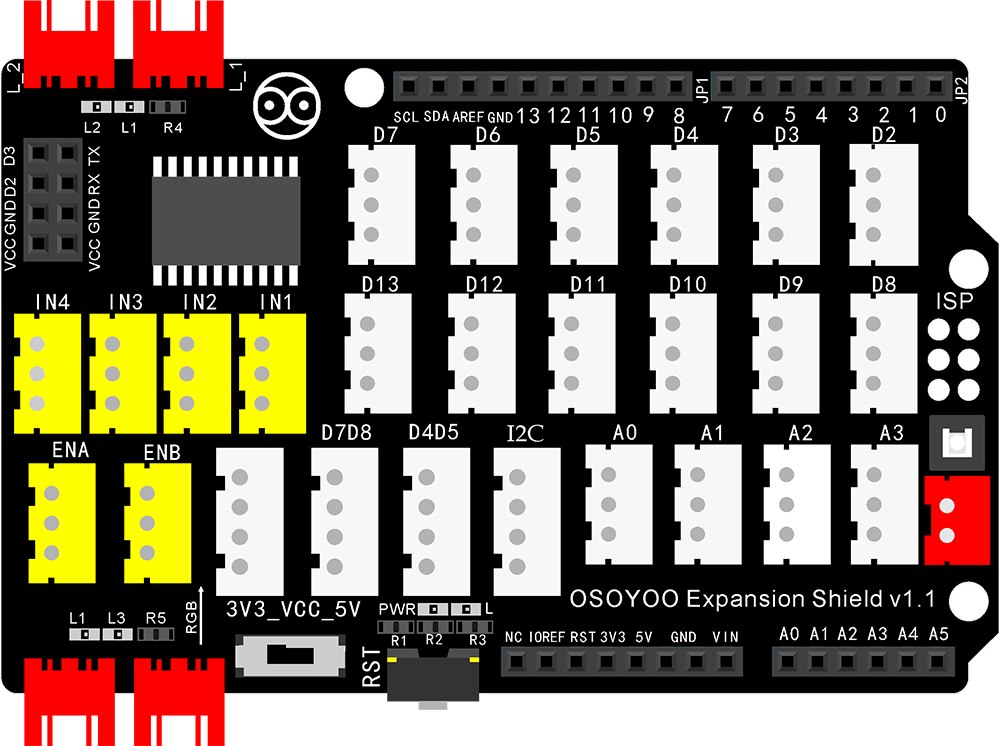 1. Power Interface
2. Power indicator led
3. L LED for D13 pin
4. 3.3V/5V Operating Voltage Switch
5. On-board reset button
6. Digital Pin Interface
7. Analog Pin Interface
8.I2C Interface
9. Software Uart Interface
10. Hardware Uart Interface
11. L293DD Motor Driver Chip
12. 4 Motor Interfaces
13. Motor Direction Control Interface
14. Motor Speed Control Interface
Easy to plug OPEN-SMART products with XH socket to this shield and do not need to pay attention to the connection. So it is great for Training institutions and visual programming education.