Note: In the sketch, find these lines 26 as following:
Then find the following lines and replace your Wi-Fi ssid/password
char ssid[] = "***";//replace this line with your wifi ssid
char pass[] = "***"; //replace this line with your wifi password

Upload the sketch to the board. Wait until you see something like this:
Done uploading
Now open Serial monitor in the upper right corner, you should see your Arduino IP address and Port number as following: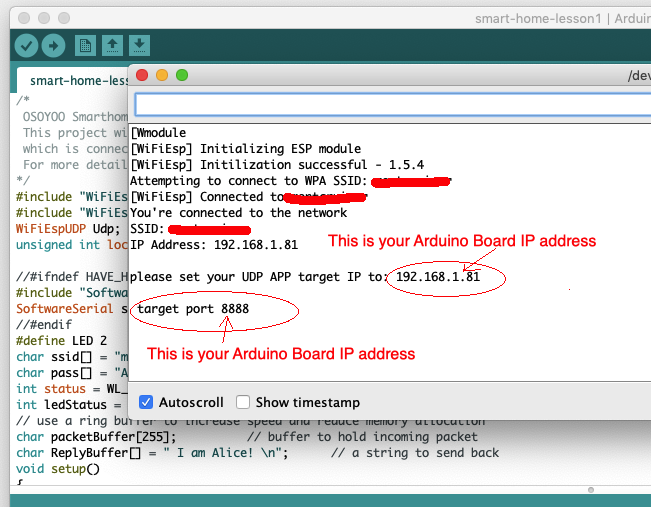 APP Installation and Setting:
Step 1) If you haven't installed OSOYOO IoT Robot APP, please search OSOYOO IoT Robot Car APP in Google Play or Apple Store to install this APP.
You read following tutorial link for more information about APP install :
https://osoyoo.com/2022/02/06/smart-house-iot-learning-kit-v2-0-lesson-1-wireless-lighting-control/#installapp
Step 2):Make sure your Cell phone is in the same Local Network of Arduino. Open the APP, click Settings, enter your Arduino IP address from Step F and Port to 8888 in settings: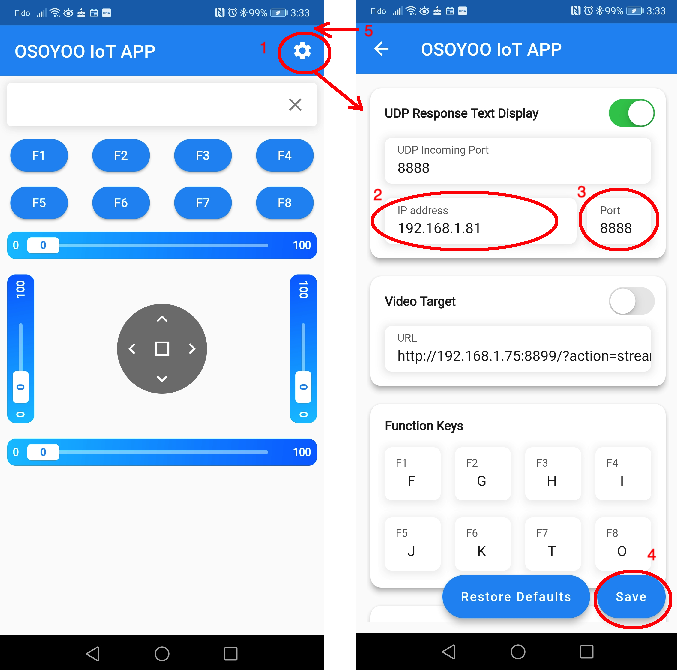 The button in D3 port is a toggle, press once, LED in D2 port will turn on. Press the button again, the LED will be turned off.
Also, you can press F1 key in APP to turn on LED in D2 port, Press F2 to turn off LED.
Press any key in the APP, you will see the current LED status in the APP as the following picture: