Autorisierte Online-Händler:
| | | | | | | |
| --- | --- | --- | --- | --- | --- | --- |
| Kaufen Sie aus den USA | Kaufen Sie aus dem Vereinigten Königreich | Kaufen Sie aus Deutschland | Kaufen Sie aus Italien | Kaufen Sie aus Frankreich | Kaufen Sie aus Spanien | ここでご購入を! |
| | | | | | | |

In dieser Lektion zeigen wir Ihnen, wie Sie Temperaturinformationen von Pico an einen I2C-LCD-Bildschirm senden können.
I2C ist ein sehr beliebtes Protokoll, das Daten zwischen einem Computer (Master) und seinen externen Geräten (Slave) austauschen kann. Ein typisches I2C-Slave-Gerät muss einen Datenpin (SDA) und einen Takt-Pin (SCL) haben, die mit dem SDA- und SCL-Pin des Raspberry Pi Pico verbunden sein müssen. Ein Pico-SDA- und SCL-Pin-Paar (BUS) kann tatsächlich mit mehreren Slave-Geräten verbunden werden. Jedes Slave-Gerät hat eine eindeutige Adress-ID, mit der Pico es durch das Programm finden kann.
In diesem Projekt werden wir ein I2C-LCD-Display als Slave-Gerät verwenden. Wir werden einen internen Temperatursensor des Pico-Boards verwenden, um die Temperatur zu erhalten und die Daten auf dem I2C-LCD-Display anzuzeigen.

Raspberry Pi Pico-Board und Micro-USB-Kabel
Ein Computer zum Ausführen der Thonny-Python-IDE
Ein Breadboard
I2C 1602 LCD-Display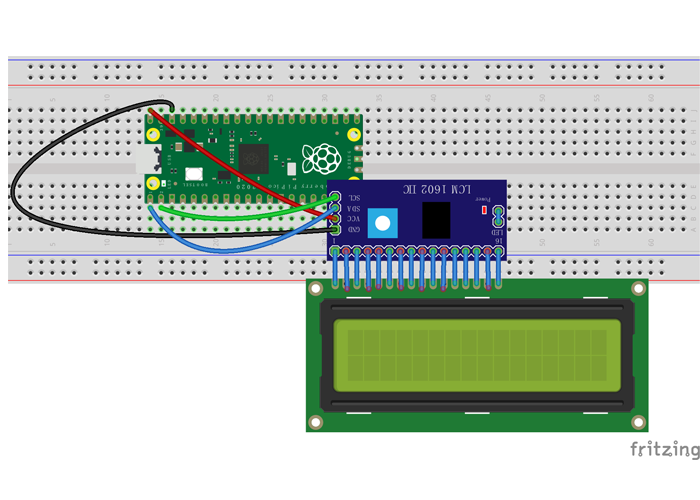 Auf dem obigen Schaltbild können Sie sehen, dass:
LCD-VCC-Pin mit dem Pico-Vbus-Pin (5V) verbunden ist
LCD-GND-Pin mit dem Pico-GND verbunden ist
LCD-SDA-Pin mit dem Pico-SDA-Pin (GP0) verbunden ist
LCD-SCL-Pin mit dem Pico-SCL-Pin (GP1) verbunden ist
lcd_api- und pico_i2c_lcd-Bibliothek
In dieser Lektion werden wir die beiden Python-Bibliotheken lcd_api und pico_i2c_lcd verwenden, um auf das LCD zuzugreifen. Bitte laden Sie die Bibliotheks-ZIP-Datei von https://osoyoo.com/driver/pico/pico_i2c_lcd.zip herunter.
Entpacken Sie die obige ZIP-Datei, Sie werden zwei Dateien sehen: lcd_api.py und pico_i2c_lcd.py. Verwenden Sie Thonny, um jede Datei zu öffnen, und speichern Sie sie dann im Pico-Stammverzeichnis.

Sie können den Python-Code für Lektion 4 von https://osoyoo.com/driver/pico/lesson4/pico-lesson4.py herunterladen.
Sie können Thonny öffnen, um pico-lesson4.py zu laden und später auf Pico zu laden.
Hier ist der vollständige Code mit Kommentaren:
from machine import I2C,Pin,ADC #import libraries to handle Pins, I2C and ADC
from time import sleep 
from pico_i2c_lcd import I2cLcd #import library to handle I2C LCD
sensor_temp = ADC(4)            #Internal Temperature sensor is connected to ADC 4
conversion_factor = 3.3/65535
def get_temperature():          #get temperature value from ADC 4 internal sensor
    reading = sensor_temp.read_u16() * conversion_factor
    temperature = 27 - (reading - 0.706)/0.001721
    return temperature

i2c = I2C(0, sda=Pin(0), scl=Pin(1), freq=400000) #initialize I2C port
I2C_ADDR = i2c.scan()[0].          #get I2C address
lcd = I2cLcd(i2c, I2C_ADDR, 2, 16) #initialize I2C display as 2x16
degree = bytearray([0x1c,0x14,0x1c,0x00,0x00,0x00,0x00,0x00]) #define a customized LCD icon for º (degree sign)
lcd.custom_char(0, degree)         #degree sign 'º' will be used as chr(0) in program
while True:       
    lcd.putstr("Temperature:\n"+str(get_temperature())+" C"+chr(0)) #display temperature to LCD
    sleep(4)
    lcd.clear()


Schritt 1: Schließen Sie das Pico-Board an einen der USB-Ports Ihres PCs an.
Schritt 2: Wenn du die Thonny-Software noch nicht installiert hast oder nicht weißt, wie man die Thonny-IDE benutzt, lies bitte Lektion 1.
Schritt 3: Öffne nun die Thonny-Python-IDE, klicke auf "Run", um MicroPython für das Raspberry Pi Pico als Interpreter auszuwählen.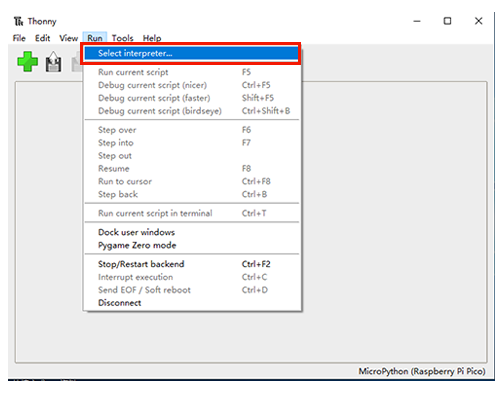 Wähle bitte auch den COM-Port aus, an dem dein Pico-Board angeschlossen ist.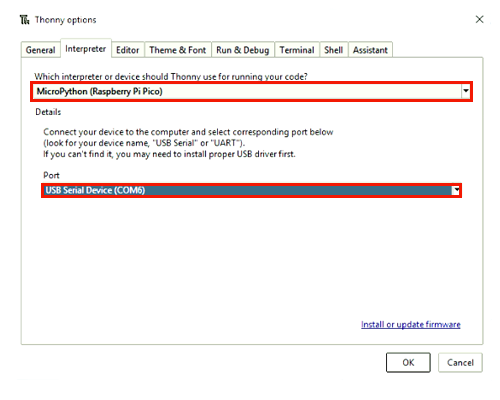 Klicke anschließend auf "OK", um die Einstellungen zu speichern.
Schritt 4: Entpacke die Datei pico_i2c_lcd.zip. Du siehst zwei Dateien: lcd_api.py und pico_i2c_lcd.py.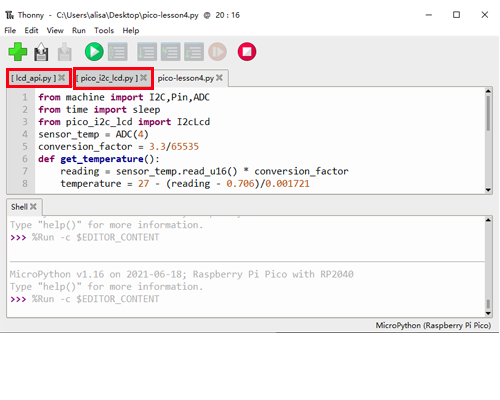 Öffne jede Datei mit Thonny und speichere sie im Pico-Root-Verzeichnis.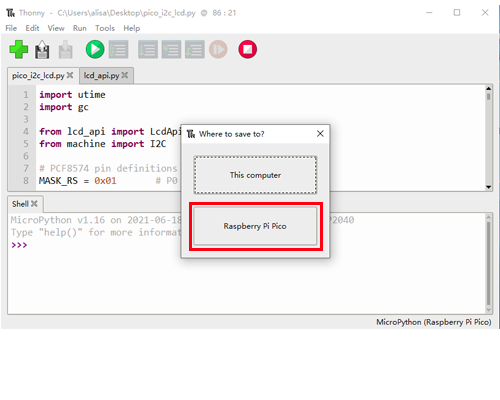 Klicke dann auf "OK".
Schritt 5: Öffne die Datei lesson4.py, klicke auf den kleinen ►-Button, speichere diese Datei auf deinem Computer und führe den Python-Code aus.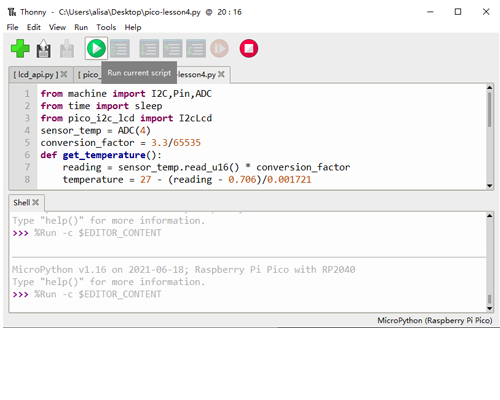 Jetzt siehst du auf dem LCD:
Temperatur: 25.01234 Cº
Nach Abschluss der Operation drücke Ctrl+C, um den Befehl zu beenden.
ERFAHREN SIE MEHR ÜBER DEN TEILE-SKU 2021005900