Distributeurs en ligne autorisés:
| | | | | | | |
| --- | --- | --- | --- | --- | --- | --- |
| | Acheter au Royaume-Uni | Acheter en Allemagne | | Acheter en France | Acheter en Espagne | ここでご購入を! |
| | | | | | | |

Dans cette leçon, vous apprendrez à lire des données analogiques à partir d'une broche ADC et à utiliser PWM pour envoyer un signal analogique à un périphérique externe.
ADC est l'abréviation de convertisseur analogique-numérique. Un signal numérique n'a que deux états, 1/0 ou haute/basse tension. Un signal analogique est tout signal continu pour lequel la caractéristique variable dans le temps du signal représente une autre quantité variable dans le temps.
Dans cette leçon, nous utiliserons une photoresistance comme source de données analogiques pour la broche ADC2 (GP28).
PWM est l'abréviation de modulation de largeur d'impulsion. La broche PWM permet à Pico d'exporter un courant analogique vers des actionneurs tels que des LED, des servos et des moteurs DC.
Dans cette leçon, nous utiliserons une LED comme dispositif analogique et nous enverrons un signal PWM à ce dispositif via la broche GP15. Vous pouvez trouver l'emplacement des broches GP15 et GP28 sur la figure suivante (1.1).
Dans ce projet, nous simulerons un système de lumière automatique : lorsque le capteur détecte que l'environnement naturel est sombre, nous augmenterons la puissance de la lumière artificielle (LED), et lorsque l'environnement naturel est lumineux, nous réduirons la lumière de la LED.
suivante (1.1)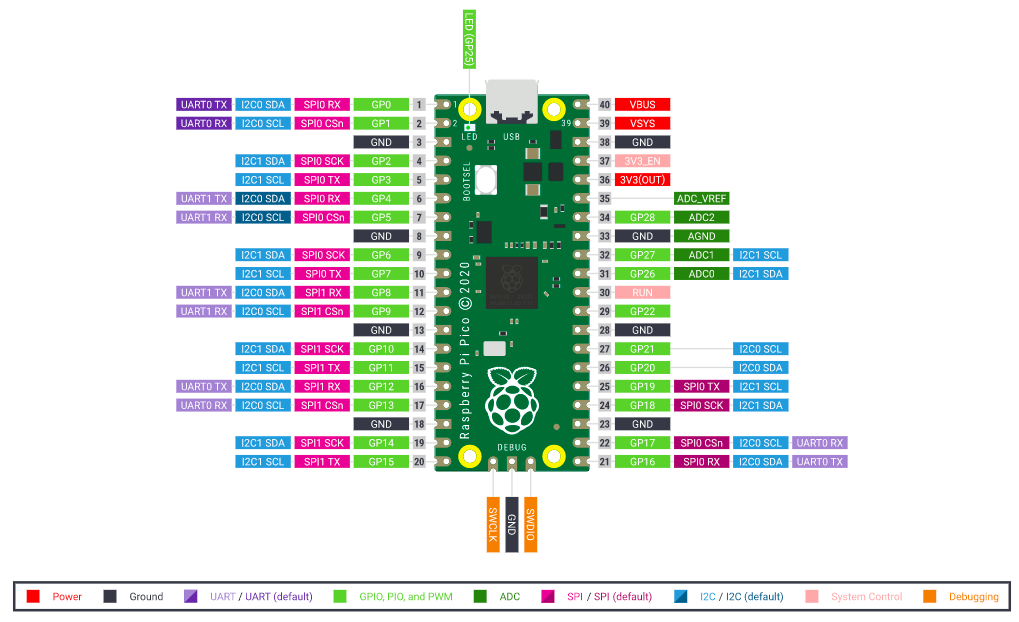 La carte Raspberry Pi Pico et le câble microUSB
Un ordinateur pour exécuter l'IDE Thonny Python
Une plaque d'essai
1 LED
1 résistance de 220 Ω
1 résistance de 10 kΩ
1 photoresistance
Quelques fils de connexion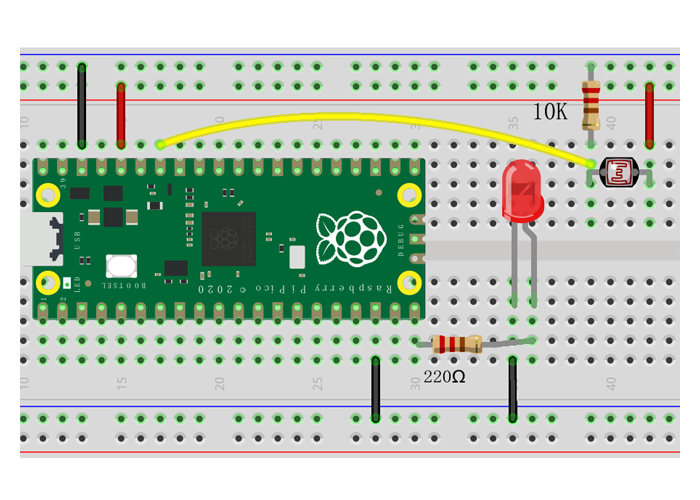 Sur le schéma ci-dessus, vous pouvez voir que :
La broche négative de la LED est connectée à la masse (GND).
La broche positive de la LED est connectée à GP15 via une résistance de 220 Ω.
La broche 1 de la photoresistance est connectée à 3,3 V via une résistance de 10 kΩ.
La broche 2 de la photoresistance est connectée à GP28.

Vous pouvez télécharger le code Python de la leçon 3 à partir de http://osoyoo.com/driver/pico/lesson3/pico-lesson3.py. Plus tard, vous pourrez utiliser Thonny pour ouvrir le fichier pico-lesson4.py et le charger sur Pico.
Voici le code complet avec des commentaires:
from machine import Pin, PWM, ADC #import Pin, PWM, ADC handling library

pwm = PWM(Pin(15)) #tell Pico GP15 is a PWM output   pin
adc = ADC(Pin(28)) #tell Pico GP28 is a ADC analog input pin

pwm.freq(1000) #set PWM frequency at 1000 hz

while True:
	duty = adc.read_u16() #read  Light intensity
	pwm.duty_u16(60000-duty) #provide current to LED, the more light intensity, the less current to LED


Étape 1 : Connectez la carte Pico à l'un des ports USB de votre PC.
Étape 2 : Si vous n'avez pas encore installé le logiciel Thonny ou si vous ne savez pas comment utiliser l'IDE Thonny, veuillez vous référer à la leçon 1.
Étape 3 : Ouvrez l'IDE Python Thonny et cliquez sur 'Run' pour sélectionner 'MicroPython pour Raspberry Pi Pico' comme interpréteur: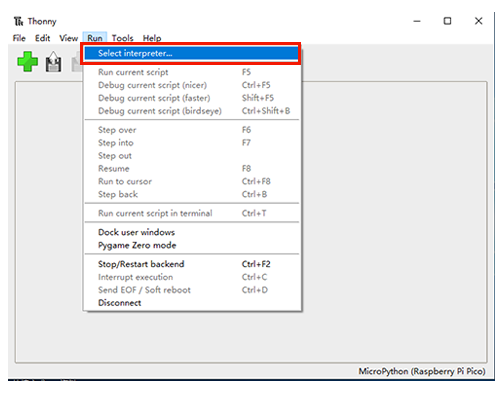 Veuillez également sélectionner le port COM auquel votre carte Pico est connectée: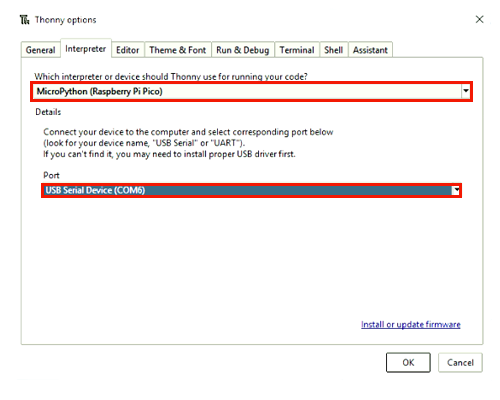 Ensuite, cliquez sur OK pour enregistrer les paramètres.
Étape 4 : Copiez maintenant le code Python dans la fenêtre Thonny comme suit: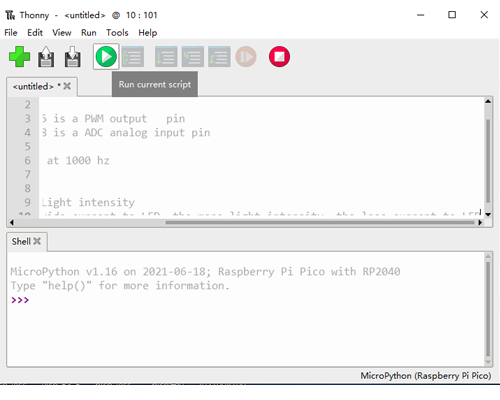 Étape 5 : Cliquez sur le petit bouton ►, la fenêtre de sauvegarde apparaîtra comme indiqué dans la photo suivante,sélectionnez Raspberry Pi Pico comme destination.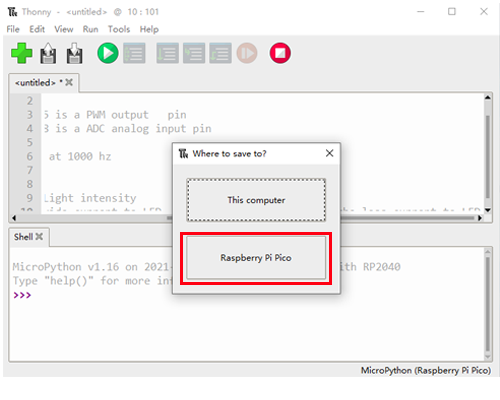 Étape 6 : Nommez le fichier pico-lesson3.py, puis cliquez sur OK.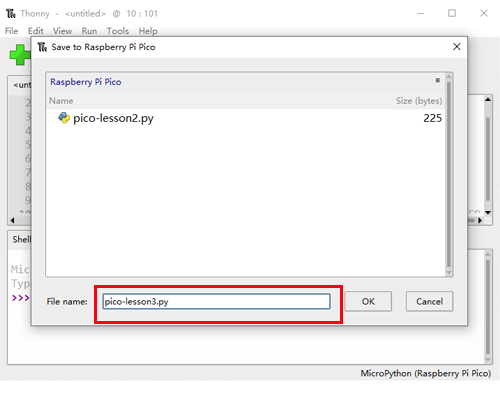 Étape 7 : Cliquez à nouveau sur le petit bouton ► pour exécuter le code Python.

Maintenant, vous pouvez essayer de placer une lumière vive sur la photorésistance ; vous verrez que la LED devient très faible. Si vous masquez la lumière de la photorésistance avec votre main, alors la LED deviendra plus brillante. Après avoir terminé, appuyez sur Ctrl+C pour terminer la commande.
EN SAVOIR PLUS SUR LES PIÈCES SKU:2021005900