Objection 下图不适合做本教程首图,很多器件如寻迹超声波等传感器本教程不需要,请重新拍摄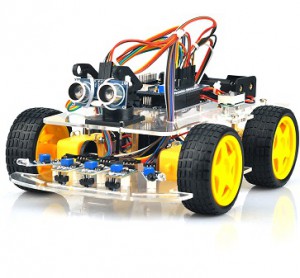 In this tutorial, we will use Osoyoo Smart DIY kit to make a simple remote controlled smart car. Once the car installation is completed, we will use a Infrared Remote to control the car movements including go forward, go back, left turn and right turn
Parts and Devices
建议实际出货产品电机需要预焊导线,电池盒预焊DC头,方便不懂电焊的用户使用
L298N MOTOR driver module

Box for 18650 3.7V battery+

DC power connector

Jumper wires(male-male,male-female,female-female)
Installation
Step 1: Install the smart car basic frame work  as per Smart Car Lesson 1 . If you have already completed installation in Lesson 1 , just keep it as is.
Step 2: Add an IR receiver module onto the car. Connect the S pin in IR to D3 pin in UNO board. Remember : DO NOT remove any existing wires installed in Lesson 1 . You can stick the IR receiver module onto chassis with a tape or screw it into any empty hole in the chassis .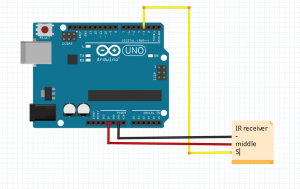 Software Installation:
Step 1: Install latest Arduino IDE (If you have Arduino IDE version after 1.1.16, please skip this step)
Download Arduino IDe from https://www.arduino.cc/en/Main/Software?setlang=en , then install the software.
Step 2: Install IRremote library into Arduino IDE (If you have already installed IRremote library, please skip this step)
Down load IRremote library from  http://osoyoo.com/wp-content/uploads/samplecode/IRremote.zip, then import the library into Arduino IDE(in Arduino IDE->Sketch->Import Library->Add Library)
Step 3: Download IRremote small car sample code and run the car with a remote controller.
Sample code download url:smartcar-lesson2.zip
Download above file and load it into Arduino IDE.
Press IR controller keys to control the car movements as per following instruction table:
| | |
| --- | --- |
| IR remote key | Car activity |
| ▲ | Go forward |
| ▼ | Go backward |
| < | Left turn |
| > | Right turn |
| OK | Stop |