In this lesson, we will use this IoT kit to remotely monitor the home environmental temperature and humidity, and display the data to the OSOYOO IoT APP.

HARDWARE
 Osoyoo Mega2560 (fully compatible with Arduino MEGA2560) x 1
OSOYOO IoT Wi-Fi Shield x 1
DHT11 Temperature/Sensor Module x 1
LCD Display Module x 1
USB Cable x 1
3-pin PnP Cable x 1
4-pin PnP Cable x 1
SOFTWARE
First, please plug OSOYOO MEGA-IoT Extension Board into MEGA2560 board:

Build the circuit as below:

Here we connect the signal pin (S) to digital pin D5.

 

Prerequisite:
If you haven't installed following libraries which are used in Lesson 1, please download and install them from following links:

You also need to download and install DHT library and LCD I2C library if you don't have them:
In Arduino IDE, click Sketch→Include Library →Add .ZIP library and upload above library zip files to the IDE. Download and Edit Lesson2-3 Arduino Code
Step 1) After installing above library, please download the code from following link, unzip it:
https://osoyoo.com/driver/smart-home-v2-udp/lesson3/smart-home-lesson3.zip
Step 2) After above operations are completed, connect OSOYOO MEGA2560 Board to PC with USB cable.


Notice: Shut off your battery or unplug your power adapter when upload sketch code to Arduino.

Step 3) Open Arduino IDE:  Choose corresponding board type and port type for your project.

Step 4)  Arduino IDE:  Click file – Open, then choose code in the folder, load up the sketch onto your Arduino.

In sketch file, replace *** with your Wi-Fi ssid/password

char ssid[] = "***";//replace this line with your wifi ssid
char pass[] = "***"; //replace this line with your wifi password

Upload the sketch to the board. Wait until you see something like this:

Done uploading

Open your serial monitor, you will see Arduino's IP address as following:
In above example, 192.168.1.81 is the IP address of my IDE, we need to set this IP address in our APP in next step.
There is a jumper on the LCD board, if you take away this jumper, the backlight will always be off, and you can also control the LCD contrast by adjust the on-board potentiometer.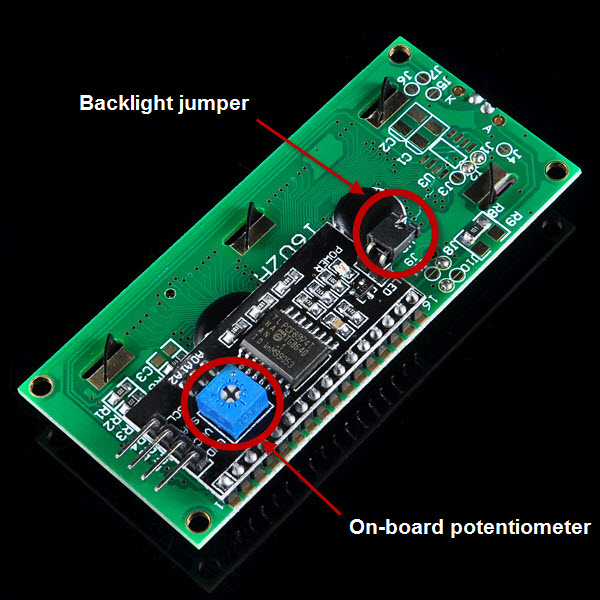 APP Installation and Setting:
Step 1) If you haven't installed OSOYOO IoT Robot APP, please search OSOYOO IoT Robot Car APP in Google Play or Apple Store to install this APP.
You read following tutorial link for more information about APP install :
https://osoyoo.com/2022/02/06/smart-house-iot-learning-kit-v2-0-lesson-1-wireless-lighting-control/#installapp
Step 2):Make sure your Cell phone is in the same Local Network of Arduino. Open the APP, click Settings, enter your Arduino IP address from Step F and Port to 8888 in settings: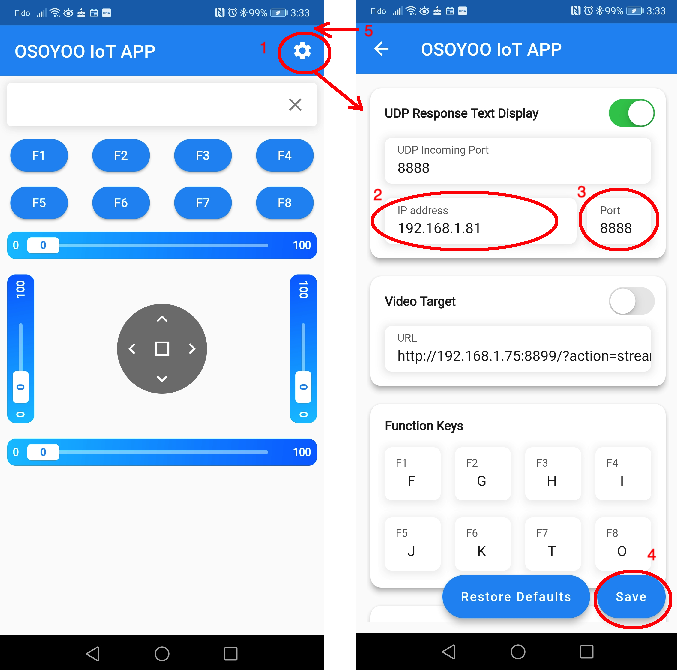 Now you can see the LCD will display the temperature value and Humidity value. In your APP, you will also see the temperature value and Humidity value in the text field as the following picture. If you can't see the data, press F1 key and check again.
Code Explanation:
Line 40 defines the Cell phone APP's IP address,
IPAddress phoneIP=IPAddress(192,168,1,255);
since we don't know this LAN IP, so we use a default broadcasting IP, 192.168.1.255. In this case, Arduino will send a message to all devices in the Local network (192.168.1.xxx).
If we touch any key in the APP, Arduino will detect the IP address of your cell phone and use this IP to replace the broadcasting IP address 192.168.1.255. Since then, Arduino will only send the message to your cell phone APP instead of broadcasting the message to all the devices in the LAN.