| | | | | | | |
| --- | --- | --- | --- | --- | --- | --- |
| Buy from US | Buy from UK | Buy from DE | Buy from IT | Buy from FR | Buy from ES | ここでご購入を! |
| | | | | | | |

Hinweis: Beim LGT-Nano Board V1.0 können Sie es nicht direkt mit einem TYP-C-auf-TYP-C-Kabel an Ihren Computer oder Ihr Mobiltelefon anschließen. Sie müssen ein OTG-Kabel verwenden, um entsprechende Vorgänge auszuführen.
Installation des AVR-Kerns
Bei den klassischen Arduino-Boards, einschließlich der Favoriten UNO, Nano und Mega, muss der AVR-Kern installiert sein, um Skizzen zu kompilieren und auf Ihr Board hochzuladen.
Der LGT8F328P von LogicGreen ist ein Befehlssatz, der mit AVR- und Atmega328P-Chips kompatibel ist. Nach strengen Tests wurde festgestellt, dass es zu 99 % mit der Arduino IDE kompatibel ist. In der klassischen IDE ist der LGT8F328P-Kern nicht vorinstalliert. Das bedeutet, dass wir den Editor herunterladen und installieren und dann ein Arduino IDE-Paket installieren müssen, das OSOYOO LGT-Nano unterstützt, bevor wir mit der Programmierung mit der Arduino IDE beginnen können. Bitte stellen Sie sicher, dass Sie den CH340-Treiber installiert haben..
In diesem Tutorial zeigen wir Ihnen einfach, wie Sie die richtige Platine und den richtigen Anschluss auswählen und wie Sie das klassische Blinkbeispiel auf unsere Platine hochladen, ein einfaches Programm, das Ihre LED jede Sekunde blinken lässt.
Sie können den Editor von der offiziellen Softwareseite herunterladen..
Nachdem wir die Arduino IDE und das LGT-Nano-Supportpaket installiert haben, können wir die IDE neu starten und die nächste Reise beginnen.  https://www.arduino.cc/en/software
Auswahl des Boards
First, we need to select the right core & board. This is done by navigating to Tools > Board > Arduino AVR Boards > Board. Make sure you select the board OSOYOO LGT-Nano.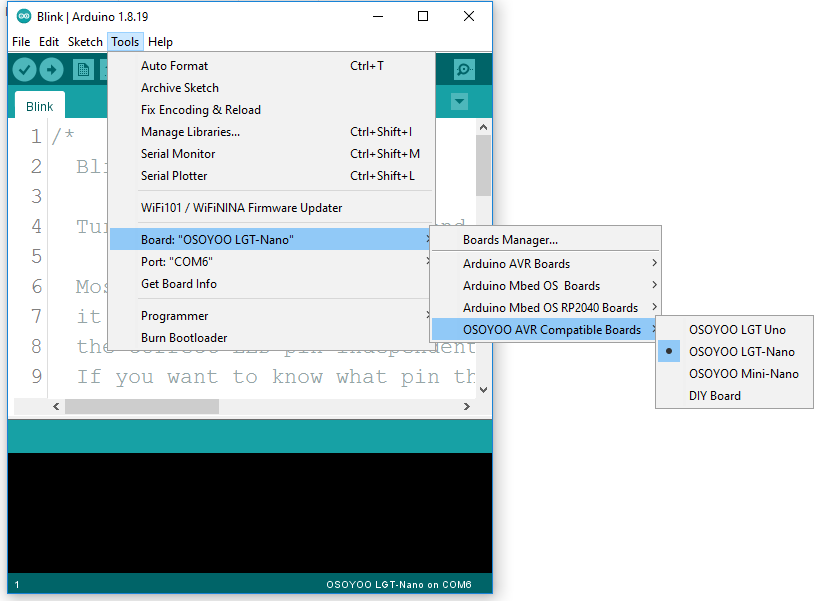 Stellen wir nun sicher, dass unser Board von unserem Computer gefunden wird, indem wir den Port auswählen. Unabhängig davon, welche Art von Programm wir auf die Platine hochladen, müssen wir immer den Port für die von uns verwendete Platine auswählen. Navigieren Sie dazu einfach zu "Extras > Port" und wählen Sie dort Ihr Board aus der Liste aus. Auswahl der richtigen Platine und des richtigen Ports.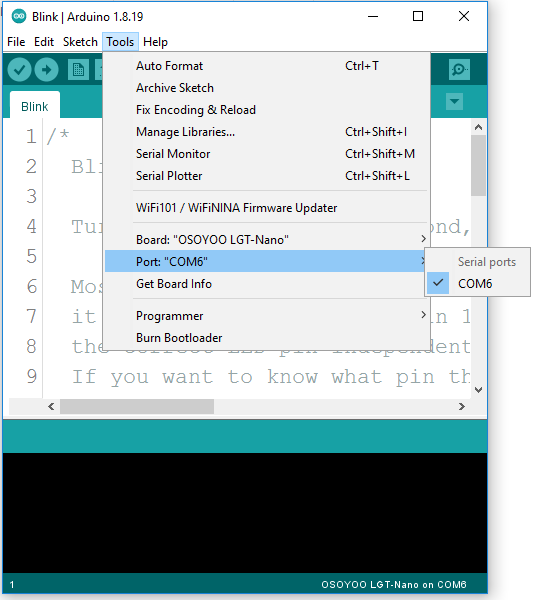 Dies sieht unterschiedlich aus, je nachdem, welche Art von Betriebssystem Sie verwenden.
Für Windows-Benutzer könnte es so aussehen:
Für MAC-Benutzer könnte es so aussehen:
Ein einfaches Beispiel hochladen
Ein einfaches Beispiel hochladen
Jetzt können Sie mit der Nutzung Ihres Boards beginnen! Der einfachste Weg, um zu überprüfen, ob alles funktioniert, besteht darin, nur ein einfaches Blinkbeispiel auf Ihr Board hochzuladen. Navigieren Sie dazu zu "Datei > Beispiele > 01.Grundlagen > Blinken.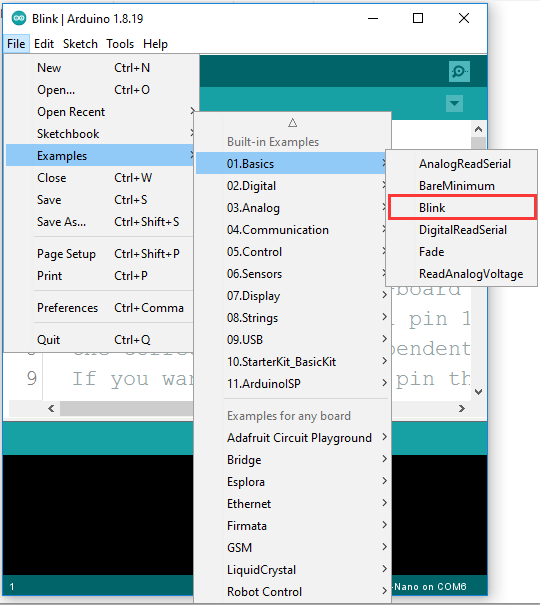 Um die Skizze hochzuladen, klicken Sie einfach auf den Pfeil oben links. Dieser Vorgang dauert einige Sekunden und es ist wichtig, die Platine während dieses Vorgangs nicht zu trennen.
Die Skizze wird hochgeladen. Wenn der Code hochgeladen ist, wird in der unteren linken Ecke der Text "Hochladen abgeschlossen" angezeigt.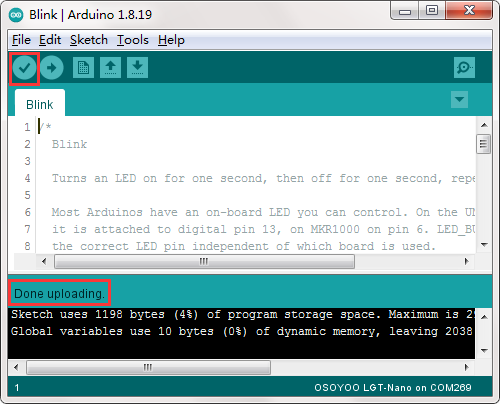 Wenn Sie sich Ihr Board genau ansehen, werden Sie bemerken, dass eine orangefarbene LED im Abstand von einer Sekunde blinkt. Das bedeutet, dass Sie erfolgreich ein Programm auf Ihr Board hochgeladen haben.