| | | | | | | |
| --- | --- | --- | --- | --- | --- | --- |
| Buy from US | Buy from UK | Buy from DE | Buy from IT | Buy from FR | Buy from ES | ここでご購入を! |
| | | | | | | |

Remarque : pour LGT-Nano Board V1.0, vous ne pouvez pas le connecter directement à votre ordinateur ou téléphone portable avec un câble TYPE C à TYPE C, vous devez utiliser un câble OTG pour effectuer des opérations connexes.
Installation du noyau AVR
The classic Arduino boards, including the favorites UNO, Nano and Mega, requires the AVR core to be installed to compile and upload sketches to your board.
Le LGT8F328P de LogicGreen est un jeu d'instructions compatible avec les puces AVR et Atmega328P. Après des tests rigoureux, il s'avère qu'il est compatible à 99% avec Arduino IDE. L'IDE classique n'a pas le noyau LGT8F328P préinstallé. Cela signifie que nous devons télécharger et installer l'éditeur, puis installer un package IDE Arduino prenant en charge OSOYOO LGT-Nano avant de pouvoir commencer à programmer avec l'IDE Arduino. Assurez-vous d'avoir installé le pilote CH340.
Dans ce didacticiel, nous montrerons simplement comment sélectionner la bonne carte, choisir le bon port et comment télécharger l'exemple de clignotement classique sur notre carte, un programme simple qui fait clignoter votre LED toutes les secondes.
Vous pouvez télécharger l'éditeur à partir de la page officielle du logiciel.
Après avoir installé l'IDE Arduino et le package de support LGT-Nano, nous pouvons redémarrer l'IDE et commencer le prochain voyage.  https://www.arduino.cc/en/software
Choisir le plateau
Tout d'abord, nous devons sélectionner le bon noyau et la bonne carte. Pour ce faire, accédez à Outils > Carte > Cartes Arduino AVR > Carte. Assurez-vous de sélectionner la carte OSOYOO LGT-Nano.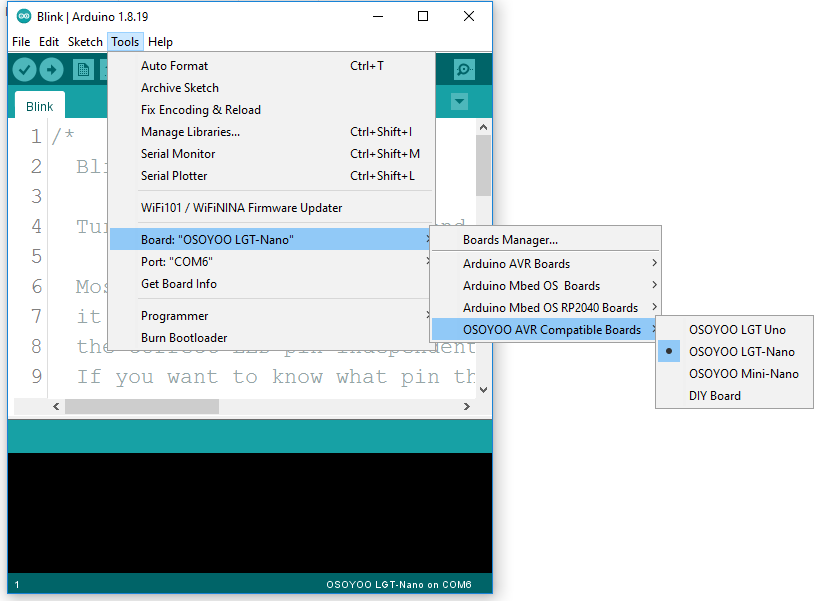 Maintenant, assurons-nous que notre carte est trouvée par notre ordinateur, en sélectionnant le port. Quel que soit le type de programme que nous téléchargeons sur le tableau, nous devons toujours choisir le port du tableau que nous utilisons. Cela se fait simplement en naviguant vers Outils > Port, où vous sélectionnez votre carte dans la liste. Sélection de la bonne carte et du bon port.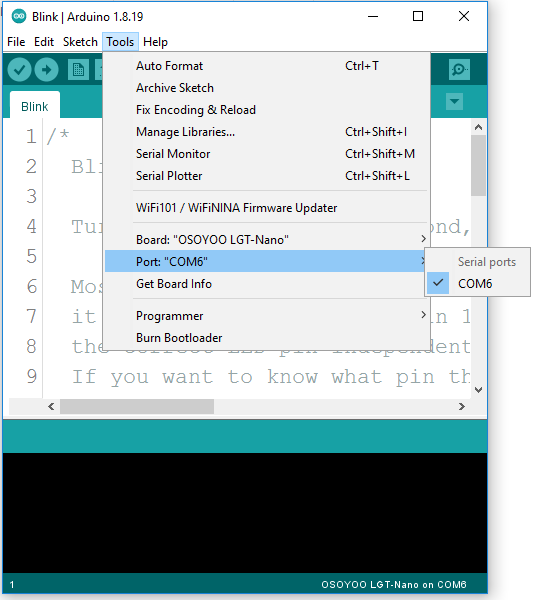 Cela sera différent selon le type de système d'exploitation que vous utilisez.
Pour les utilisateurs de Windows, cela pourrait ressembler à ceci:
Pour les utilisateurs MAC, cela pourrait ressembler à ceci:
Télécharger un exemple simple
Vous êtes maintenant prêt à commencer à utiliser votre planche ! Le moyen le plus simple de vérifier que tout fonctionne est de télécharger un simple exemple de clignotement sur votre tableau. Pour ce faire, accédez à Fichier > Exemples > 01.Basics > Blink.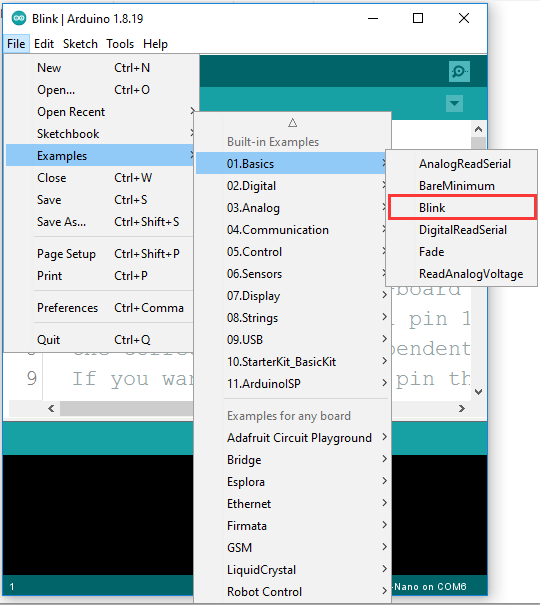 Pour télécharger le croquis, cliquez simplement sur la flèche dans le coin supérieur gauche. Ce processus prend quelques secondes et il est important de ne pas déconnecter la carte pendant ce processus.
Téléchargement de l'esquisse. Lorsque le code est téléchargé, le texte "Téléchargement terminé." est visible dans le coin inférieur gauche.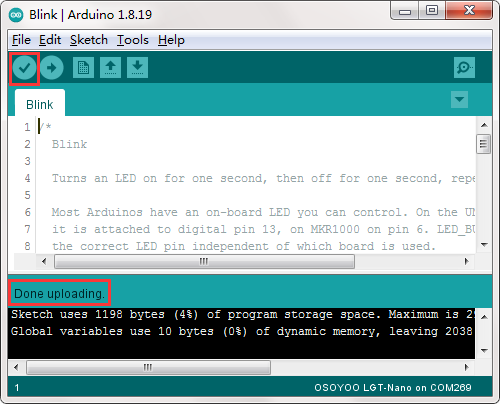 Si vous regardez attentivement votre carte, vous remarquerez qu'une LED orange clignote avec un intervalle d'une seconde. Cela signifie que vous avez téléchargé avec succès un programme sur votre carte.