Nota: TODOS los productos OSOYOO para Arduino son placas de terceros totalmente compatibles con Arduino.

Puede que en algún momento te quedes sin pines en tu placa y necesites ampliarla con registros de desplazamiento. Este ejemplo se basa en el 74HC595. La hoja de datos se refiere al 74HC595 como un "registro de desplazamiento de entrada serie, serie o salida paralelo de 8 bits con latches de salida; 3 estados". En otras palabras, puedes usarlo para controlar 8 salidas a la vez ocupando sólo unos pocos pines en tu microcontrolador.
El chip 74HC595 IC tiene ocho pines de salida de datos en paralelo (pin 15 y pin 1 a 7), un pin de entrada en serie (pin 14) y dos pines de control (pin 11 (pin de reloj) y pin 12 (pin de enganche)).
El diagrama de patillas es el siguiente: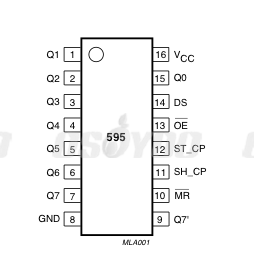 En este proyecto vamos a utilizar 74HC595 para encender 8 LED uno por uno.
paso 1– connect 74HC595 with Arduin
DS (pin 14) to Ardunio DigitalPin 11 (blue wire)
SH_CP (pin 11) to to Ardunio DigitalPin 12 (yellow wire)
ST_CP (pin 12) to Ardunio DigitalPin 8 (green wire)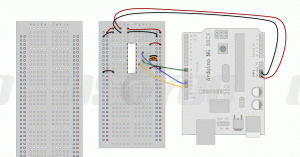 paso 2 – añadir 8 luces LED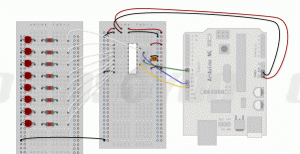 paso 3– Download HC595.ino sketch file y cárgalo en Arduin. Los ocho LEDs se encenderán en bucle uno a uno.
Vídeo de demostración del proyecto: