Note : Tous les produits OSOYOO pour Arduino sont des cartes tierces qui sont entièrement compatibles avec Arduino.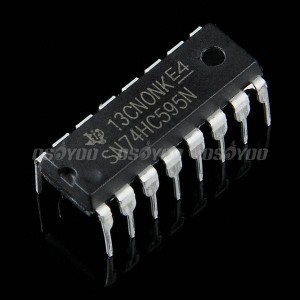 A un moment ou à un autre, il se peut que vous manquiez de broches sur votre carte et que vous deviez l'étendre avec des registres à décalage. Cet exemple est basé sur le 74HC595. La fiche technique fait référence au 74HC595 comme étant un "registre à décalage 8-bit serial-in, serial or parallel-out avec des latches de sortie ; 3-state". En d'autres termes, vous pouvez l'utiliser pour contrôler 8 sorties à la fois tout en n'occupant que quelques broches sur votre microcontrôleur.
La puce 74HC595 possède huit broches de données de sortie parallèle (broche 15 et broches 1 à 7), une broche d'entrée série (broche 14) et deux broches de contrôle (broche 11 (broche d'horloge) et broche 12 (broche de verrouillage)).
Le schéma des broches est le suivant :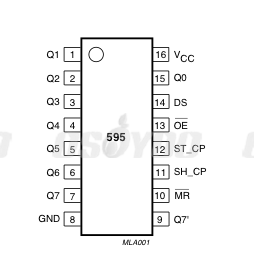 Dans ce projet, nous utiliserons 74HC595 pour allumer 8 LED une par une..
Étape 1 – connect 74HC595 with Arduino
DS (pin 14) to Ardunio DigitalPin 11 (blue wire)
SH_CP (pin 11) to to Ardunio DigitalPin 12 (yellow wire)
ST_CP (pin 12) to Ardunio DigitalPin 8 (green wire)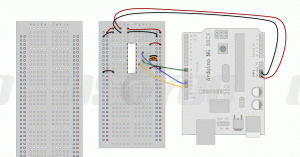 Étape 2 – ajouter 8 lumières LED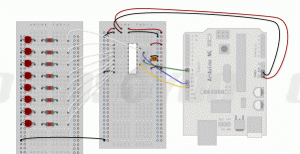 Étape 3 – Download HC595.ino sketch file et le charger dans Arduin. Les huit LEDs s'allumeront en boucle une par une.
Vidéo de démonstration du projet: