Hinweis: Alle OSOYOO-Produkte für Arduino sind Drittanbieter-Boards, die vollständig mit Arduino kompatibel sind.

Irgendwann gehen Ihnen vielleicht die Pins auf Ihrer Platine aus und Sie müssen sie mit Schieberegistern erweitern. Dieses Beispiel basiert auf dem 74HC595. Im Datenblatt wird der 74HC595 als "8-Bit-Serial-In-, Serial- oder Parallel-Out-Schieberegister mit Output-Latches; 3-State" bezeichnet. Mit anderen Worten: Sie können damit 8 Ausgänge gleichzeitig steuern und benötigen dafür nur wenige Pins Ihres Mikrocontrollers.
Der 74HC595 IC-Chip hat acht parallele Ausgangsdatenpins (Pin 15 und Pin 1 bis 7), einen seriellen Eingangs-Pin (Pin 14) und zwei Steuerpins (Pin 11 (Takt-Pin) und Pin 12 (Latch-Pin)).
Der Anschlussplan sieht wie folgt aus: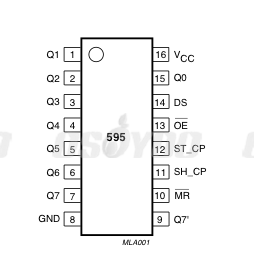 In diesem Projekt werden wir 74HC595 verwenden, um 8 LED nacheinander zu beleuchten.
Schritt 1 – connect 74HC595 with Arduin
DS (pin 14) to Ardunio DigitalPin 11 (blue wire)
SH_CP (pin 11) to to Ardunio DigitalPin 12 (yellow wire)
ST_CP (pin 12) to Ardunio DigitalPin 8 (green wire)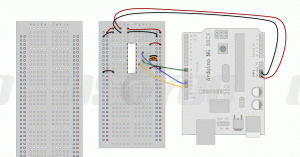 Schritt 2 – 8 LED-Leuchten hinzufügen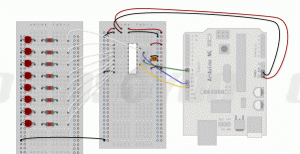 Schritt 3 – Download HC595.ino sketch file und lade es in Arduin. Die acht LEDs werden nacheinander in einer Schleife aufleuchten.
Projekt-Demo-Video: