Nota: TUTTI i prodotti OSOYOO per Arduino sono schede di terze parti completamente compatibili con Arduino.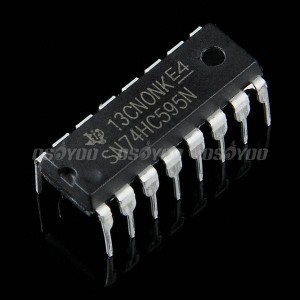 Prima o poi può capitare di esaurire i pin della propria scheda e di doverla ampliare con dei registri a scorrimento. Questo esempio si basa sul 74HC595. Il datasheet si riferisce al 74HC595 come a un "registro a scorrimento a 8 bit serial-in, serial o parallel-out, con latches di uscita; a 3 stati". In altre parole, è possibile utilizzarlo per controllare 8 uscite alla volta occupando solo pochi pin del microcontrollore.
Il chip IC 74HC595 ha otto pin di uscita dati in parallelo (pin 15 e pin da 1 a 7), un pin di ingresso seriale (pin 14) e due pin di controllo (pin 11 (pin di clock) e pin 12 (pin di latch)).
Lo schema dei pin è il seguente: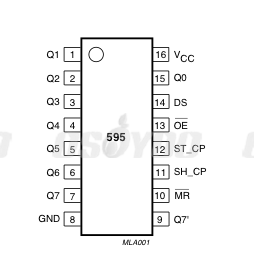 In questo progetto utilizzeremo il 74HC595 per accendere 8 LED uno alla volta.
Passo 1 – connect 74HC595 with Arduino
DS (pin 14) to Ardunio DigitalPin 11 (blue wire)
SH_CP (pin 11) to to Ardunio DigitalPin 12 (yellow wire)
ST_CP (pin 12) to Ardunio DigitalPin 8 (green wire)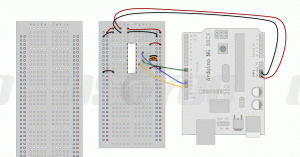 Fase 2 – aggiungere 8 luci LED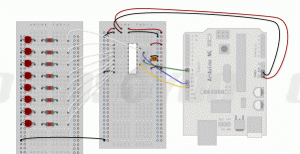 Passo 3 – Download HC595.ino sketch file e caricarlo in Arduin. Gli otto LED si accenderanno in loop uno per uno.
Video dimostrativo del progetto: