NOTA: TUTTI I PRODOTTI OSOYOO PER ARDUINO SONO SCHEDE DI TERZE PARTI COMPLETAMENTE COMPATIBILI CON ARDUINO
Rivenditori online autorizzati
Dove acquistare il set con batterie 18650 e caricatore USB
| | | | | | | | |
| --- | --- | --- | --- | --- | --- | --- | --- |
| Acquista dagli OSOYOO | Acquista dagli US | Acquista dagli UK | Acquista dagli DE | Acquista dagli IT | Acquista dagli FR | Acquista dagli ES | Acquista dagli JP |
| | | | | | | | |
Dove acquistare il set con custodie batteria 9V e 18650
| | | | | | | | |
| --- | --- | --- | --- | --- | --- | --- | --- |
| Acquista dagli OSOYOO | Acquista dagli US | Acquista dagli UK | Acquista dagli DE | Acquista dagli IT | Acquista dagli FR | Acquista dagli ES | Acquista dagli JP |
| | | | | | | | |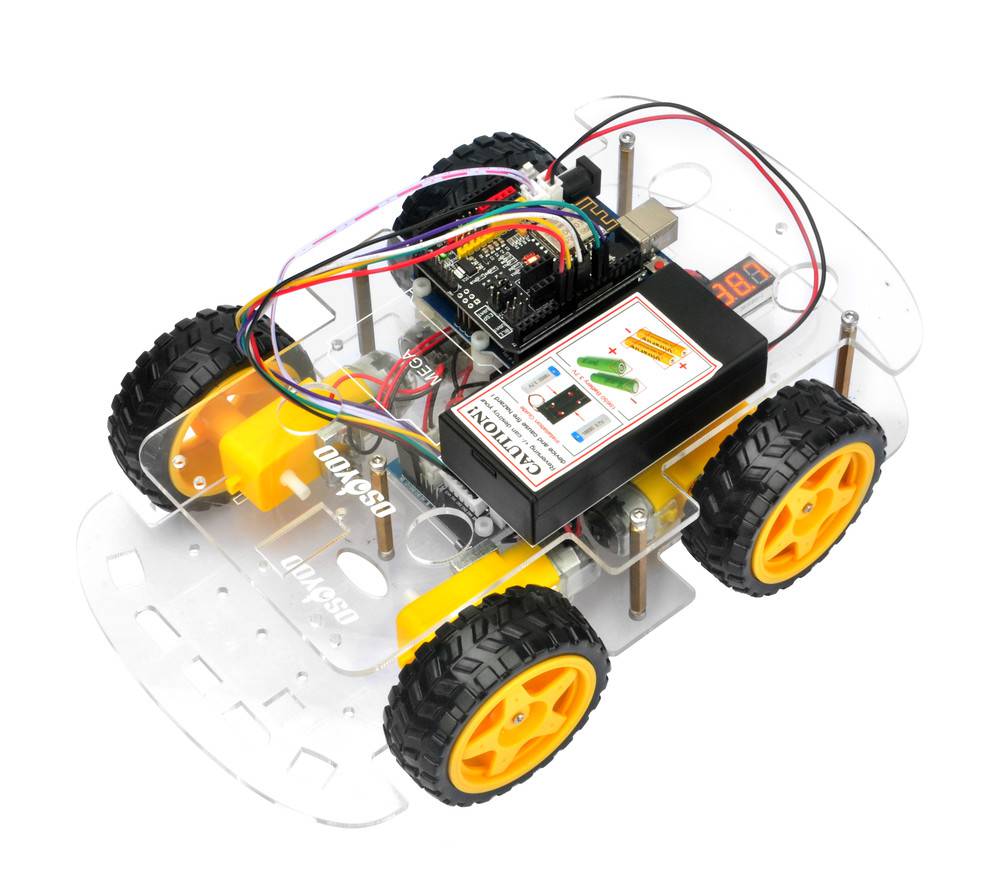 Benvenuti alla prima lezione di smart car!

Obiettivo
In questa lezione in versione "Hello World", installeremo il framework più importante nella smart car e programmeremo l'auto per eseguire alcuni semplici movimenti. Se avete superato il movimento di prova di questa lezione, significa che la scheda, il misuratore di tensione, il modulo di controllo del motore, i motori, le batterie, il telaio e i collegamenti dei fili tra queste parti funzionano bene.
Poiché gli esperimenti delle lezioni successive si basano tutti sul lavoro svolto nella prima lezione, è molto importante testare correttamente l'installazione e il codice di esempio di questa lezione.

Parti e dispositivi:
Installazione dell'hardware
Installare i dispositivi
1) Rimuovere la pellicola protettiva sul telaio superiore e inferiore dell'auto (ogni telaio dell'auto ha una pellicola protettiva)


2) fissare 4 motori con i supporti motore in metallo come segue (controllare la sezione del motore prima di installare i supporti motore in metallo)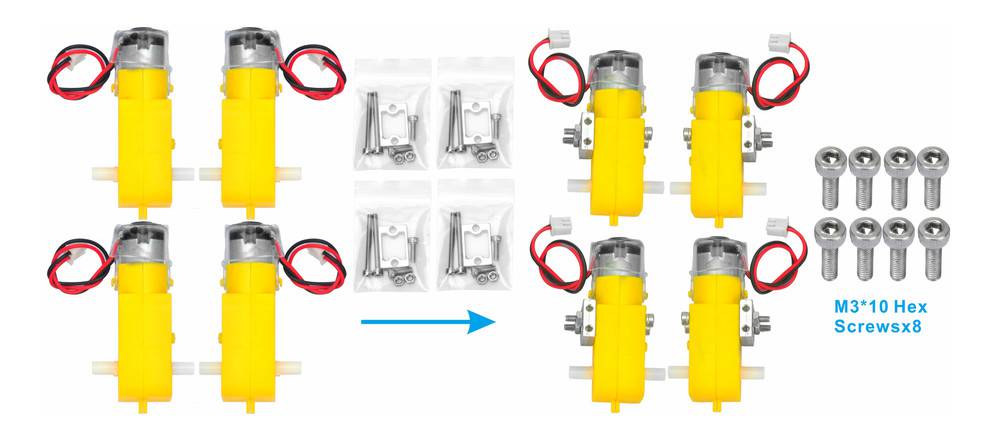 3) issare i 4 motori sul telaio inferiore dell'auto con viti esagonali M3*10 tramite cacciavite esagonale (le viti per questo passaggio sono contenute nella confezione del supporto motore in metallo)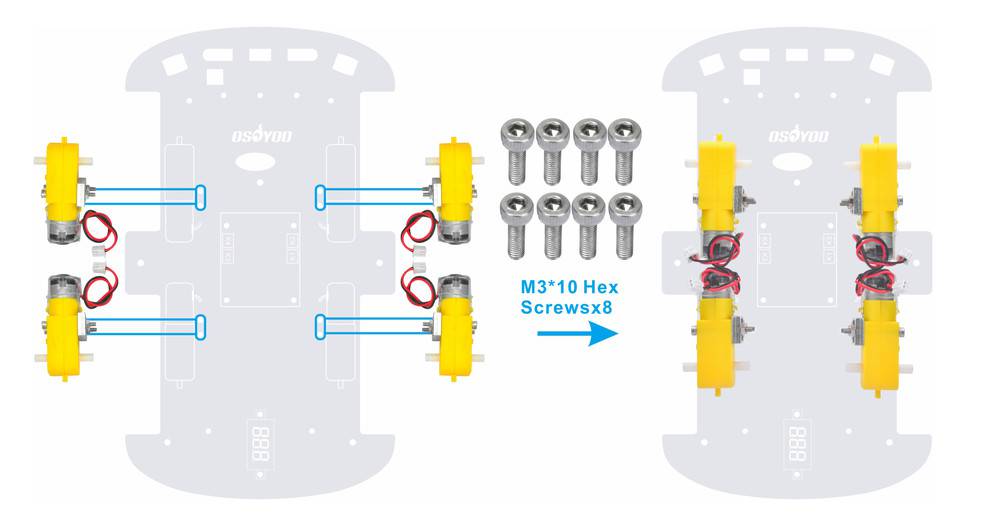 4) Installare il modulo driver motore OSOYOO MODEL X sul telaio inferiore dell'auto con 4 viti di plastica M3, montanti di plastica e dadi di plastica. (Assicurarsi di installare il modulo driver motore OSOYOO MODEL X nella direzione corretta.)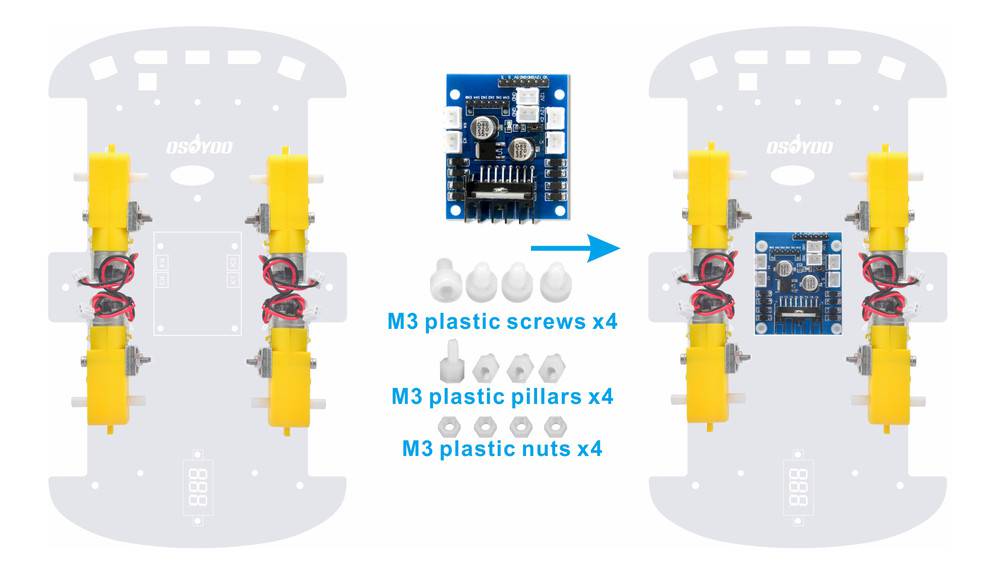 5) Installare il misuratore di tensione sul telaio dell'auto bassa con 2pcs M3 viti di plastica, pilastri di plastica e dadi di plastica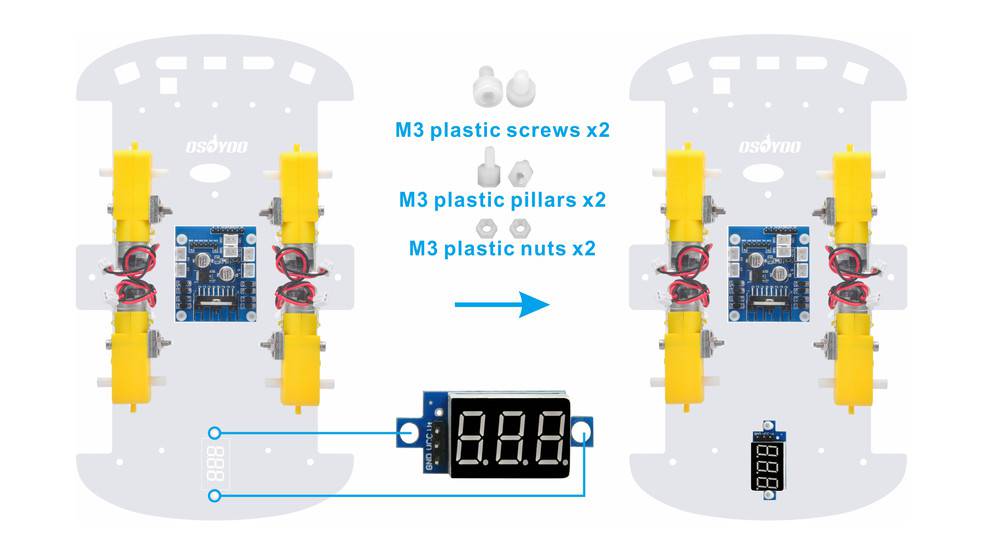 6) Fissare la scheda di base OSOYOO sul telaio superiore dell'auto con 4 viti di plastica M3, montanti di plastica e dadi di plastica.(Si prega di installare la scheda sul lato con la stampa)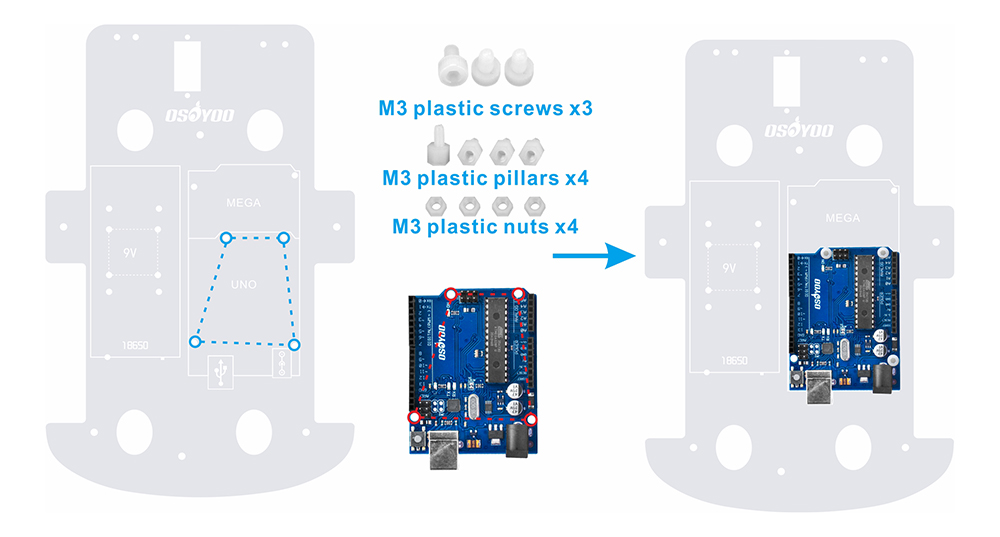 7) Ci sono due tipi di set di auto robot per voi di scegliere di acquistare. Uno è con 2 batterie (18650 e 9V), e l'altro è con 1 coppia di batterie 18650 e 1 caricabatterie per 18650. Si consiglia di utilizzare batterie 18650 come alimentazione. If you want to use 9V battery as the power, please use rechargeable 9V battery. Non utilizzare batterie al carbonio e zinco, in quanto non sono in grado di fornire corrente sufficiente per l'auto robot.
A) Fissare la scatola della batteria al telaio superiore con 4 viti M3 x 10 e dadi M3.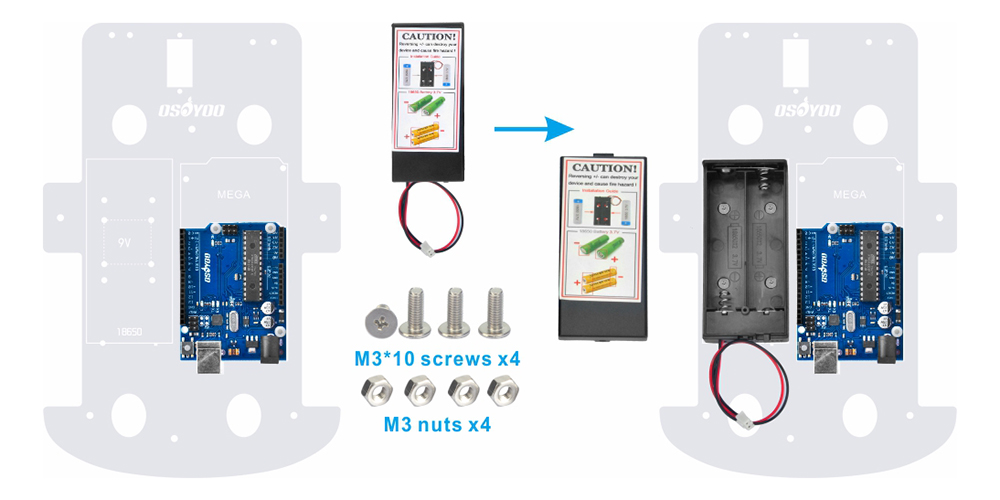 B) Installare la scatola della batteria sul telaio superiore con 4 viti M3 x 10 e dadi M3. (sono le stesse viti e dadi della scatola per batterie 18650. Se non si ottiene la scatola della batteria da 9V, ignorare questo passaggio.).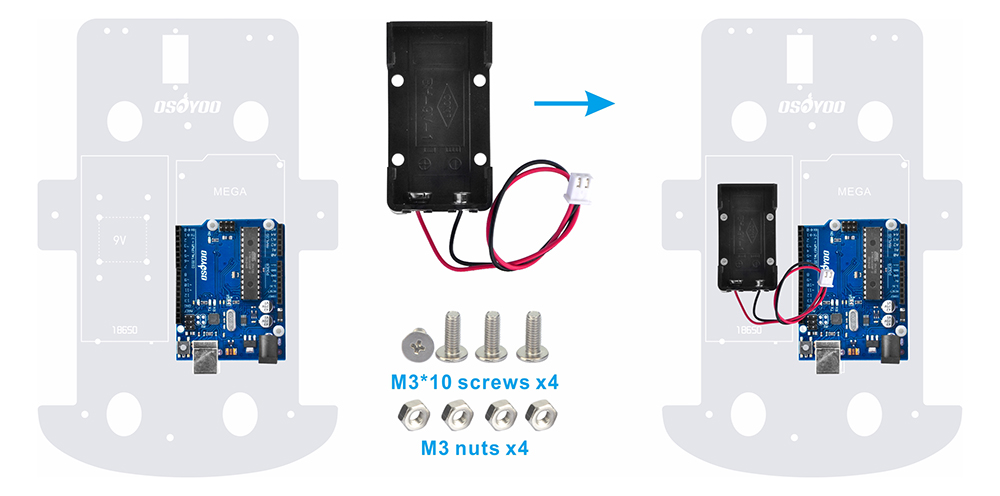 7) Inserire lo scudo Uart WIFI V1.3 di OSOYOO sulla scheda.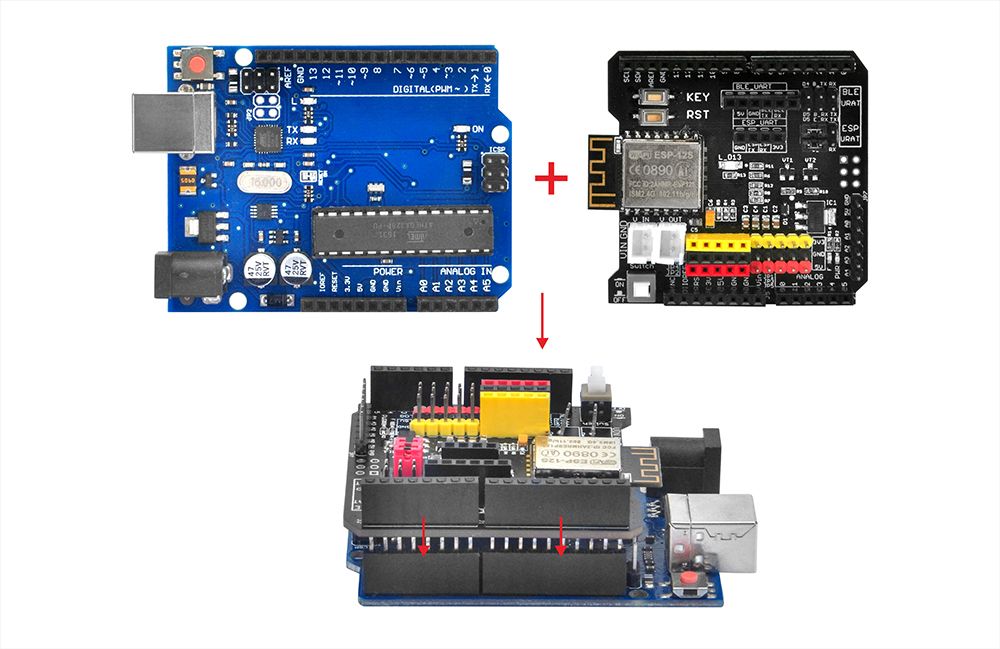 Connessioni
1) Collegare 4 motori alle prese del modulo driver motore OSOYOO MODEL X da K1 a K4 come indicato nel seguente grafico: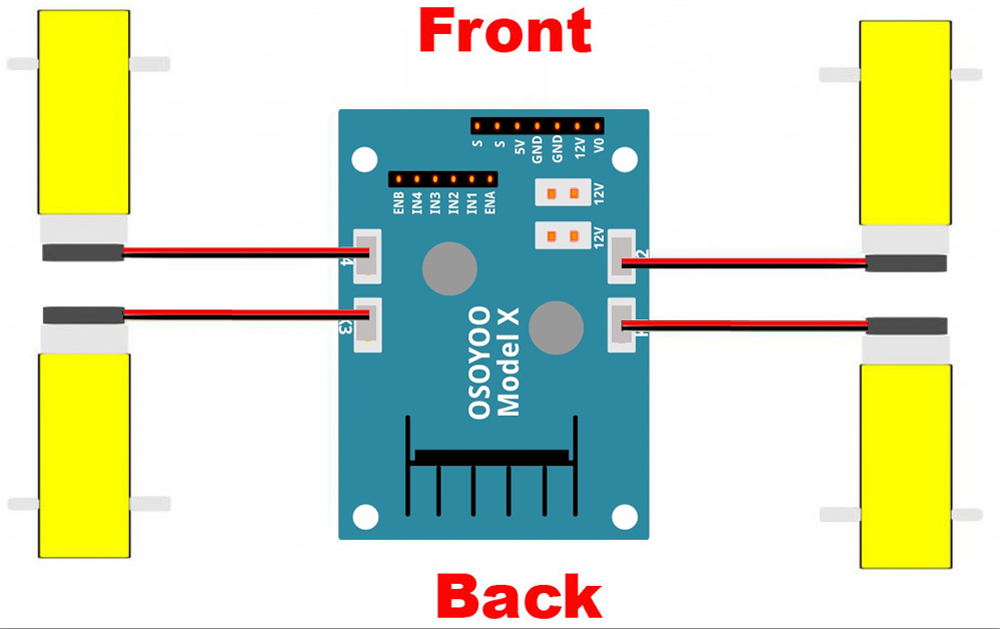 2) Collegare il misuratore di tensione al modulo del driver del motore OSOYOO MODEL X con un cavo di ponticello a 3 pin da femmina a femmina, come indicato nel seguente schema di collegamento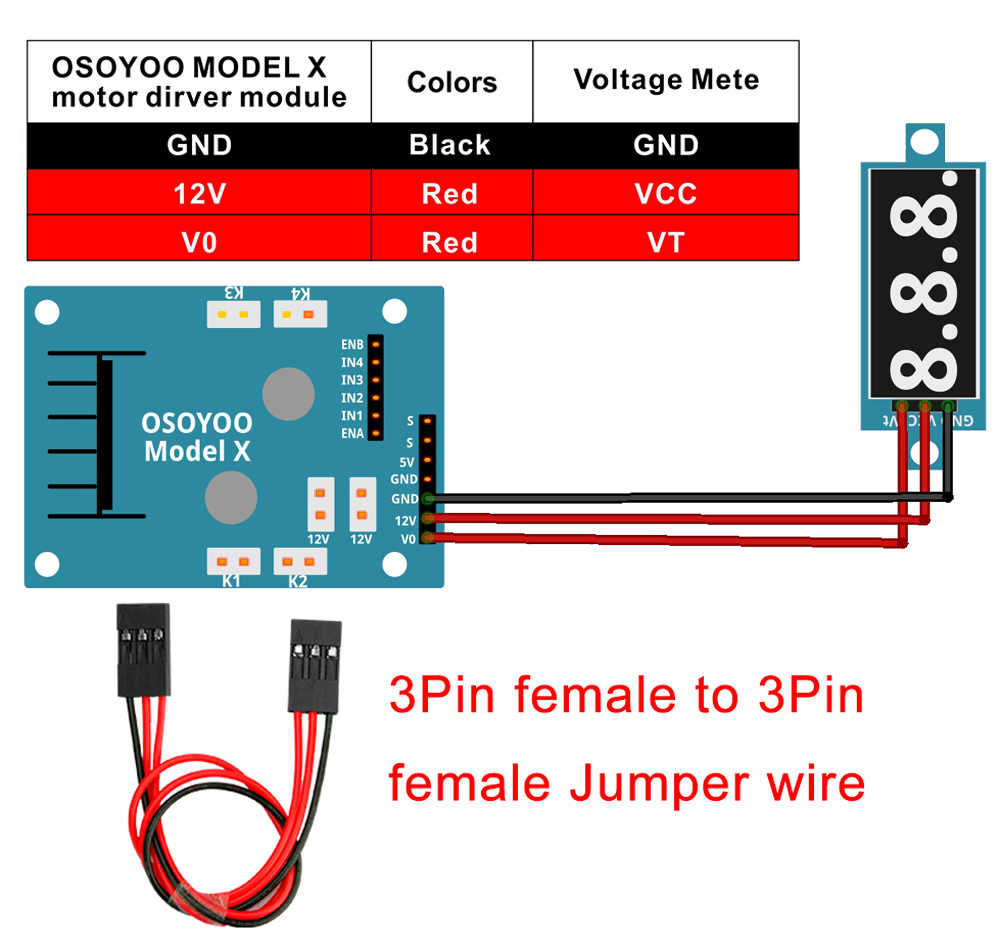 3) Collegare i 6 pin di controllo del modulo driver motore MODEL X di OSOYOO alla schermatura Uart WiFi V1.3 di OSOYOO D6, D7, D8, D9, D11, D12 con un cavo di ponticello da 6 pin maschio a 6 pin femmina e la presa 12V-GND alla presa VIN-GND con un cavo PnP a 2 pin di OSOYOO da 20 cm, come da grafico seguente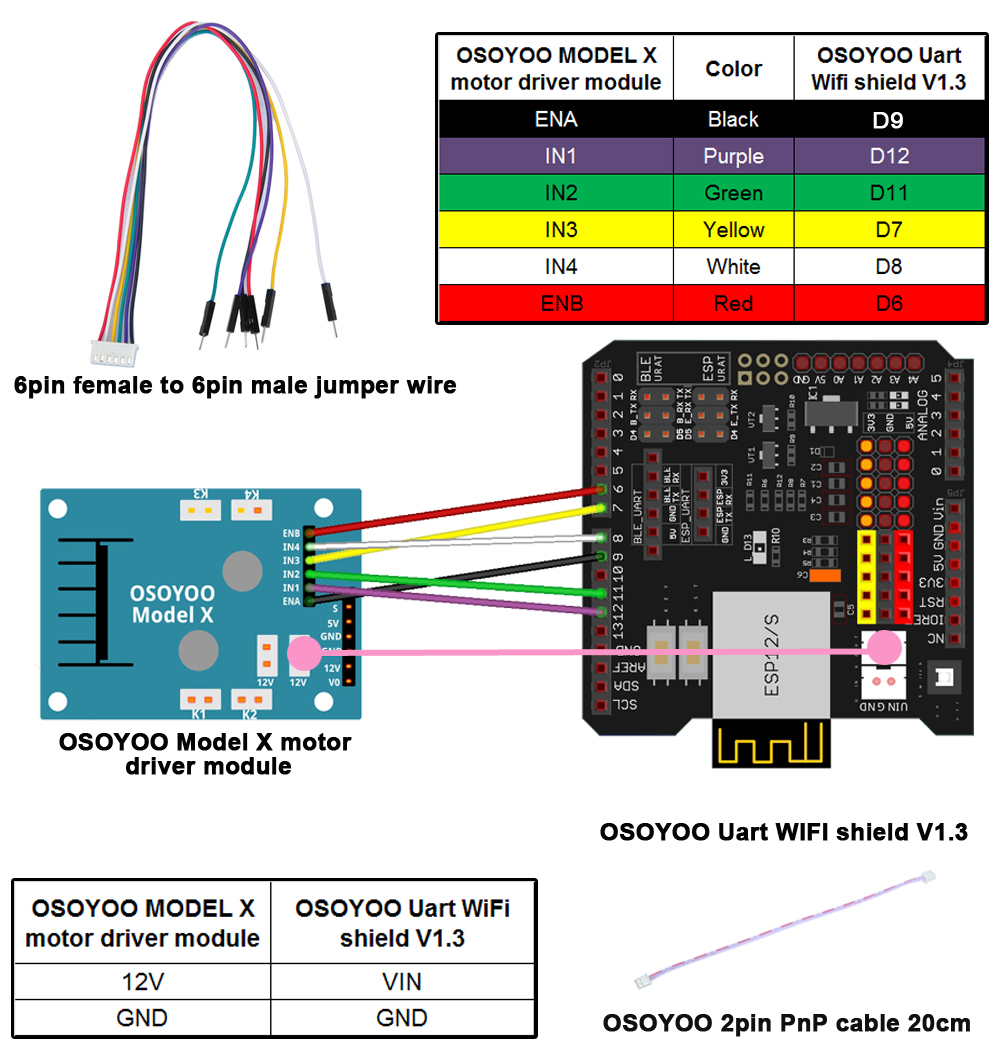 Attenzione:
Quando si inserisce/rimuove questa spina a 6 pin nella presa maschio a 6 pin del Modello X, tenere il porta-spina in plastica per eseguire l'operazione. Non trascinare mai i fili per estrarre la spina dalla presa, altrimenti si danneggiano i fili.

4) Collegare il contenitore della batteria (contenitore per batterie 18650 o per batterie da 9 V) alla presa VIN-GND dello shield WiFi Uart V1.3 di OSOYOO secondo il seguente schema di collegamento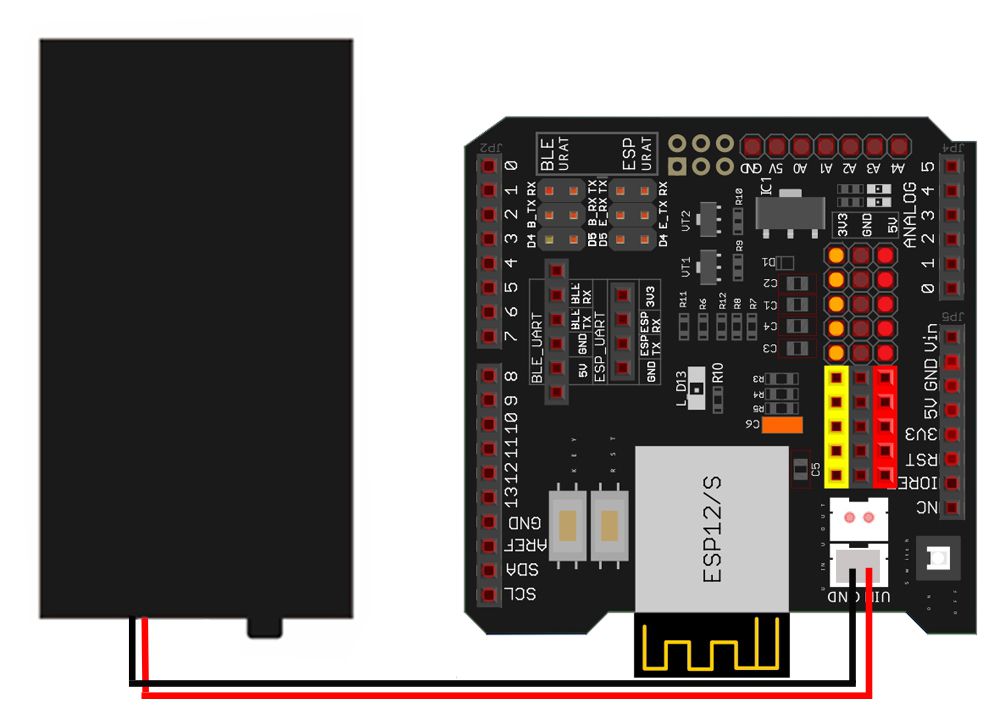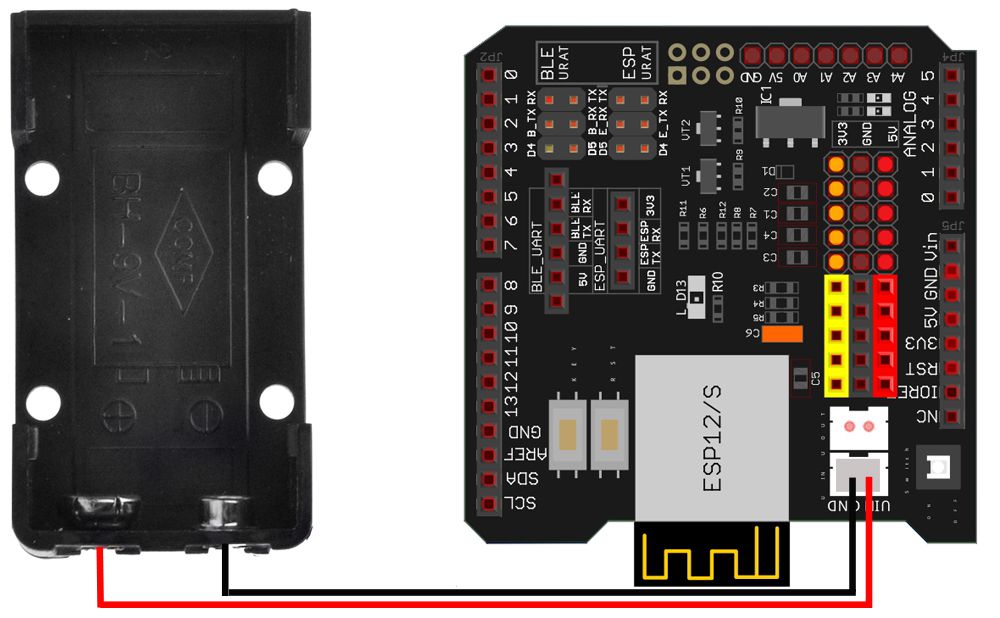 5) Collegare il telaio superiore a quello inferiore con cinque pilastri di rame e fissare i pilastri di rame con 10 pezzi di viti esagonali M3*10, quindi installare 4 ruote sui motori. ( Allentare le viti delle ruote se alcune di esse non si muovono)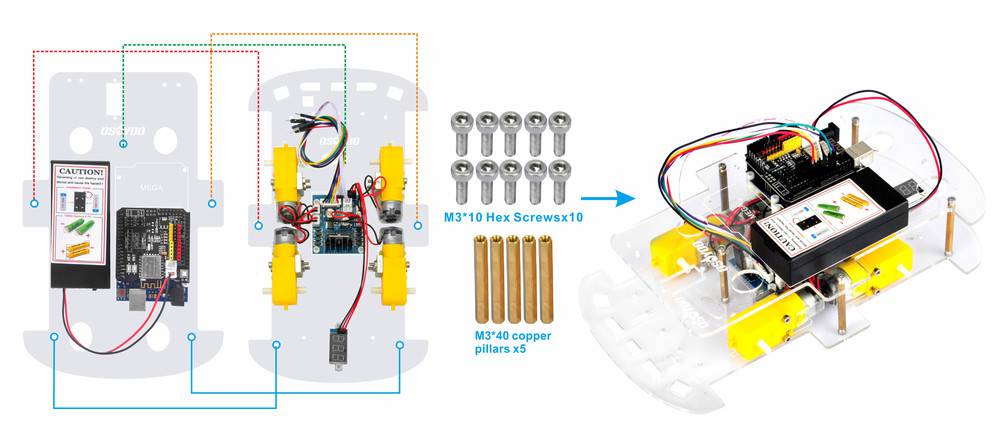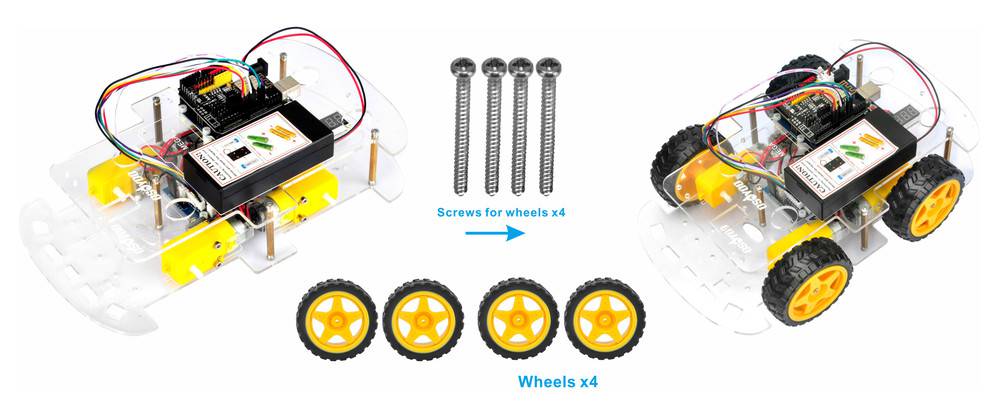 Ora l'installazione dell'hardware è quasi terminata. Prima di installare le batterie 18650 nella scatola, è necessario masterizzare il codice di esempio sulla scheda.
---
Installazione del software:
Passo 1: Installare l'ultimo DE (se si dispone di una versione dell'IDE successiva alla 1.1.16, saltare questo passaggio). Scaricare l'IDE da https://www.arduino.cc/en/Main/Software?setlang=en , quindi installare il software.
Passo 2: Scaricate il codice di esempio della Lezione 1 da https://osoyoo.com/driver/v2smartcar-lesson1.zip , decomprimete il file zip scaricato smartcar-lesson1.zip e vedrete una cartella chiamata v2smartcar-lesson1.
Passo 3: Collegare la scheda al PC con un cavo USB, aprire Arduino IDE -> fare clic su file -> fare clic su Open -> scegliere il codice "v2smartcar-lesson1.ino" nella cartella smartcar-lesson1, caricare il codice nella scheda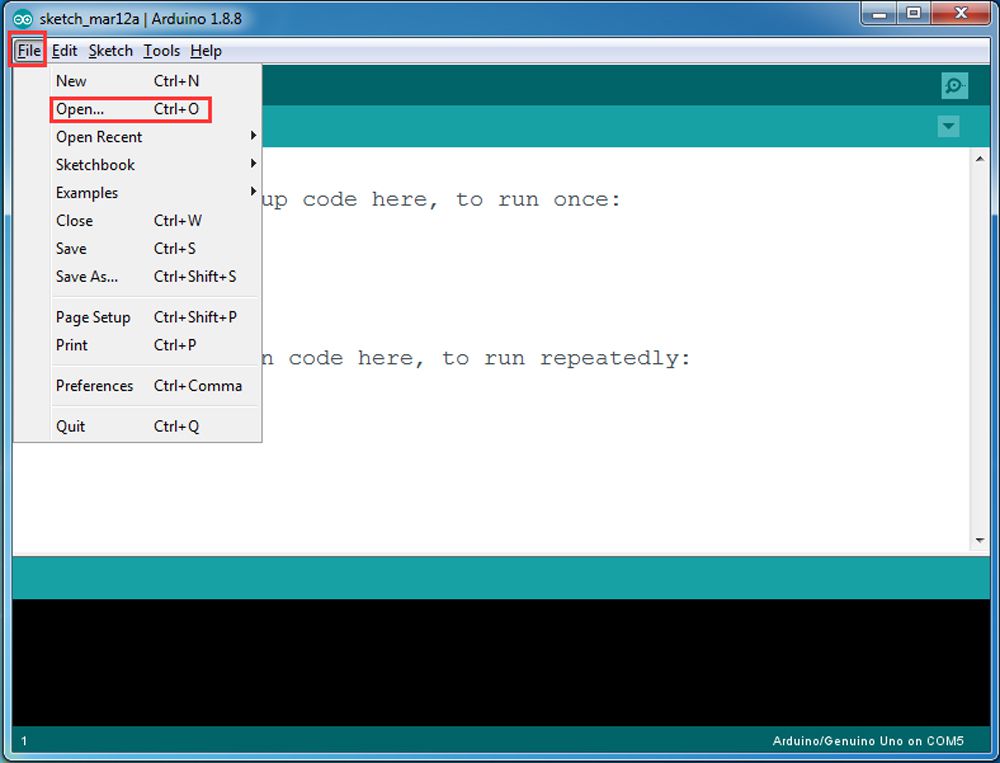 Passo 4: Scegliere la scheda/porta corrispondente al progetto, caricare lo sketch sulla scheda.
Test:
Nota:
1) Raccomandare le batterie 18650 in quanto queste batterie possono far funzionare l'auto senza problemi.
2) Le batterie 18650 utilizzate durante le lezioni sono lunghe circa 65 mm (2,56 pollici) e sono prive di circuito di protezione interno..
3) Controllare le istruzioni della scatola e assicurarsi che la direzione della polare sia corretta, altrimenti si rischia di distruggere il dispositivo e di provocare incendi.
Installare le batterie 18650 nel vano batteria per 18650 come da istruzioni seguenti: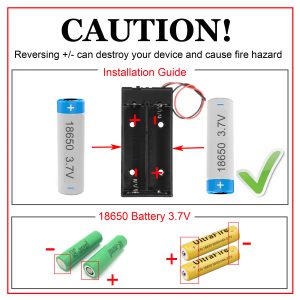 Scollegare l'auto robot dal PC, inserire la batteria nella scatola della batteria. Quando si appoggia l'auto a terra e si accende l'interruttore sulla schermatura Uart WIFI V1.3 di OSOYOO e l'interruttore sulla scatola della batteria se si installa la scatola della batteria per 18650, l'auto dovrebbe andare avanti per 2 secondi, poi andare indietro per 2 secondi, poi girare a sinistra per 2 secondi, poi girare a destra per 2 secondi, poi fermarsi. (Se l'auto non si muove come indicato sopra, è necessario controllare il collegamento dei cavi e la tensione della batteria (deve essere superiore a 7,2 V).)