Make sure jumper cap connected E_TX to D4 and E_RX to D5.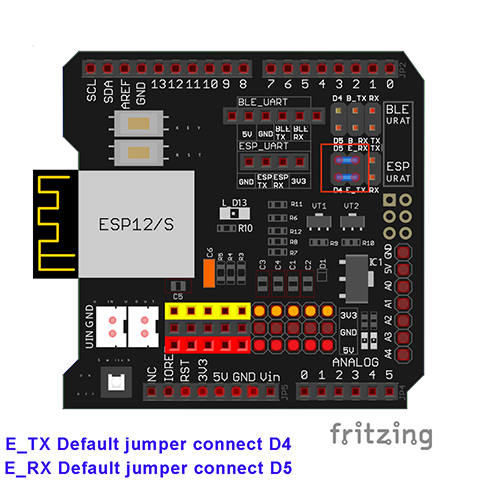 Connect the HC-SR04 with mainboard  as following diagram: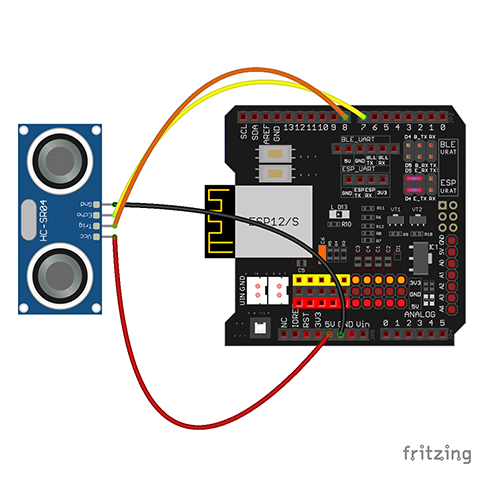 | | |
| --- | --- |
| OSOYOO Basic  Board | HC-SR04 |
| 5v | VCC |
| GND | GND |
| D8 | Trig |
| D7 | Echo |

Software Installation:
Step A) Install latest  IDE from https://www.arduino.cc/en/Main/Software?setlang=en.  If you have IDE version after 1.1.16, please skip this step).
Step B) Connect the OSOYOO Basic board to computer via USB cable,
Step C) Open the IDE and choose corresponding board type and port type for you project.
Board:"Arduino/Genuino UNO"
Port: Choose your own Serial Port for your mainboard
Step D) Download the sketch file from https://osoyoo.com/driver/wifi-iot/lesson9/wifi-lesson9.zip
unzip the file and double click the wifi-lesson9.ino file, load the sketch into IDE, find following lines:
char ssid[] = "******"; // your network SSID (name)
char pass[] = "******"; // your network password
please replace the ****** with your correct wifi SSID and password, otherwise your project can
 not connect to Internet.

Step E) After change above lines, load the sketch into IDE.


Open your Serial Monitor, you can see your router will assign an IP address to your IDE as following: