| | | | | | | |
| --- | --- | --- | --- | --- | --- | --- |
| Acheter aux États-Unis | Acheter au Royaume-Uni | Acheter chez DE | Acheter auprès du service informatique | Acheter chez FR | Acheter chez ES | ここでご購入を! |
| | | | | | | |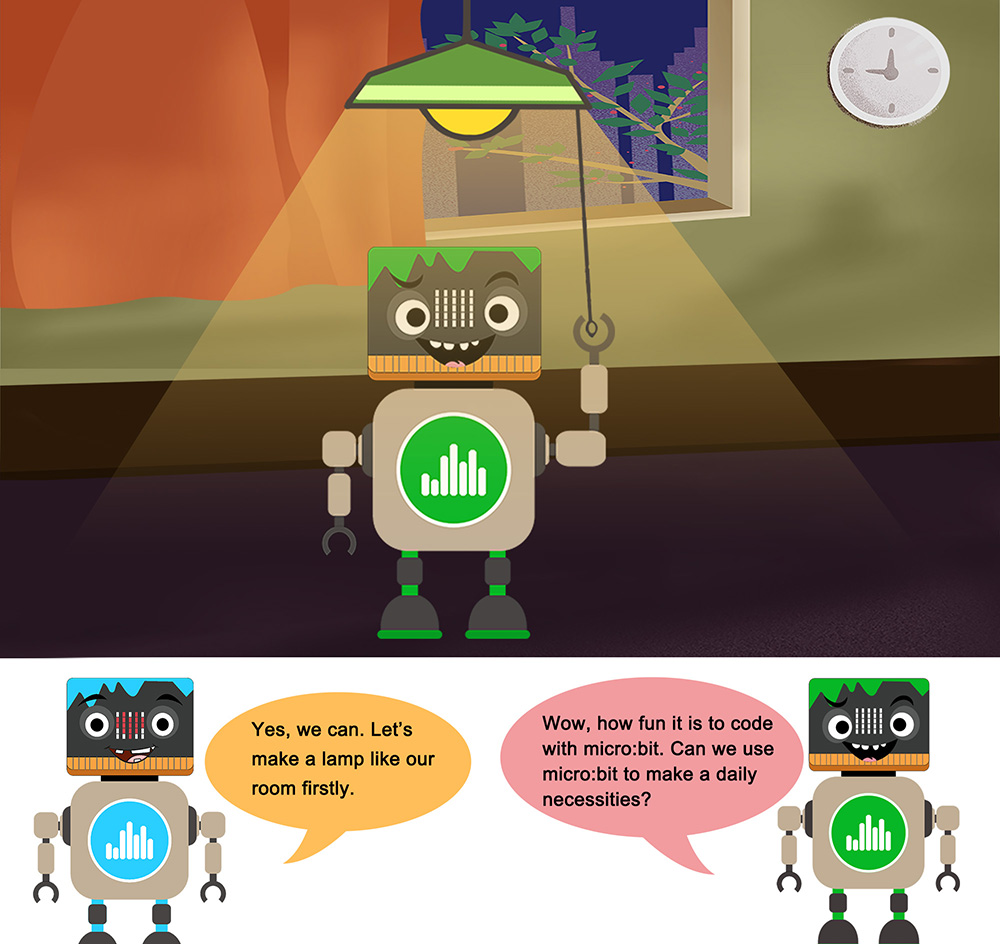 BBC micro:bit board x 1
Câble Micro USB x 1
Carte d'extension Osoyoo Plug&Plan(PnP) pour micro:bit x 1
Module LED OSOYOO 3 broches x 1
Câble PnP OSOYOO 3 broches x 1
Ordinateur/Tablet PC/Téléphone x1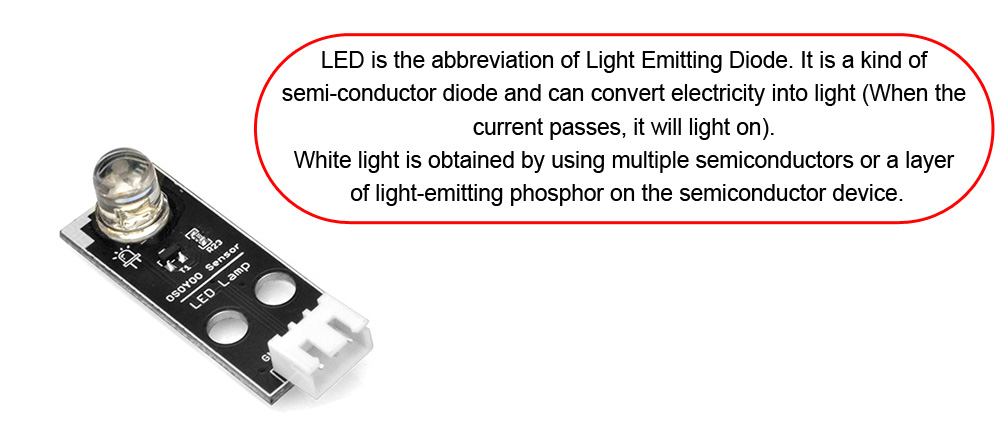 Connectez le module LED blanc au port PnP PnP OSOYOO P0 avec un fil PnP à 3 broches comme ci-dessous.
S'il vous plaît prêter attention:
veuillez connecter VCC à 3.3V sur la carte PnP avec capuchon de saut. Tous les projets sont les mêmes sur ces connexions sauf que nous soulignons dans le tutoriel
Schalten Sie den Schalter der OSOYOO PnP-Erweiterungskarte auf ON, wenn Sie das Projekt ausführen, da die PnP-Karte sonst möglicherweise keinen Strom erhält.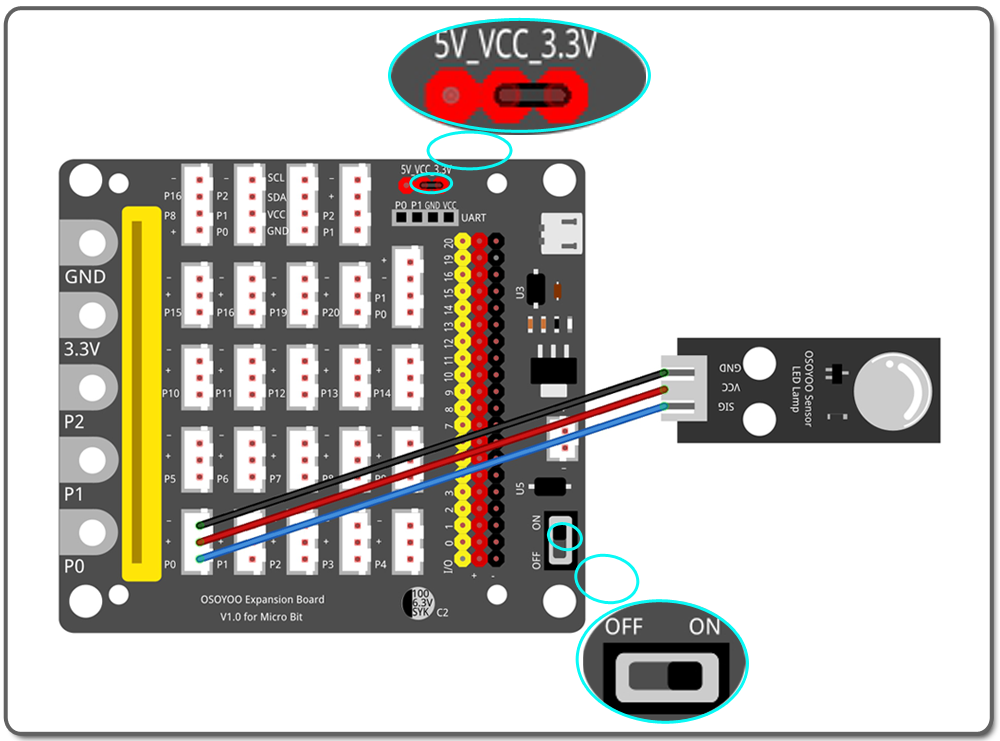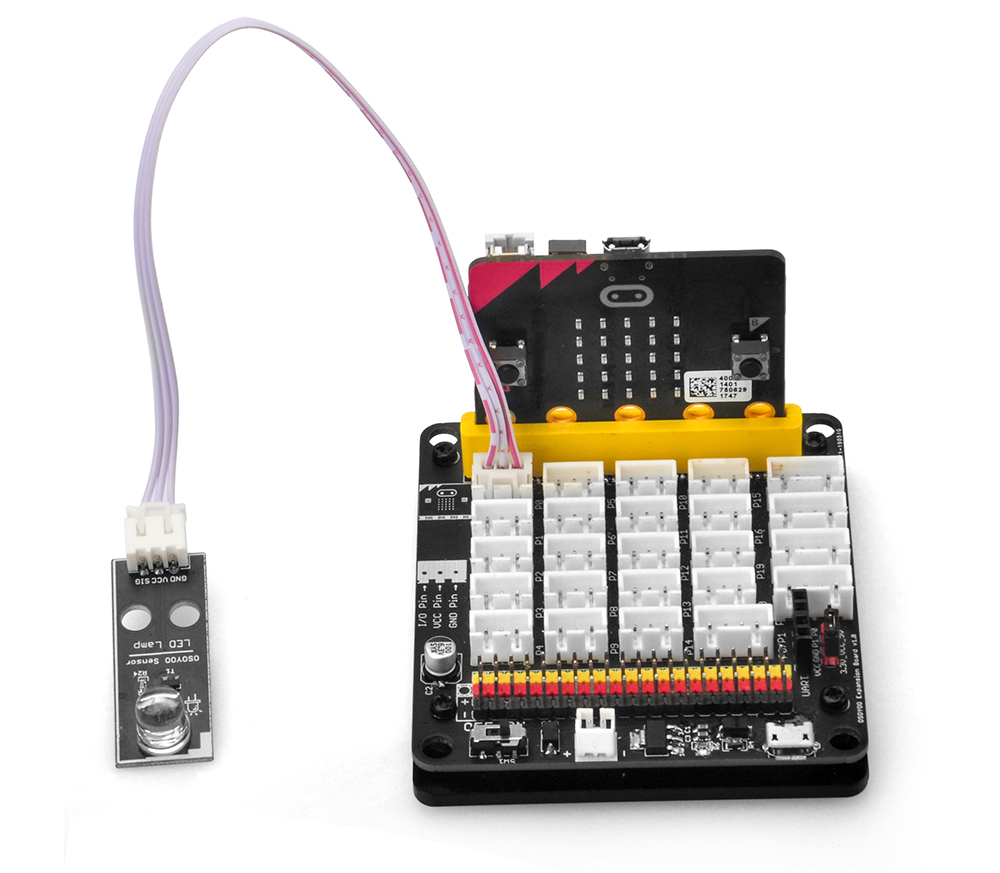 Étape 0. À l'aide de votre navigateur Web, accédez directement à https://makecode.microbit.org pour accéder à la page d'accueil de MakeCode pour micro:bit. Vous pouvez ajouter ce package à vos favoris pour l'ouvrir facilement pour le prochain projet. Dans la section Mes projets, cliquez sur le bouton Nouveau projet
Pour plus d'informations sur MakeCode, veuillez consulter notre tutoriel: Qu'est-ce que MakeCode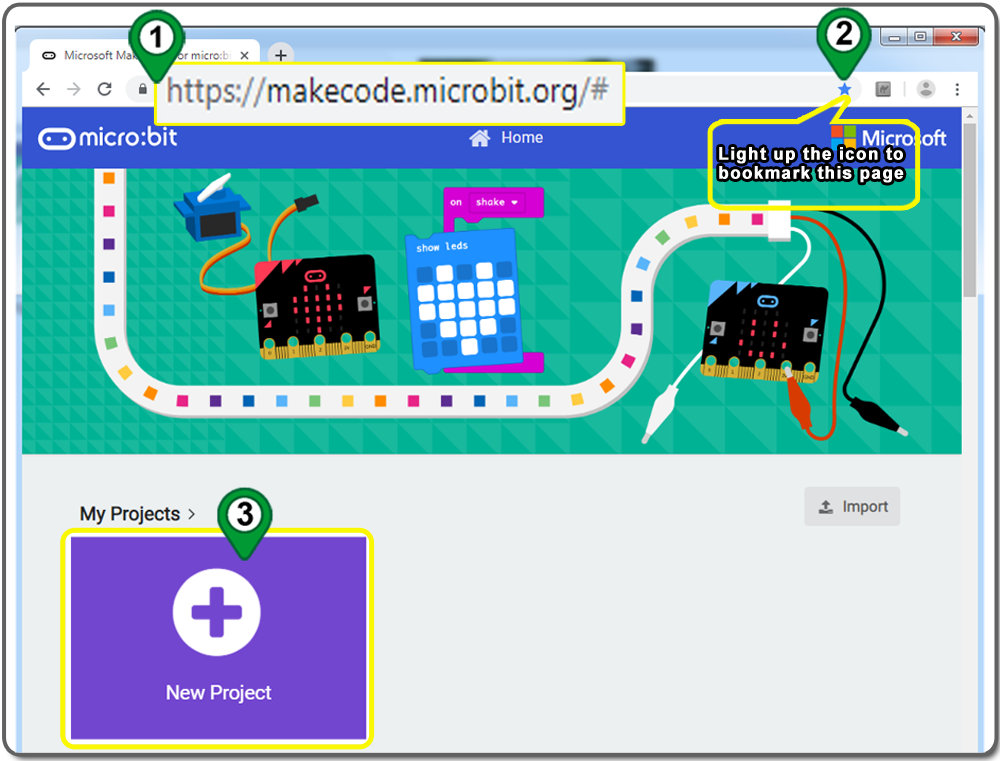 Étape 1. Dans la section Toolbox, cliquez sur la catégorie Pins sous Advanced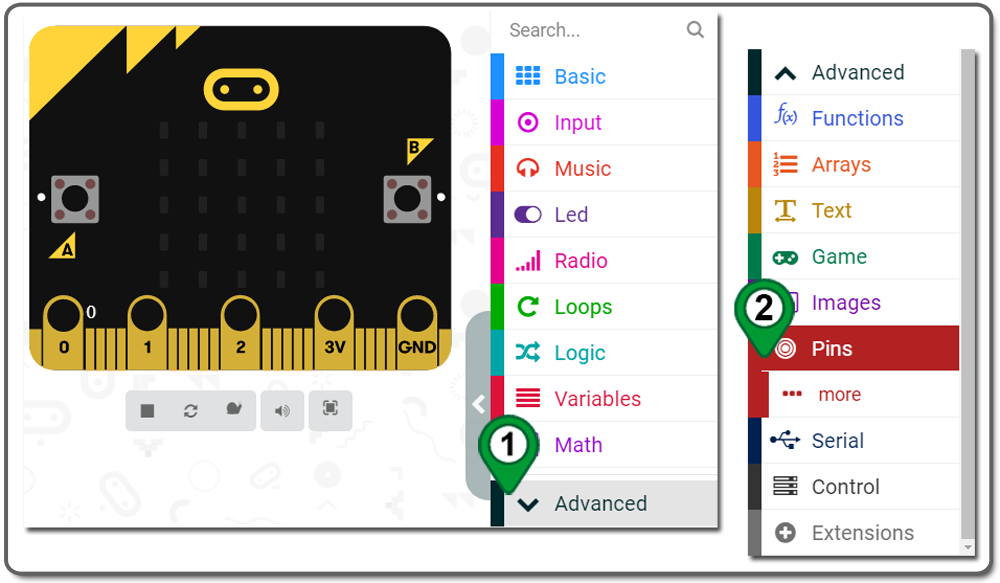 Etape 2.Faites glisser et déposez un bloc digital write pin P0 to 0 à l'intérieur du bloc forever, et choisissez 1 dans le menu déroulant. Nous pouvons allumer la LED avec ce bloc de programme.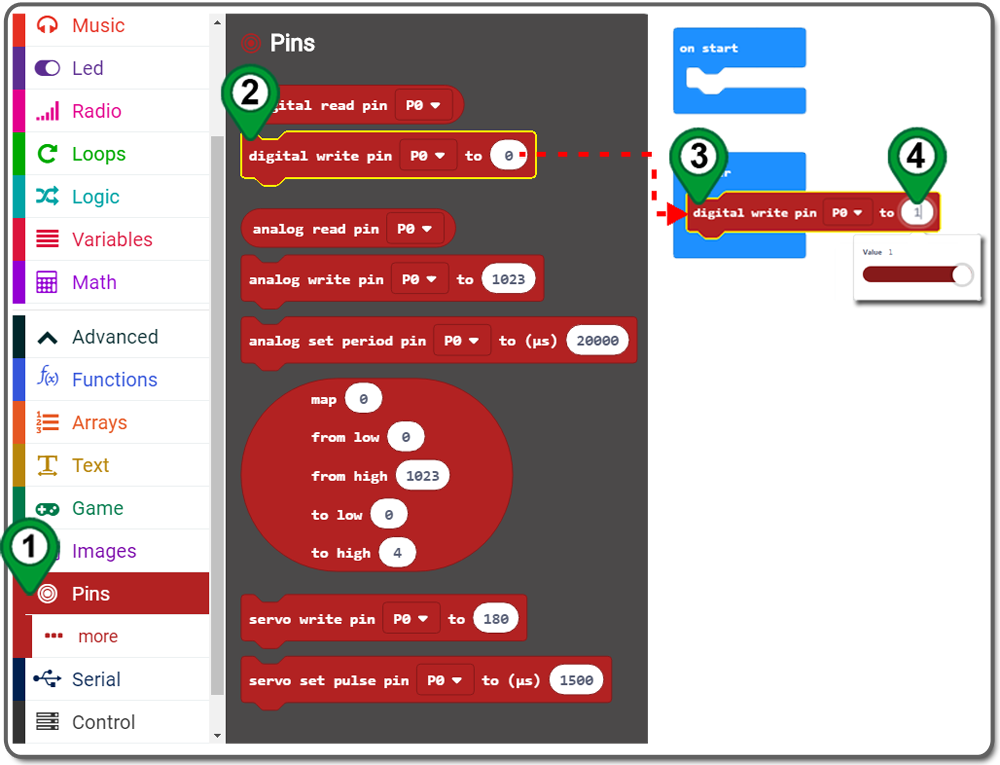 Etape 3 .Vous pouvez télécharger le fichier ".hex" et l'envoyer sur votre disque MICROBIT pour voir le résultat du code.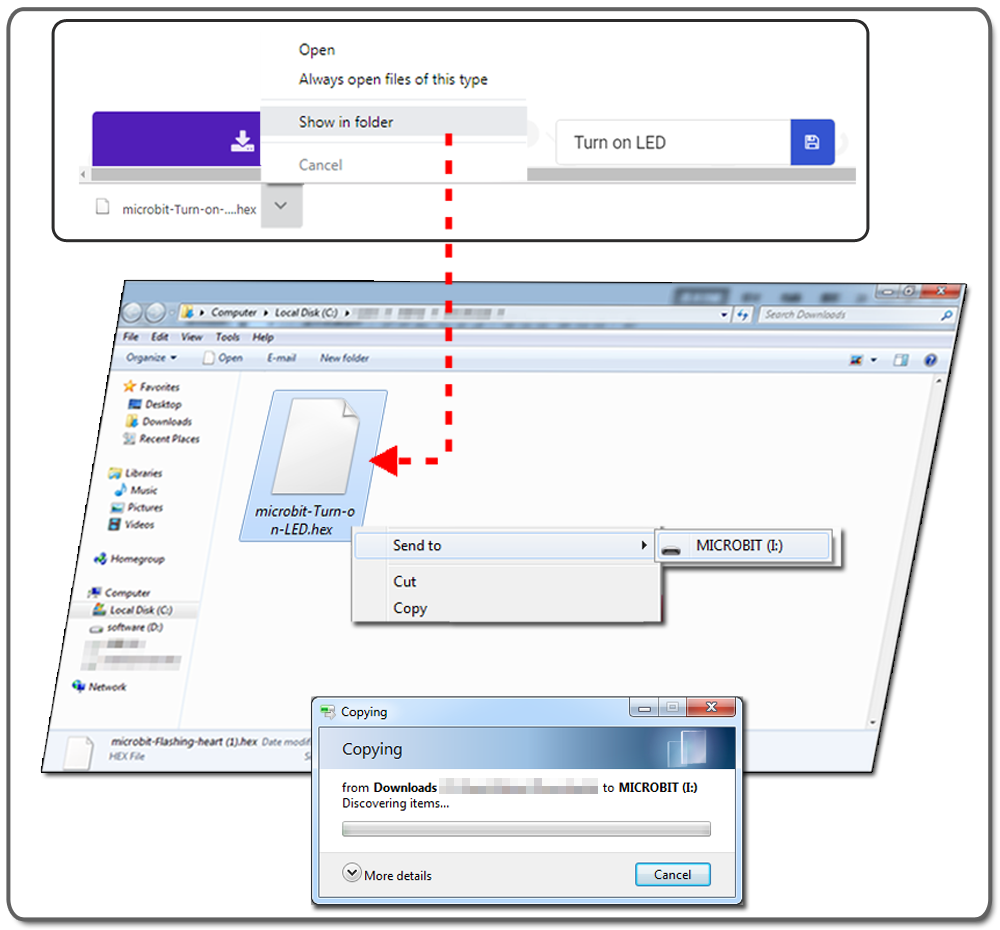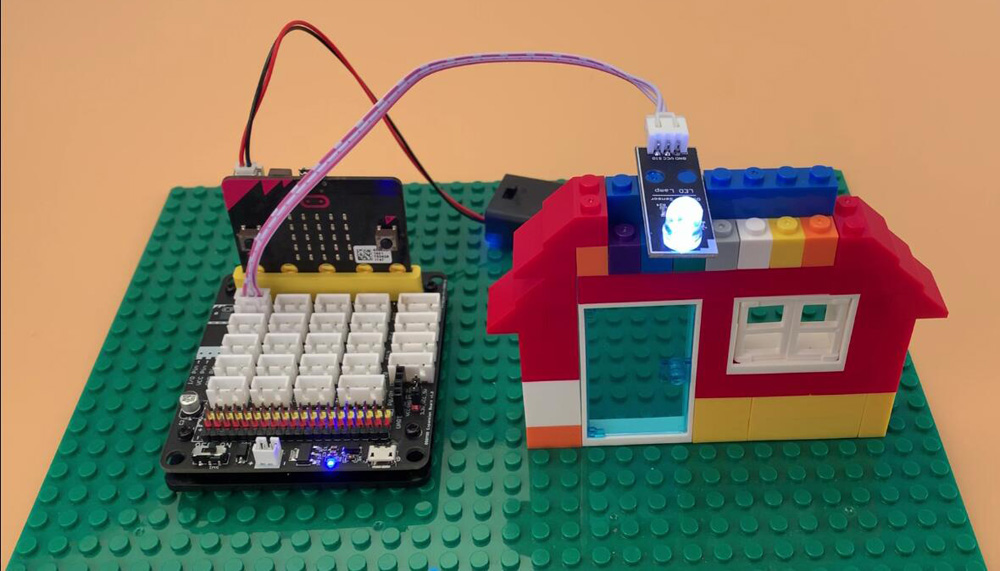 Rendons maintenant le projet plus intéressant et installons une LED clignotante.
 Étape 4. Dans la partie Toolbox, cliquez sur la catégorie Basic, cliquez et faites glisser le bloc pause (ms) et placez-le à l'intérieur du bloc forever. Vous pouvez définir l'heure du bloc PAUSE comme suit :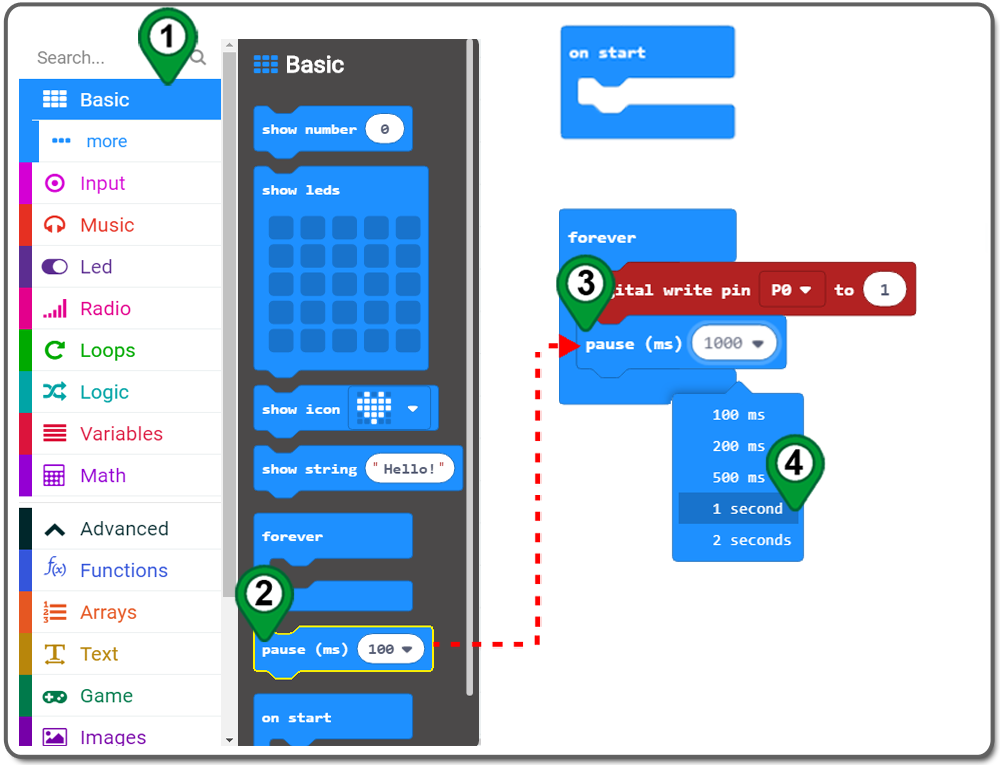 Étape 5. Pour simplifier l'étape, vous pouvez faire un clic droit sur le bloc digital write pin P0 to 1  et dupliquer un bloc similaire. changez la valeur du nouveau bloc "to" de 1 à 0. Ce bloc éteindra la LED.

Étape 6. Continuez et dupliquez le bloc pause (ms), vous pouvez définir la même heure que celle de l'allumage de la LED pour l'extinction de la LED, et faites glisser ce bloc sous le bloc digital write pin P0 to 0.

Étape 7. Déposez à nouveau ces deux blocs et placez-les à l'intérieur du bloc forever .Les blocs finaux sont ceux de la figure suivante :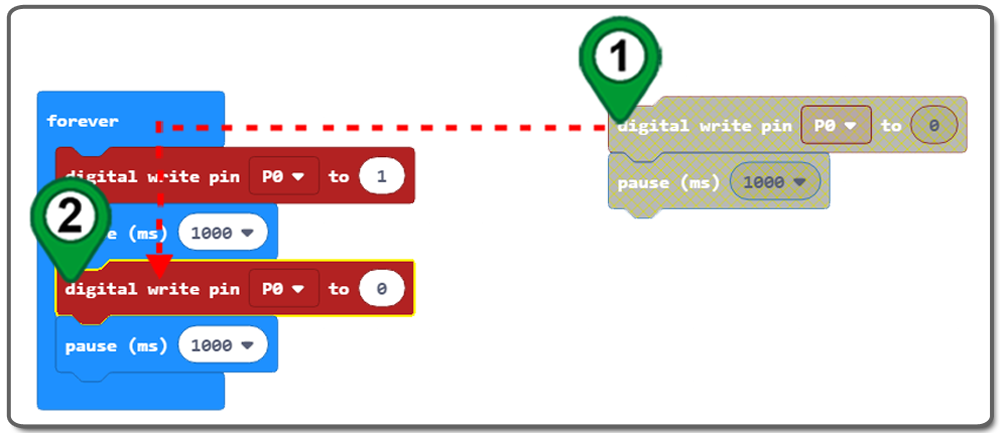 Étape 8.Donnez un nom à votre projet et téléchargez le fichier hex comme suit :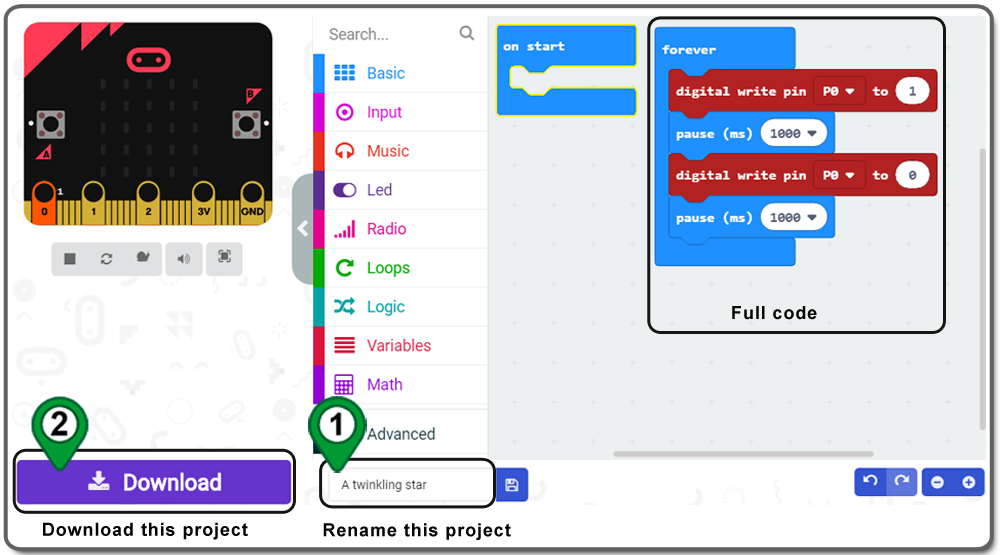 Étape 9.Envoyer le nouveau projet sur votre disque MICROBIT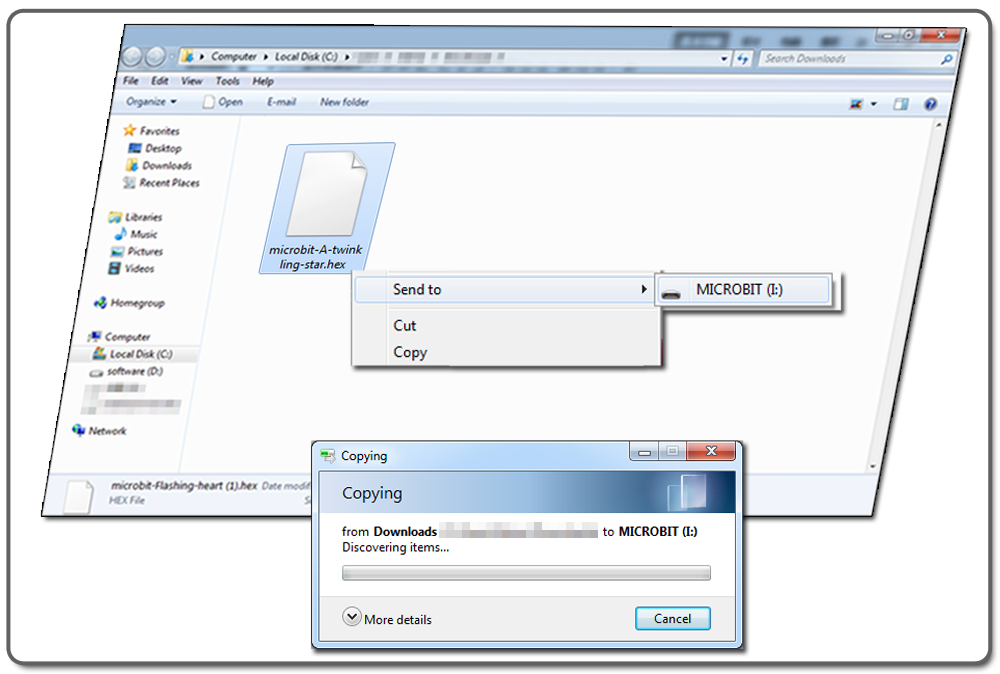 Vous trouverez ci-dessous le code complet de la LED scintillante à titre de référence :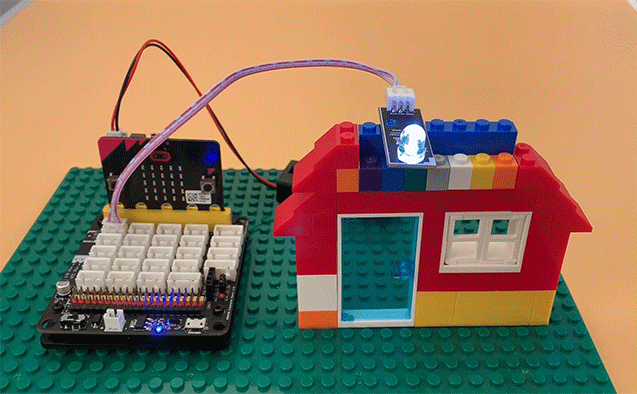 Terminer le câblage et mettre sous tension, vous devriez voir la LED clignoter comme une étoile scintillante.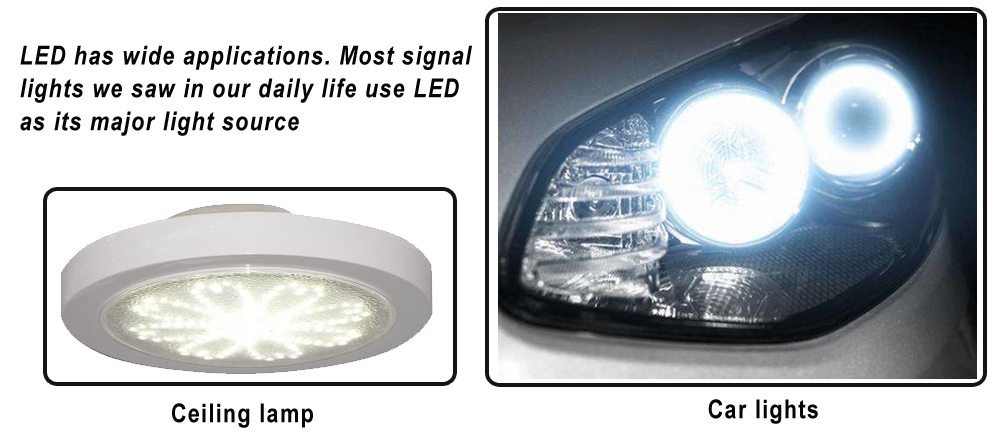 EN SAVOIR PLUS SUR LES PIÈCES