Contents
Authorized Online Retailers:
| | | | | | | |
| --- | --- | --- | --- | --- | --- | --- |
| Buy from USA | Buy from UK | Buy from DE | Buy from IT | Buy from FR | Buy from ES | Buy from JP |
| | | | | | | |
Description:
Osoyoo Model-3 Robot Learning Kit is designed for beginners to learn Arduino programming and get hands-on experience on robot design and assembly.
We have developed a step-by-step tutorial which evolves from a simple car without any control to a multi-function robotic car controlled by mobile APP.
Every lesson has detailed sample code with comments, circuit graph, assembly instruction and video. Even if you have no programming experience, you can follow the step-by-step instruction and gradually become a master.
Our robotic car is 100% open source. If you are an intermediate player and have time to read our code comments, you can easily customize this robotic car to make your own project for science fair, college home work or even commercial applications.
This kit contains module parts including Tracking module, Infrared Remote Control and OSOYOO Motor shield for Arduino UNO, etc. With these modules, the robot car can work in multiple modes such as auto-go, infrared control and line tracking. You can use our APP to control the robot car through Bluetooth.
Parts and Devices:
No.
Device
Picture
Qty.
Accessories
1
OSOYOO UNO R3

(fully compatible with

Arduino UNO R3)

1
Click here to buy
2
OSOYOO Motor
1
Click here to buy
3
IR receiver
1
Click here to buy
4
Buzzer Sensor Module
1
Click here to buy
5
Tracking Sensor
1
Click here to buy
6
Ultrasonic Sensor
1
Click here to buy
7
Servo Motor
1
Click here to buy
8
Voltage Meter
1
Click here to buy
9
Bluetooth Module
1
Click here to buy
10
IR remote controller
1
Click here to buy
11
Mount Holder for

Ultrasonic Sensor

1
Click here to buy
12
Car Chassis
1
Click here to buy
13
Motor with wires
1
Click here to buy
14
Wheels
2
Click here to buy
15
Universal Wheel
1
Click here to buy
16
9V Battery Box
1
Click here to buy
17
9V Battery
1
Click here to buy
18
Phillips Screwdriver
1
Click here to buy
19
Hex Screwdriver
1
Click here to buy
20
20pin 15cm Female

to Female Cable

1
Click here to buy
21
7pin 25cm Female

to Female Cable

1
Click here to buy
22
3pin 15cm Female

to Female Cable

1
Click here to buy
23
Rubberized Tape
1
Click here to buy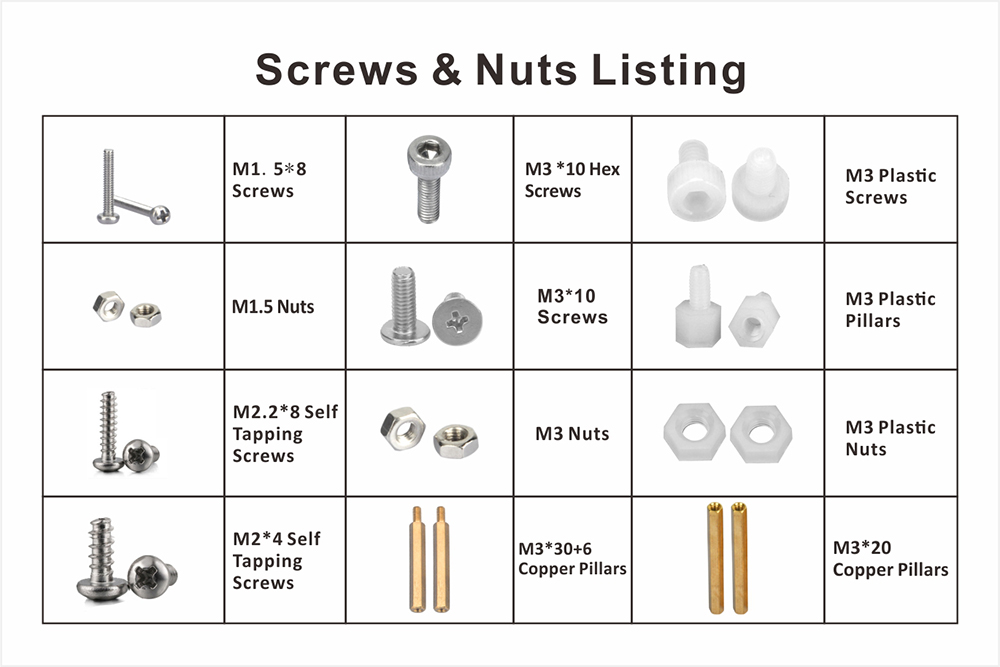 Tutorial and sample projects: